Landscape designs that answer the pressing issues of climate change and biodiversity loss are among the winners of the 2021 Landscape Institute Awards.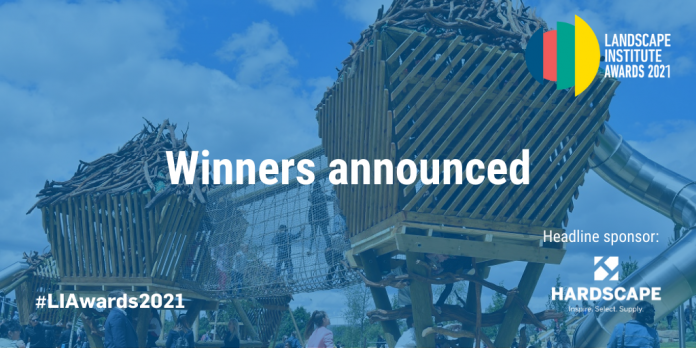 The successful projects include the Beijing Forestry University, which was awarded Excellence in Landscape Design, and the Guangzhou Ecological Belt, which has protected eight waterfalls, dismantled 10 small hydropower plants, restored 16 bird habitats and protected 42 water sources.
Winners also included projects that promoted mental and physical wellbeing following the Covid-19 pandemic. Oxhey Park in Watford, awarded the prize for Excellence in Public Health and Wellbeing, encourages inclusive physical activities to tackle community obesity – with some of the best wheeled sports facilities in the country. The development extended to green spaces, attracting multiple species of bats and birds which will inhabit the newly planted habitats.
Professional services company ARUP won the prestigious Landscape Innovation award for its report on Meanwhile Use projects in London. These designs take derelict and underused buildings and spaces in the city and re-purpose them as transitional projects, such as affordable workspaces for local creatives, that benefit local communities before they are re-developed.
The Landscape Institute announced the winners at its 2021 virtual awards. Judges from bodies like Historic England, National Lottery Heritage Fund and Public Health England selected 23 winners from a 73-project shortlist that featured developments from across the globe.
Presented by Hannah Jackson, farmer and public figure, with a keynote speech from celebrated architect, Indy Johar, the awards showcased the best in sustainable and resilient design.
"The world is beginning to pay attention to the important work champions of this industry are doing," said Landscape Institute President Jane Findlay. "The awards this year combat issues that have arisen from the pandemic, such as vacant buildings and mental wellbeing. Nearly every project also includes some form of rewilding, which we so desperately need to address the current biodiversity crisis. These projects should be used as shining examples of what should be common practice across all landscape projects moving forward."
"Winning awards is always special, but The Landscape Institute Awards represent the pinnacle of achievement in our profession," said Edward Green, landscape architect at Southern Green, winners of the Excellence in Public Health and Wellbeing award. "Especially for projects that benefit the physical, mental and environmental wellbeing of our communities.
"The unprecedented popularity of Oxhey Activity Park will drive social change through community cohesion, disorder reduction and social inclusion. This project and inclusion within these awards will highlight the returns green spaces and parks can make to improve communities' health and mental wellbeing and help drive the agenda of extra funding for a sector that has been underfunded for years."
Awards were divided into professional, open and student categories, along with three separate accolades, including the President's Award which is supported by headline sponsor Hardscape, a paving materials supplier.
For a full list of the winners, please click here.
All entries can viewed on the online exhibition.
A host of sponsors once again supported the Landscape Institute awards this year, including:
Headline sponsor: Hardscape
AG Paving & Building, BALI National Landscape Awards 2021, Building with Nature, Carbon Store, Civic Engineers, CloudScapes, Firestarter, Green Blue Urban, Green Tech Specifier, Ground Control, Marshalls, MFL Insurance Group, Polypipe, Society of Garden Designers, Tobermore, Vestre, Wood BlockX Landscaping and Wildflower Turf.