The LI is currently collating expressions of interest from organisations, with the intention to submit to the UK Government in early 2018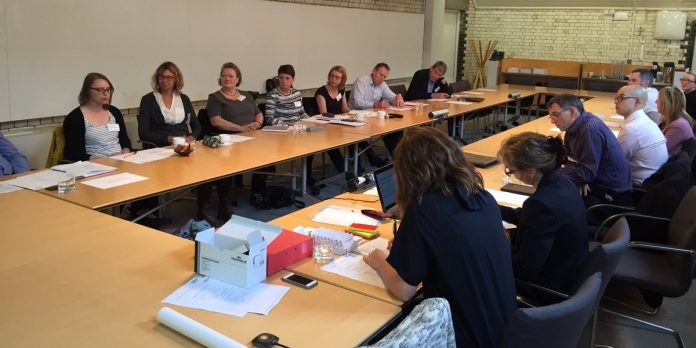 Thursday 12 October 2017 saw the first coming together of employers interested in setting up apprenticeship schemes for the landscape profession. 18 employers attended, with the group covering both small and large private practices along with representatives from public bodies. The group shared a common interest, seeing apprenticeships as a fantastic opportunity to shape education routes to develop new talent, improve diversity and accessibility to the profession, and use Levy funding or obtain funding for training – a key initiative to support the skills shortage within the profession. The meeting was led by Poppy Smith, Future Talent Manager at the Landscape Institute (LI) along with Christina Hirst, an apprenticeship consultant hired by the Landscape Institute to support the apprenticeship process.
Through discussions, the group saw great potential in creating apprenticeship routes at both a lower level (equivalent to A-level) and at a degree level, this structure seen to both recognise those in lower level roles and also to create an education journey through landscape apprenticeships. Options on how to include the broad landscape profession roles was also discussed where the group saw the importance of catering for this diversity.
The employer group who met can be seen as the beginnings of a trailblazer. As set out by government, new apprenticeship routes must be made by a trailblazer group who works with education providers to design new apprenticeship standards for occupations within their sector. The next step is for the organisations to formally sign up for the trailblazer group, where we need a minimum of 10 employers – two with less than 50 employees. The LI is currently collating expressions of interest from organisations. If you did not attend the meeting on 12 October and would like to be involved in the Trailblazer group, be consulted on the group's work, or receive updates, please contact Poppy Smith on poppy.smith@landscapeinstitute.org or by calling 020 7685 2656.
When the formal Trailblazer employer group has been formed, the members will look to write an expression of interest that will be submitted to government by early next year. Timings depend on energy from the profession as well as government processes.
The creation of a new apprenticeship route can only happen with the whole profession behind it. It will take time, work and resources – but if we get it right, the value added to the profession could be substantially more.
Find out more: