We're sorry to announce that our CEO Dan Cook will be leaving us in April after five years. He has been an excellent leader during a time of positive transformation at the LI and we'll be sorry to see him go.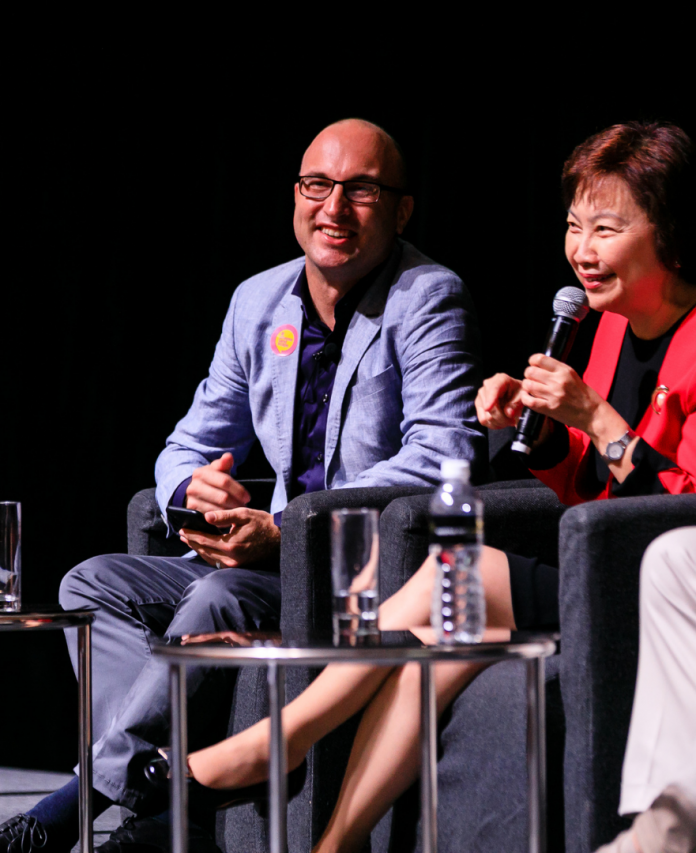 Despite a challenging year, we're proud to have watched the LI continue to grow and adapt. The resilience and resourcefulness of our staff and members alike has been exceptional, and we're excited for the next steps we'll take together as an organisation.
Dan decided over and around the New Year break that, following a period that focused on a new innovative strategy to modernise the LI, it was time to hand over to someone who can give a long-term commitment to undertake the next major phase of consolidation and operational delivery as part of the next journey of transformation required:
'I've thoroughly enjoyed my last few years with the LI and the changes we've made as an organisation,' said Dan. 'I've been particularly pleased that we've made the LI more current, modern and relevant. We've sought to have strong employer and industry engagement, and have continued evidence-based policy making and consultative standard setting over the past five years.

'Last year, I was very proud to see our climate and biodiversity action plan published in May and our new competency framework in December. This will provide a strong basis for the LI to be inclusive of all landscape practitioners and the skills they use to deliver for society going forward.

'While last year was challenging for everyone, I've been extremely proud of the LI team's efforts during the pandemic to ensure the LI remained financially healthy, and did not need to furlough staff, while still delivering services to members. The innovative approach to member support and the introduction of LI Campus has been a particularly notable achievement.

'Members are able to keep their skills up to date wherever they are, and now have access to an extensive programme of webinars and CPD events. The pandemic actually accelerated some of our change programme – but it was an exhausting year.

'There remain ongoing challenges and with the continued impact of the global pandemic there's a need for continued focus on staff wellbeing, the uncertain economic outlook and responding to new methods for delivery of areas such as online exams and online working. This will need sustained commitment from the LI's leadership team, and with a great team in place who really support one another, I'm confident the LI will go from strength to strength in the future.'
With Dan's departure and the beginning of business planning for the new year, we've taken stock of the progress we've made, and are now embarking on the next phase of addressing challenges, improving our resilience, and ensuring the future growth the LI.
We're very positive about the future of the LI, and will continue to build on our many alliances and relationships with other organisations in order to achieve our objectives – particularly in terms of growing the influence of the profession, increasing access to landscape education, and growing membership beyond the current disciplines.
The next steps will focus on a consolidatory, positive, and collaborative approach to continue the work to put the LI in the best possible position to tackle the global challenges our sector is facing, and to provide a supportive and inclusive home for all our members.
During his time with us, Dan has been central in driving a clear strategic vision to bring the LI to the forefront of the natural and built environment sector as a leading organisation. Over the past years, he and the team have together:
broadened and grown the landscape profession over the past five years from 5,300 to more than 5,700 members. Our new entry standards, published in December 2020, will ensure increased inclusive growth over the coming years. We also developed new global ethical principles with our global body IFLA.
expanded the LI's CPD and training offering, with a new CPD event programme in locations across the UK, plus online options such as LI Campus, livestreaming and the webinar programme.
refreshed the LI Awards, with new, more inclusive, categories and record numbers of entries in 2020. We also delivered our first ever online Awards Ceremony.
digitised the LI, delivering operational improvements, better branch support and new online services to members, including online CPD recording, the My.LI member portal, and new member directory.
redesigned our member communications, created the #chooselandscape careers website, and launched themed editions of the Journal.
taken real action in response to our Climate and Biodiversity Emergency Declaration in 2019, and started to address equity, diversity and inclusion across the LI and our sector.
partnered with bodies in place and landscape management, such as the Institute of Place Management and the High Streets Task Force.
ensured pay equity, flexible and remote working, and better training and development for the LI team.
Message from our President Jane Findlay
'Since his appointment, Dan has guided the Landscape Institute through a period of change and modernisation. Through Dan's vision and strategy these changes now provide the foundation to develop an Institute that is fit for the future to support its members.

'To meet the challenges of climate change, biodiversity loss and the health and wellbeing crisis, we need to be relevant and visible, highly skilled, creative, and trusted. There has never been a time when our expertise and creativity will be as highly valued.

'We've built the foundations for this over the past few years and the next steps involve supporting our staff, volunteers and members – who are highly motivated and engaged professionals – by improving the culture, behaviour and leadership of the organisation as a whole.

'We'll also continue to build on our many alliances and relationships with other organisations in order to achieve our objectives – particularly in terms of growing the influence of the profession, increasing access to landscape education, and growing membership beyond the current disciplines.

'The Board and I would like to thank Dan, congratulate him on his achievements, and wish him every success for the future.'
Next steps
During this period of change we'll keep all our members and LI groups informed of the timelines and progress as we search for Dan's successor.
Under the Landscape Institute's regulations, it is the Board of Trustees' responsibility to recruit a new Chief Executive, and the Board has already started to plan how it will appoint Dan's successor. Time will be taken to fully reflect and consider the skills needed going forward.
As such, the Board of Trustees will initially be recruiting an interim CEO who will focus on supporting the Board and the staff through the next few months.
If you have any questions or concerns, please don't hesitate to get in touch.