Four motions will improve flexibility and information sharing, and help to attract a wider variety of candidates to the role of LI president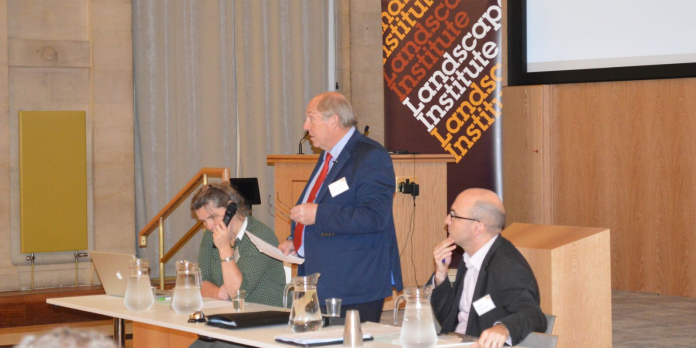 Members of the Landscape Institute have voted in overwhelming support of four motions at this year's annual general meeting (AGM).
Voters agreed to carry the following motions:
To allow the Institute to pay a president's stipend (passed with 436 votes to 77)
To allow increased flexibility in the timing of the election and nomination process (passed with 506 votes to 17)
To increase the maximum number of terms of office for trustees and Advisory Council members from two to three (passed with 493 votes to 34)
To change the required minimum number of annual Board meetings from six to four (passed with 454 votes to 70)
The Board posited all four motions in response to discussion with and feedback from members, in order to make LI governance more flexible and transparent, and to help attract a more diverse range of candidates to the role of president. Current estimates are that presidency of the LI requires a time commitment of at least two days per week; the stipend will ensure that any candidate can put themselves forward, even if they are in full-time work and would otherwise stand to lose income.
Motion 3, meanwhile, makes a welcome change to the length of time for which trustees can sit on the Board. Previously capped at two consecutive terms of two years, this timeframe saw a rapid turnover of senior members. Members are confident that increasing the maximum term to six years will help the LI benefit more from its trustees' experience, and also stagger the departure of Board members to ensure more consistent oversight.
Motion 2 will amend LI governance to make election timing more flexible to account for public holidays and other seasonal factors, while motion 4 aligns the meeting calendar of the Board of Trustees more closely with Council and standing committee meetings.
Nine out of ten members vote using new online system
This was the first year that the LI trialled a new system of online voting, which enabled members to engage even if they could not attend the AGM in person.
Approximately 90% of the votes cast were done so digitally, and many members who voted online expressed their satisfaction with the ease and simplicity of the system. Based on this resounding indicator of success, the LI will continue to use this digital platform in future years, ensuring that all members can have a say in how their Institute is run.
Update from president and CEO
LI President Merrick Denton-Thompson and Chief Executive Daniel Cook greeted members in person at Bristol City Hall, where the AGM coincided with the LI's annual evening lecture and, this year, a CPD day run by LI South West in partnership with Public Health England. The theme of the training and talks was 'Built-in Health: designing for health in the public realm'. Public health is a key area of focus for the LI, and both the events were well-attended.
Merrick updated members on his significant contribution to the LI's influencing agenda, particularly around rural affairs, green belt, and Defra's 25-year environment plan. He discussed the development of LI policy, the Institute's continuing work to engage and influence both national government and local authorities, and its plans for expansion: building upon its success representing landscape design and planning professionals by broadening to encompass landscape management, urban placemaking, landscape science and more.
Daniel, meanwhile, reflected on recent LI successes including 2017 conference 'Landscape as Infrastructure', engagement with leading landscape management professionals, and the LI's partnership with the Manchester Metropolitan University-based Institute of Place Management. He updated attendees about the LI's work engaging employers, including the recent progression of the new landscape apprenticeship trailblazer, and the far-reaching UK State of Landscape talent survey. And he discussed some of the LI's upcoming priorities: engaging the next generation of landscape practitioners, and demonstrating the value of the profession.
Both Merrick and Daniel discussed public health. With the NHS increasing its allocation of resources to preventative measures, landscape professionals have a greater role than ever to play in the provision of a key public service. They also discussed the LI's emphasis on the value of landscape and 'natural capital', themes that will form the basis for the LI's 2018 conference in London, referring to Barnet's parks and open spaces by planning designation.