The careers campaign aims to address urgent skills shortages in the landscape profession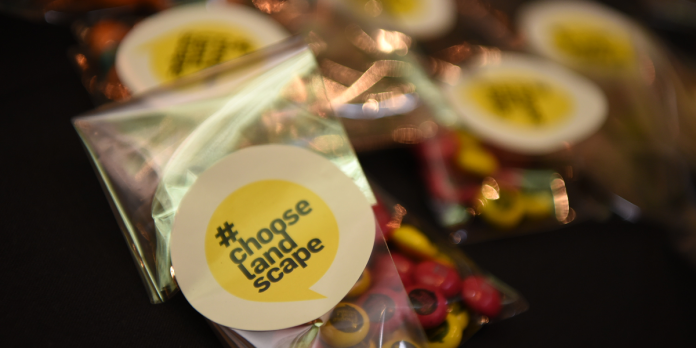 Award-winning garden designer, landscape architect and newly appointed President of The Landscape Institute, Adam White, has launched a new campaign to promote the range of career choices and opportunities in the landscape profession.
Adam announced the #ChooseLandscape campaign at a packed reception at the Garden Museum in Lambeth, where he accepted the LI Presidency from Merrick Denton-Thompson.
Read more: Merrick Denton-Thompson passes torch to Adam White at LI Presidents' Reception
The landscape profession has a huge impact on lives and communities. It has grown by nearly 16% since 2010 and contributed nearly £1 billion to the UK economy. The LI's new report, the Future State of Landscape, highlights an urgent skills shortage in the landscape profession.
Want to get involved in the campaign? Read on…
'Good landscape plays such an important role in all of our lives. It's where people, place and nature connect. It makes us feel good, improving our well-being through better planned greener cities and open spaces. But the nature neurons in our brains are flatlining as we become less and less connected to nature and there are some pretty big challenges ahead as our cities continue to grow and the environment comes under more pressure.

'That is why I am really pleased to be involved in launching this important campaign at the start of my two-year tenure as LI President. It is vital we tackle the growing skills gap and inspire and encourage more young people to choose a career in landscape by working together across this exciting profession. I'll be championing the cause throughout my presidency.

'The campaign makes clear the range of opportunities in landscape for all kinds of people – from someone who loves creative design to a science enthusiast, from those that are passionate about tackling climate change to those who just love using the latest digital technology. All of these passions and skills are needed in the profession.

'That is why as part of the campaign, we have created a special new website to showcase the different opportunities all in one place. From matching hobbies and interests with potential careers, to information broken down by job roles, young people will be able to see at a glance the sorts of skills, background and motivations will help them. They will also be able to find out the qualifications needed for each role, the salary you might expect and what you could be doing on a day-to-day basis.'

Adam White PLI
Get involved!
#ChooseLandscape will need the input of as many members as possible to help make it a real success. Below are some of the ways you can get involved.
Tell the world why you #ChooseLandscape
We've created a editable, printable graphic for you to take out into your favourite outdoor space and let the world know why you #ChooseLandscape. Simply download your choice of the colour or mono logo, type in your own message, print it out, and get snapping!
We'd encourage you to take the printout outside your office or home and find somewhere beautiful nearby that you feel shows what landscape is all about. (It could even be one of your own projects.) Once you've taken your picture, post it online – and be sure to include the #ChooseLandscape hashtag and LI handle.
(Remember to follow us while you're there!)
Inspiring videos and images of your project? Share them with the world
Thanks so much to those of you who've already been in touch to share your inspiring visuals for the new campaign. The footage and images we've received are fantastic – please do keep them coming!
Not only is contributing to our content bank a great way to support a crucial campaign, it also lets you share the story of your project and work with a wider audience. Your images help us inspire, engage and educate younger audiences, and showcase the range of roles and passions in landscape.
To send us your visuals, please download and fill in the #ChooseLandscape visual submissions form (.docx, 122 KB). Then email the form, along with your before and after images, plans and sketches, photographs and any other visuals you'd like to share, to chooselandscape@landscapeinstitute.org.
Write for the #ChooseLandscape blog
Our blog will be go-to hub for young people, career changers, teachers and career professionals wanting to find out more about landscape. We're looking for top tips and advice articles, career success stories, day-in-the-life blogs and more to help engage new audiences.
Teachers, Ambassadors, students and graduates, career changers and simply people who are inspired by landscape and want to share their passion are all welcome to contribute.
Have an idea for a blog? Want to write, but need help finding the perfect topic? Get in touch with us chooselandscape@landscapeinstitute.org and we'll tell you more about what we're looking for.
Get involved with upcoming campaigns
Choose Landscape is an ongoing campaign. Here's a little more about what's on the horizon for us, and how you might be able to help spread the message:
Clearing (July to September). We'd like to share insight, tips and success stories to students who are going through clearing this summer, who might not have considered landscape as a potential subject. Did you find your way into landscape through clearing? Let us know through our social channels or get in touch about writing for us.
#NationalParksWeek (July 24). Do you work for a National Park? Share your stories, projects and 'day in the life' snapshots with us on social media.
UN #InternationalYouthDay (12 August). Share your work on community projects, youth spaces, playgrounds and similar projects to help us highlight the importance of safe, healthy and inclusive places for communities and young people to use.
#ALevelResults day (16 August) and #GCSEResults day (23 August). Share the #ChooseLandscape message as widely as possible to let students know how they could use their grades to make a real, positive difference in the world!
Thank you for helping us make #ChooseLandscape as successful as possible!