Are you looking for ways to get involved with LI? Your local Branch needs you!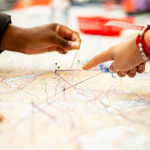 The Landscape Institute London branch has been providing volunteers to the Open House Accelerate programme for two years, and has further strengthened our relationship this year. Find out more and see how you can get involved!
Hampshire-based wildflower specialists, Wildflower Turf Ltd, are lending their expertise to next month's Greener Recovery Festival.