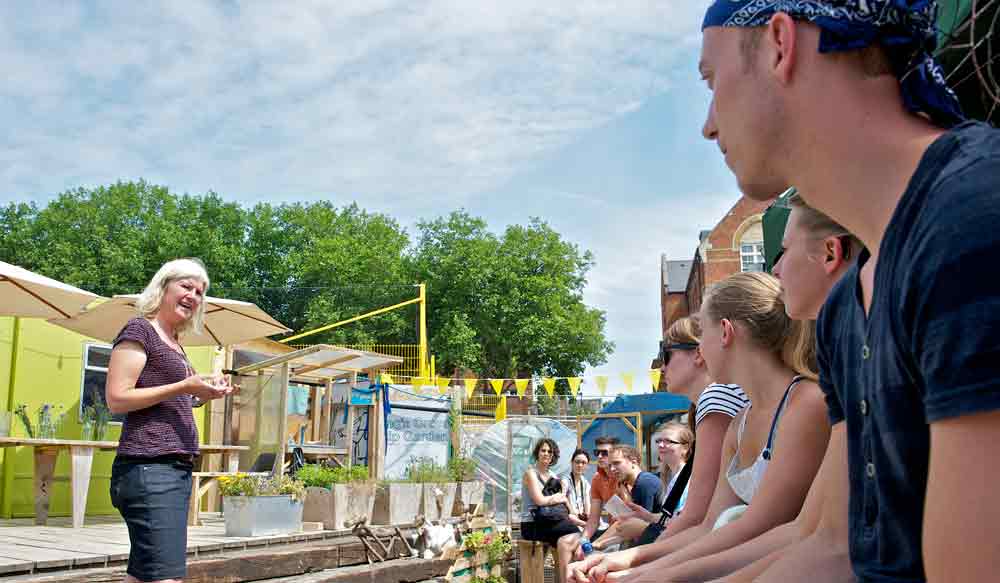 SLIC Conference 2013 at Skip Garden. © Nic Harrison
Students are the future of the profession. We provide opportunities to help students get involved with the LI so that they can influence their professional institute, and meet landscape professionals and learn from their experiences.
We also recognise talented students and their achievements through our competitions and awards.
Student landscape awards
Our annual LI Awards include two student categories. These award categories, Student Dissertation and Student Portfolio, are free to enter and give students an opportunity to showcase both their theory and practice skills and knowledge of landscape.
Winners of the two categories are offered a free ticket to the LI Awards event, which is held each year. This is a fantastic opportunity for students to meet with experienced practitioners and showcase their work to potential employers.
Please visit our awards page for further information.
We also offer a student travel award, which is open to all students who are studying a course accredited by the LI.
Successful students receive a monetary award which must be used travel to a chosen destination anywhere in the world to learn about a specific landscape topic or project.
The two successful applicants in the 2016 travel awards, Rebecca Huggins and Charles Lamb, each received £750 towards their travel. With Rebecca researching sustainable tourism in Mexico and Charles investigating water management in the Philippines.
Please visit our student travel award page for further information.
Student competitions
Many of the competitions run by the LI are open to students or include a special student category. For example, a number of those shortlisted in the 'How to Prevent Flooding Competition' were students.
And the Capability Brown Ideas Competition, to consider the design and layout of the Moccas Park, had a student category.
Benefits of joining the LI as a student member
If you are studying a course accredited by the LI, or a related courses that focus on geography, planning, architecture, urban design and ecology, you can join the LI as a student member. Student membership provides you with a range of benefits. For further information visit our membership website.
Student membership also helps you begin to engage with the profession and your potential future employers. You can develop valuable local industry contacts through the LI's 12 regional branches across the UK. You could also be involved with your local branch as a student representative.
Student members who graduate from an LI-accredited course are automatically eligible to become a licentiate member of the LI, and begin their journey along the Pathway to Chartership to Chartered status. Those who do not hold an LI-accredited qualification will be eligible for Affiliate membership, and can then gain industry experience before applying to join as a Licentiate member. Further information is available from our membership website.
Resources offered to LI members
You'll also get access to relevant resources that will help you in your studies and your career including:
regular newsletters
the latest Journal, the LI's quarterly magazine
technical guidance from our professional experts
discounts on training events and seminars
Student members can also visit the LI's library and archive collection at the Museum of English Rural Life (MERL), which is based at the University of Reading.