East Midlands Branch Updates
Are you looking for ways to get involved with LI? Your local Branch needs you!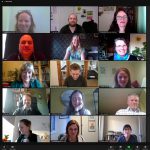 Many thanks to all who attended our AGM and Biodiversity Net Gain event last night. Many thanks to Ian Dudley and Jo Alderton of Lockhart Garratt and Carolin and Keren from the LI. Special thanks to our outgoing chair Katharine Schofield for all her hard work and a big congratulations to our new chair Erika Diaz Petersen.
We welcome our new Chair Erika Diaz Petersen. Erika has been on the committee for a number of years and has filled other roles during that time. Currently a Landscape Architect for Historic England, Erika brings a wealth of experience, knowledge and enthusiasm. Congratulations on your new role in the committee.
Landscape jobs in East Midlands
There are currently no vacencies in this region on our Job Site. Please check back later or sign up for alerts.