East Midlands Branch Updates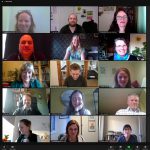 Many thanks to all who attended our AGM and Biodiversity Net Gain event last night. Many thanks to Ian Dudley and Jo Alderton of Lockhart Garratt and Carolin and Keren from the LI. Special thanks to our outgoing chair Katharine Schofield for all her hard work and a big congratulations to our new chair Erika Diaz Petersen.
We welcome our new Chair Erika Diaz Petersen. Erika has been on the committee for a number of years and has filled other roles during that time. Currently a Landscape Architect for Historic England, Erika brings a wealth of experience, knowledge and enthusiasm. Congratulations on your new role in the committee.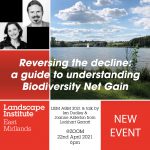 Join us on 22 April at 6.00pm to hear from Ian Dudley and Joanne Alderton of Lockhart Garratt on Reversing the decline: a guide to Understanding Biodiversity Net Gain, followed by our AGM