Run as part of the Garden Museum's Green Infrastructure Week 2014, this competition called for fresh thinking on how to connect green infrastructure and public health. The eight winners presented their ideas on how we could make our cities into healthier and more liveable spaces as part of the LI's 'Public Health and Landscape Project' at the Garden Museum.
Competition winners
The winners offered creative solutions to the environmental problems we face in urban areas, covering issues around green space to healthier forms of transport and housing design. The gallery below showcases their ideas.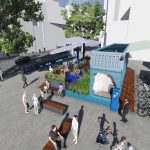 Soap box: rejuvenating commuting communities | Chris Moss, Earthenware Landscape Architects Ltd
First prize went to Chris Moss from Earthenware Landscape Architects for his inspiring design, 'Soap box: rejuvenating commuting communities'.
According to designer Chris Moss, the real barrier to healthier commute for many people is not a lack of will or equipment but a lack of showering and changing facilities at their offices. Although many modern offices now offer these facilities, the majority still do not.
His 'soapbox system' offered an innovative solution: 40 re-modelled shipping containers were transformed into rain-fed showers, gardens and seating hubs which form symbiotic relationships.
The soapbox system begins with a storage tank which collects rainwater from surrounding buildings and roof areas. This directly feeds rainwater into the units below, which are connected up to seating units forming a shower area. Grey water from the shower unit is then fed into the garden container and used to irrigate plants. Power for the system is supplied through solar canopy leaves, which create electricity to power the pumps in the filters and other units.
Each of the units can be easily transported and set up within a matter of hours. As well as the sustainable harvesting of rainwater and re-use of grey water, the Soap Box will act as a catalyst to help urban commuters adopt healthier and more active journeys to work. They can be located at cycle and transport hubs across large cities like London, New York and Paris.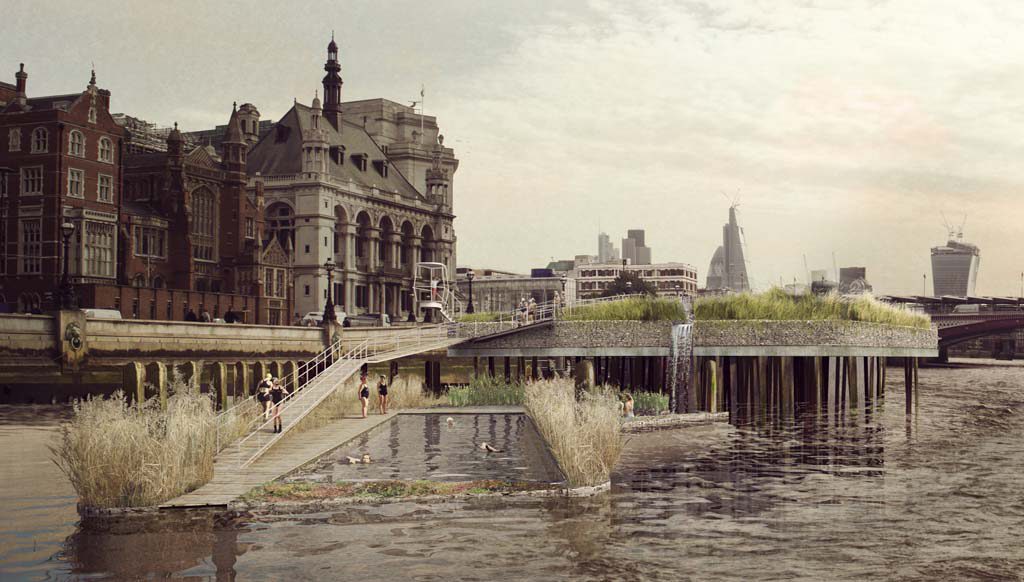 Second place: Thames baths project | Studio Octopi, JCLA, Civic Engineers
Studio Octopi and JCLA Civic Engineers took second prize for their design about helping more Londoners to benefit from the River Thames, large parts of which are currently made inaccessible by roads and buildings.
Their design recognises the historic and environmental significance of the Thames, imagining it as a new public space that safely permits swimming and connects Londoners to the lifeblood of their city. The designs were focused on Blackfriars Bridge, a major transport hub which runs into the city of London. However, the designs could be used anywhere in the city.
The baths were not only designed for swimmers but would also encourage habitats for fish, birds and a wide range of flora and fauna, helping the river to offer more environmental benefits for the city. The extensive planting of reeds around the pools could frame views to city landmarks all edged with low sedums, and surface beds of yellow flag iris.
Next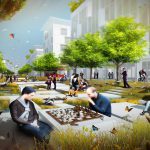 Third place winner: Water boulevards | Baharash Bagherian, Baharash Architecture
In third place was this fascinating proposal, 'Water Boulevards' by Baharash Bagherian from Baharash Architecture. It used the idea of 'water boulevards' to connect up areas of land and water in the city, transforming them into attractive living spaces for residents to enjoy.
The presentation suggested that the water boulevards would create a network of greenspace in dense city areas, offering healthy places for people while protecting against flooding and pollution. The concept was designed to be used to encourage a holistic approach to greenspace across any urban city.
The entrant focused on three main benefits of 'Water Boulevards':
Economic sustainability
The tranquillity of the water boulevard areas could create a natural space for shops, cafes and other small businesses, which would help to create jobs. These would also benefit from the water recycling and surrounding gardens.


Environmental Sustainability
The ponds, swales and reed beds of the water boulevards, could reduce flood risk, improve water quality and create wetland habitats for wildlife.


Social sustainability
The Water Boulevards will bring communities together by encouraging participation in water management, increasing social responsibility.


'Water boulevards' was also shortlisted in the LI's 'How to prevent flooding competition'.
Next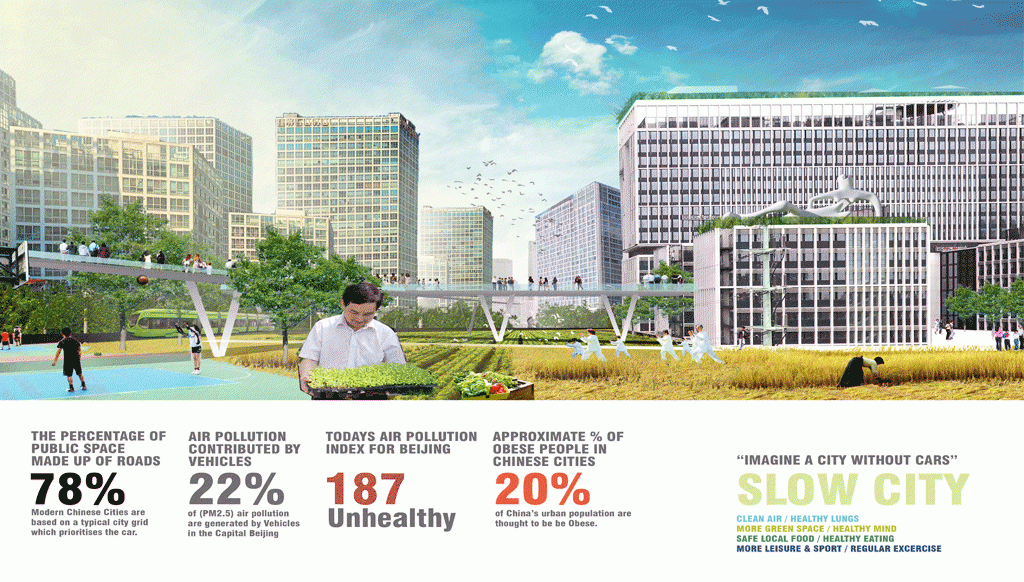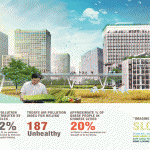 Slow City: "Imagine a city without cars" | Rupert Dehaene-Gold and Atkins Shanghai Landscape Studios
Tackling the issue of climate change in our cities, this entrant imagined a city without cars, showing us how removing transport areas could free up much needed space for residents. The entrant explained how prioritising infrastructure in our cities was negatively impacting the health of residents by destroying environmental habitats and contributing to problems such as climate change and pollution.
Reclaiming the space dedicated to cars could offer many benefits to residents, including new public space, sustainable transport and better air quality. The proposal showed us how former roads could be converted into sustainable enterprises such as food parks, which would help to bring the city to life. The presentation drew on examples from China and forward-thinking cities such as Bogata in Colombia, where restrictions on the use of cars have already been tested.
The entrant suggested that benefits of a car free city could include:
Create new public space from reclaimed roads.
Create Business and living communities from location and sustainable transport like trams.
Better air quality, so people are more willing to go outside and do exercise.
Former roads can be converted into Food Parks where local safe and fresh produce can be grown.
Passive exercise built into a new urban lifestyle encouraging 30+ minutes of daily walking.
Access to leisure and sporting facilities increased to encourage active exercise.
Next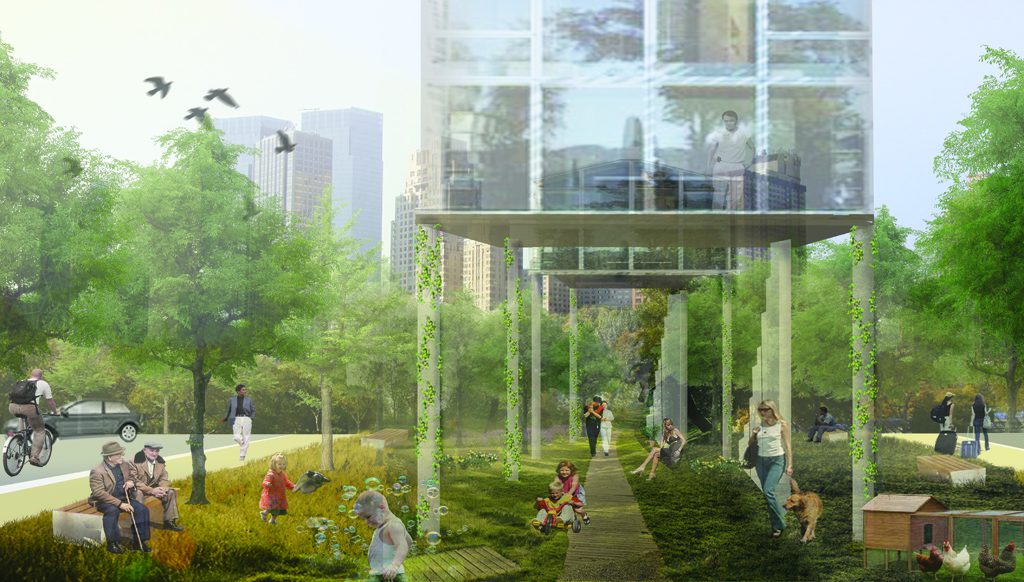 Finalist: Park life | Hannah Cameron & Atkins Shanghai Design Studio
This project suggested we make better use of our street space by raising housing one level above the ground.
Reclaiming our street space could create new space for communities to come together, while moving our homes higher up could help protect against flooding, discourage vermin and improve ventilation. In the proposals, homes were shown with extensive roof gardens that would promote better air quality and encourage greener living.
According to the proposal, creating greener street pace would make 80% of our streets pedestrian use-only, leading to a dramatic reduction in the number of cars and buses in our cities. This would have a dramatic effect on improving air quality, reducing the number of pedestrian deaths and helping to reduce obesity through encouraging a healthier, outdoor lifestyle.
Cities without cars could also have psychological benefits for residents by promoting a more relaxed lifestyle, where all urban residents enjoy free access to nature in their everyday lives.
Next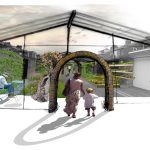 Finalist: Arcadia culture | Fairhurst
This proposal focused on the idea of creating 'greenways' or inter-locking greenspaces to connect up Victorian terraces and create outdoor space for residents to enjoy.
In a world where there is increased pressure on urban space due to housing shortages, many people live in more compact areas and lack access to outdoor space. The idea of creating arcades or inter-locking greenspaces around Victorian terraces could help make our houses more enjoyable and healthier for urban residents.
In the proposal, disused back alleyways were transformed into shared gardens, creating attractive outdoor spaces for residents. Greenhouses were also a key feature of the plan, and would aim to maximise the space for growing food and promote sustainable living. The pitched roofs of the greenhouses would also provide sheltered spaces for residents to enjoy in all kinds of weather.
Meanwhile at the ground level, brick swales could be used to collect rainwater from the roofs of the houses and greenhouses. This would encourage a sustainable and healthier lifestyle for residents of urban terraces.
Each of the shared gardens could have a different theme to promote a sense of community identity and encourage interaction between residents in different streets.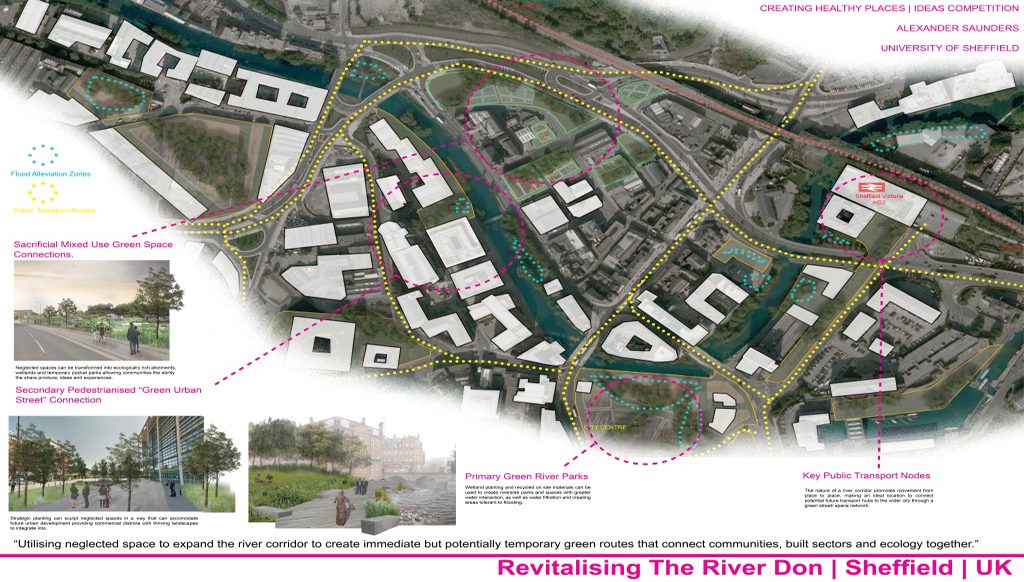 Finalist: Revitalising the River Don | Alexander Saunders, University of Sheffield
This proposal looked at how neglected parts of Sheffield's River Don could be connected up to create an attractive 'green corridor' through the city.
The proposal aimed to start a move away from thinking about landscapes in terms of 5 and 10 year developments and instead consider how to make use of derelict sites within the first year or even months of the land becoming available.
Sheffield is a city with large areas of neglected space relating to previous waterways that run throughout the city. The project would create new urban and wetland areas that would help to revitalize urban areas and benefit the residents' health. These would include new allotment sites where residents would come together. Ultimately, a green corridor along the Don connecting the station and the city centre will inevitably promote a more pedestrianised and active city.
Next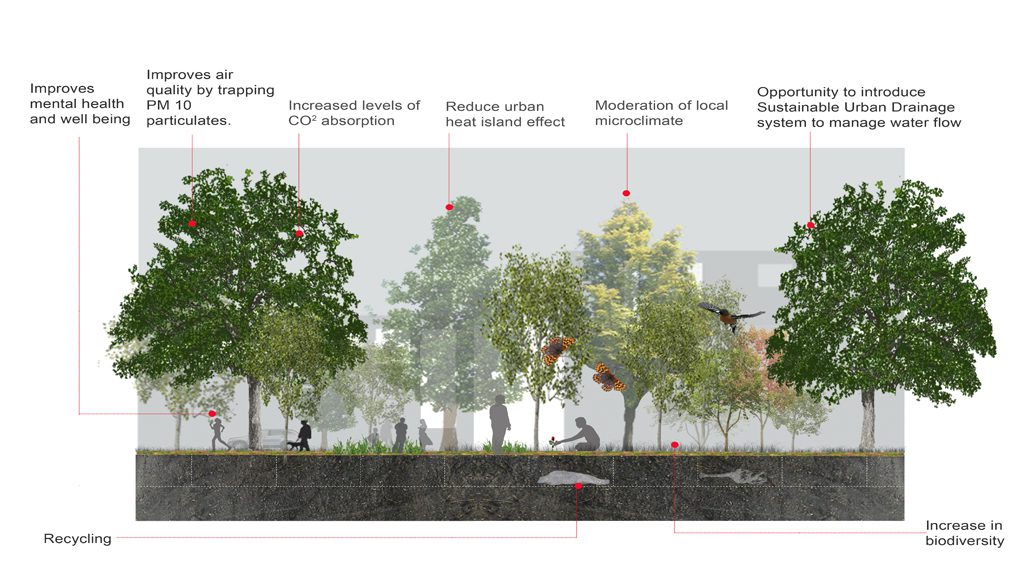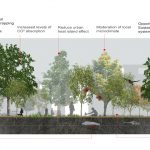 Finalist: Green (Burial) Infrastructure | Ann Sharrock, Landscape Architect and Ian Fisher, Manchester School of Architecture
This proposal addressed the issue of lack of burial and greenspace in urban areas, suggesting that the two problems could be addressed simultaneously. The entrant offered us a more environmental approach to burial by moving burial areas away from communities and into temporal spaces awaiting development.
The entrant offered two potential ways for developing these temporal development spaces: either through the way that future tax revenues are apportioned or through private investment, which would inevitably include a carbon tax. The second solution was aimed at private investors, who could lease the designated green burial land then sell later at a profit.
The proposal particularly focused on urban areas and aimed to generate a sense of respect and responsibility among these communities. The proposed green burial spaces would offer residents secular spaces of escape and contemplation, offering sanctuary from the hustle and bustle of city of life.
Only environmentally friendly chemicals would be used within the process. Meanwhile the biocentric spaces would absorb pollution, reduce the urban heat island effect, create resilient habitats and provide biomass for local use.
This approach could provide better sustainable drainage and environmental opportunities and help to improve community health and well-being. The spaces could take on a cultural significance in the community and encourage a greater social acceptance of death.
Next
Competition details
The competition was part of the LI's Public health and Landscape project as part of the 2014 Green Infrastructure week. The eight winners presented their proposals at the Garden Museum on 2nd May 2014.