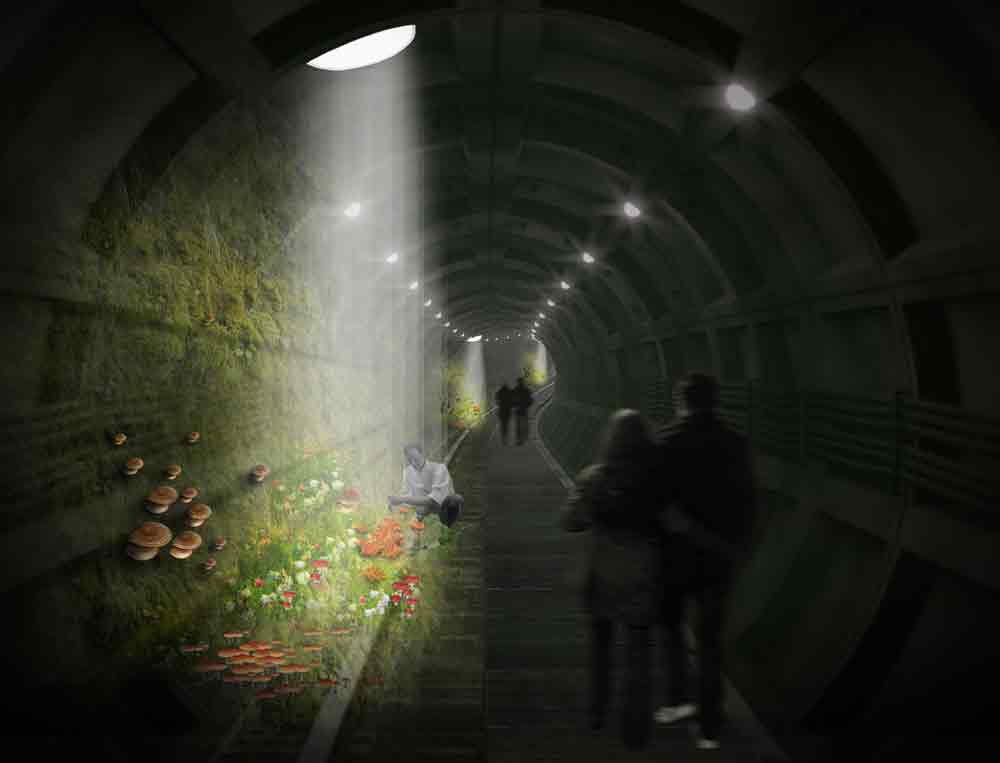 The London High Line winner was Fletcher Priest, for 'Pop Down'. © Fletcher Priest
The LI has been involved in many national and international design competitions for landscape and urban design over the years. These competitions have covered sites as varied as Dover's seafront esplanade to screening mounds for the Moorside Power Station in Cumbria.
Here you can find out more about a few of the past competitions we've run including some where we've teamed up with partner organisations.
Moorside Landscape Design Competition
This two-stage competition is to come up with the most creative and sustainable design ideas for the screening mounds for the Moorside Power Station in Cumbria. Hosted by NuGen and run by the LI.
This competition is now closed. Five teams were shortlisted and the winner will be announced shortly.
Design for Life Competition
Landscape architect Dora Papp's design for retrofitting a neighbourhood with green infrastructure, to make it more resilient to climate change, took first prize. The 2015 competition was run by Groundwork with Hammersmith and Fulham Council, in association with the National Housing Federation and the LI.
The Design for Life competition was part of the Climate Proofing Housing Landscapes programme and was co-financed by the EU Life + programme.
Capability Brown Festival Design Ideas Competition
There were four winners in the 2015 competition, as part of the celebrations to mark the 300th anniversary of Capabiilty Brown's birth.
The two winners in the professional category were Matthew Wigan Associates, and Colvin and Moggridge Landscape Architects. The two student category winners were Jo Phillips and Owen Byrom of Manchester Metropolitan University, plus Leopold Taylor and Naomi Rubbra of Edinburgh College of Art.
The competition to create a design for Moccas, part of a Grade II park and garden near Hereford, was hosted by Natural England and run by the LI.
The Inter-Institutional Flooding Group: How to Prevent Flooding
Using film to explain and demonstrate how to prevent flooding led to some creative videos in this 2014 competition. First prize went to landscape architect Anäis Chanon for her film 'Living with the sea'. The LI worked with the Institution of Civil Engineers, Chartered Institute of Water and Environmental Management, Royal Institution of Chartered Surveyors and Royal Town Planning Institute, on this creative film competition.
Creating Healthy Places Ideas Competition
The winning project from Chris Moss of Earthenware Landscape Architects Ltd used shipping containers as work-based showering and changing facilities. Called 'Soap box: rejuvenating commuting communities' the design also featured shipping containers as gardens and seating areas.
The LI chose eight top 'healthy landscapes' ideas in this 2014 competition, to coincide with the LI's new position statement on healthy landscapes. Entrants were asked for fresh ideas and innovative proposals demonstrating creative thinking on green infrastructure and health.
Royal Docks Ideas Competition
Bethany Gale and Sarah Tolley came up with a winning design to turn the Royal Docks into a world class, sustainable location. The LI and Ecobuild ran the 2014 competition to find a design to transform the world's largest enclosed docks. This competition was run in partnership with the Mayor of London's office, Building Magazine, Newham Council and Open City and was sponsored by Marshalls.
Barrow-in-Furness Maritime Streets Public Realm Design Competition
Barrow Borough Council were looking for a professional team to design the public realm within Barrow Island, Barrow-in-Furness. The competition was held to achieve the council's vision for the port area, which includes enhancing the natural and built environment and reconnecting the town to its waterfront, making it an attractive place for residents as well as a tourist destination. Winners of the 2013 competition, run by the LI, were Farrer Huxley Associates and James Smith.
A High Line for London Competition
The 2012 ideas competition to design a new green space for London attracted enormous attention from across the globe. Over 170 entries were submitted from countries including India, Israel, the USA, China and Brazil. The winner was Fletcher Priest, for 'Pop Down', an urban garden lit by sculptural glass-fibre mushrooms. The LI's competition was inspired by New York City's High Line and focussed on green infrastructure ideas.
Wood Wharf Student Competition
Landscape students took the prize for their design of event facilities at Wood Wharf, near to London's Canary Wharf. Greenwich University students Alick Nee and Danny Mitchell won the 2011 competition, which was run by the LI, Canary Wharf Group and Townshend Landscape Architects.
Southend Pier Head
White arkitekter's impressive design 'Sculpted by Wind and Wave' won the competition that called for regeneration ideas for the Victorian pier. The 2009 competition called for innovative designs for established leisure, recreation and tourism uses. The project on the world's longest pleasure pier was completed in 2012 and features a £3 million cultural centre.
Worthing Splash Point Design Competition
A misty rainbow water feature helped craft:pegg win this competition for a regeneration scheme in Worthing. The 2009 competition called for ideas that would encourage investment and provide facilities and cultural experiences in the town and seafront. The LI ran the competition on behalf of Worthing and Adur Borough Council.
Dover Esplanade Competition
Tonkin Liu won the competition for ways to regenerate Dover's esplanade. The £2 million seafront project 'Lifting Wave, Resting Wave and Light Wave,' which was completed in 2010, links the East and West Dover docks with a 3,500 square metre promenade. The competition was hosted by of a partnership comprising Dover Harbour Board, Dover District Council, Kent County Council, SEEDA and English Heritage.
Winckley Square, Preston
The Cooper Partnership, now part of SLR, won the 2008 design competition for Preston's Winckley Square. The aim was to breathe new life into a Victorian Square and encourage more people to use the area. The LI ran the regeneration competition with Preston City Council, Preston Vision Board and the Northwest Regional Development Agency.
Flag Market, Preston
Landscape Projects Ltd came up with a winning way to upgrade the oldest civic space in Preston City. The LI ran the 2009 design competition with Preston City Council and the Preston Vision Board, along with support from RIBA.
The British Homes Awards Sustainable Landscape Architecture Competition
PRP Landscape's ideas on integrating an existing park into a development for the Buildings Research Establishment (BRE) took the top prize. In 2009, the LI teamed up with BRE to find a winning design for the next phase of a development to create a joined up 'sustainable community' for BRE's Innovation Park in Watford.
Who to contact for LI competitions
The LI Competitions Office organises international landscape architecture and urban design competitions. For further information contact our Events and Competitions Manager Sabina Mohideen on 020 7685 2647.