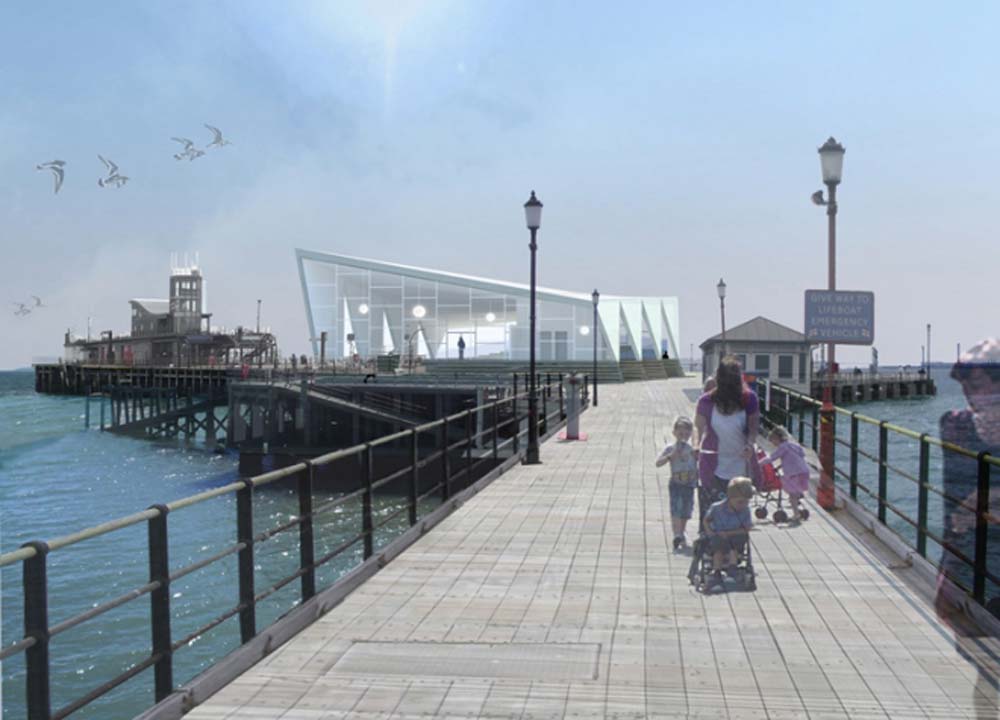 Southend Pier Cultural Centre. © White arkitekter
Competitions are an ideal solution for clients looking for imaginative, innovative and creative designs, as they allow for experimental and alternative proposals.
Competitions can help clients address a particular issue or find a solution to a specific need such as reducing flooding on a certain landscape.
For public spaces, there are benefits too, as competitions lead to projects that produce more creative public places.
The benefits of running a competition
Competitions often mean a bigger talent pool, so the range of skills, perspectives and experience offered to the client increases, which can mean:
different approaches leading to innovative solutions to a specific issue
more creative ideas, which encourages more enthusiasm for change
the client's own perceptions about a site are challenged by the ideas and solutions produced, which changes how they see the potential for the site
Running a competition demonstrates a client's interest in being bold in their procurement methods, as they have chosen a process that may challenge their own thinking by inviting innovation.
Additional press interest generated by the competition may also lead to increased media coverage about a project.
The types of design competitions the LI runs
We organise a diverse range of competitions in the UK and internationally, either independently or with partners.
Broadly speaking, we focus on three types of competitions, which are detailed here.
However, our expertise means we can create competitions tailored to the client's needs and our Competition Office caters for everyone, including those looking for a bespoke approach.
Single-stage ideas competition
A single-stage competition works for projects where a client is seeking inspiration and ideas for how to approach the design for a specific site.
The entry process is straightforward: entrants submit their design ideas and complete a questionnaire on the proposed design team for the project.
A judging panel selects the winner, along with the second prize winner, runners-up and, sometimes, honourable mentions from the submissions.
There is the option of assessing questionnaires in advance of judging, or inviting practices to be interviewed by judges if more detail is needed.
An example of a single-stage approach was the Capability Brown Festival Design Ideas Competition, which called for ideas for the Moccas Hill Wood in Herefordshire.
Two-stage open competition
A two-stage approach suits more complex projects or projects where the winner will enter into a contract with the client to deliver a project on the ground.
The first stage involves entrants submitting an "expression of interest" that normally includes:
case studies that show relevant experience
a statement on the design approach
relevant references
a completed questionnaire about their practice and the design team
Other information required will depend on the project.
Judges will assess first-round submissions and will shortlist between four and six proposals.
What happens in the second round of a two-stage competition?
Shortlisted practices will be asked to provide more detailed designs along with a report in stage two, depending on the project's scope. Practices will also be asked to attend a judging event and meet the client to present their designs.
Those on the shortlist receive an honorarium to cover the costs of detailed designs and a design report.
The Southend Pier Head project, worth £3million, followed a two-stage competition. The winner was chosen from among 73 international and local entries.
Invited landscape competition
This type of competition is popular with private clients or for projects requiring confidentiality.
Entrants are chosen from the LI's Registered Practice database and selected according to the required experience for the project.
This competition structure was used for Winckely Square.
Some of LI's competition partners
We work with a variety of partners to deliver competitions. Our past partners include the:
Royal Institute of British Architects
Natural England
Open House
Institution of Civil Engineers
Chartered Institution of Water and Environmental Management
Royal Institution of Chartered Surveyors
Free advice on running a landscape competition
We offer free advice to potential clients on the best format for their competition, based on the nature of their project and their aims.
Additionally, the LI's Competition Office can provide you with a complete expert competition package. To discuss your possible competition options contact our Events and Competitions Manager Sabina Mohideen on 020 7685 2647.