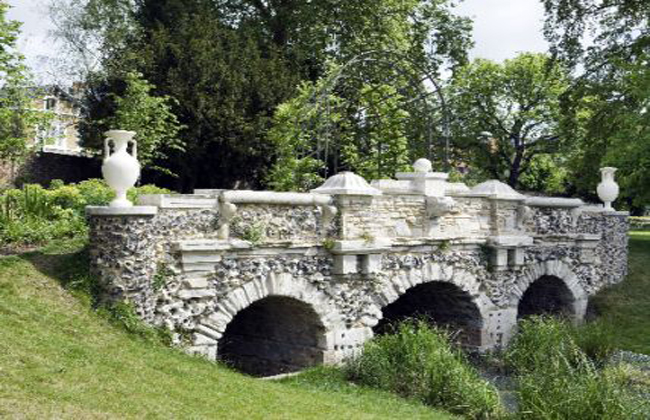 The primary project aim was to develop a fully integrated masterplan for the restoration, renewal and improvement of the House, gardens and park, restoring and interpreting historic links and features while meeting the diverse needs and perspectives through a joined-up strategy for the overall site.
The project aimed to reveal, conserve and unify Pitzhanger Manor and Walpole Park as a single design, celebrate the exceptional legacy of Sir John Soane, re-open lost views, develop learning and training opportunities, build community engagement and improve facilities and interpretation of the heritage asset to serve the needs of a diverse C21 London community.
J and L Gibbons acted as lead consultant, landscape architect, advisors in the establishment of a private/public trust to manage the public space, designers of temporary propositions and lead consultant in community engagement and broader project promotion and communication including walks, talks, activities and collaborations, especially with regard to the veteran tree strategy and artifact restoration.
Approximate Map Location
Details
Landscape Architect

J&L Gibbons LLP

Location

Ealing, London

Client

London Borough of Ealing / Heritage Lottery Fund

Category

Parks and gardens

Awards

Shortlisted for an LI Award 2015

Project Size

12 ha

Project Date

August 2014

Brief

Walpole Park, the manor house and its immediate setting, as well as being muchlovedlocal facilities and landmarks are of national importance. The project willrestore Walpole Park as Ealing's premier heritage park and reveal the originalRegency landscape. New opportunities for learning, volunteering and otherctivities will be provided. The project will create a unified design for the park andPitzhanger Manor and celebrate the national significance of Sir John Soane'slegacy.
Aims:• Conserve listed and other historic structures and recreate the Regency planting design as a settingto the manor• Re-open lost views, protect and maintain important views and minimise intrusive views• Promote community engagement and support community values• Promote sustainable management• Enhance wildlife habitat• Improve park facilities sensitively sited within the historic site• Improve visitor facilities (café, toilets, and signage)• Improve play facilities• Develop an interpretation, exhibition, volunteering and activity programme

Project Team

Landscape Architects : J & L GibbonsArchitects : Jestico + Whiles | Conservation Architect : Julian Harrap Architects | Structural Engineer : Ellis & Moore | Services Engineer: Kingshaw Associates | Quantity Surveyor : Artelia UK | Historic Landscape Advisor : Sarah Couch Historic Landscapes| Landscape managers: Land Management Services| Interpretation Designer: Ralph Applebaum Associates

Authority

London Borough of Ealing

Additional Information

The project presents an extraordinary opportunity to realise the restoration and address the visual fragmentation of this Regency manor house and parkland, celebrate pre-eminent and influential architect Sir John Soane and John Haverfield, making the project of exceptional design significance. Through the appreciation of rich documentary evidence, the veteran tree resource, designed parkland and landscape programme, interpretation and activity, the project has revealed and involved the community and experts in both the historic narrative and in realising contemporary everyday aspiration.
Technicals
Other Technicals

The project presents an extraordinary opportunity to realise the restoration and address the visual fragmentation of this Regency manor house and parkland, celebrate pre-eminent and influential architect Sir John Soane and John Haverfield, making the project of exceptional design significance.

Through the appreciation of rich documentary evidence, the veteran tree resource, designed parkland and landscape programme, interpretation and activity, the project has revealed and involved the community and experts in both the historic narrative and in realising contemporary everyday aspiration.

Contractors

Walpole Park - Gavin Jones The Rickyard - Longcross