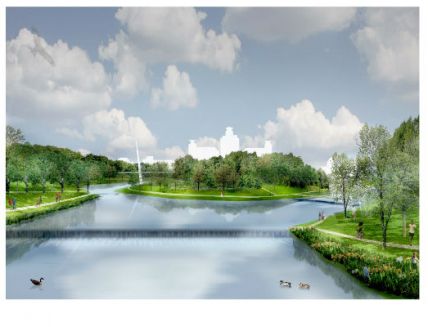 Vauxhall One worked with the RIBA, Landscape Institute and the Garden Museum to commission creative urban and landscape design proposals, with the aim of reconnecting the disjointed parts of the neighbourhood, to build a better visual perception of Vauxhall beyond its roundabouts and roads and to create an identifiable pathway and narrative through the area, linking the railway arches, green spaces and public art into a distinctive place once again.
The challenge was to propose ways of connecting the parks, gardens and walkways into a coherent and exciting green trail, from Vauxhall Park and the Pleasure Gardens, north to Lambeth Palace and beyond.
Approximate Map Location
Details
Landscape Architect

J&L Gibbons LLP

Location

Vauxhall, London

Client

Vauxhall One

Category

Brownfield site

Awards

Shortlisted for an LI Award 2015

Brief

During a time of large scale investment, with development schemes along Albert Embankment, Battersea Power Station and the new Damien Hirst gallery the study seized the opportunity to face up to the challenge of vehicular traffic and hard landscaping, disconnected places and railway arches to create vibrant green links and strong urban connections.
The framework proposals are biased towards more sustainable forms of transport, championing sustainable urban drainage and greening in an area with limited access to nature.

Project Team

Landscape Architects: J&L Gibbons with erect architecture
Cost Consultant: Artelia
Ecology: Ecology Consultancy Ltd

Authority

London Borough of Lambeth

Additional Information

This project is an exemplar of best practice for regeneration where layers of landscape history have been reinterpreted in a contemporary way to help transform an urban environment dominated by vehicular traffic and sealed surfaces into vibrant urban quarter where pedestrians feel comfortable and porosity is embedded in new landscape infrastructure.
Technicals