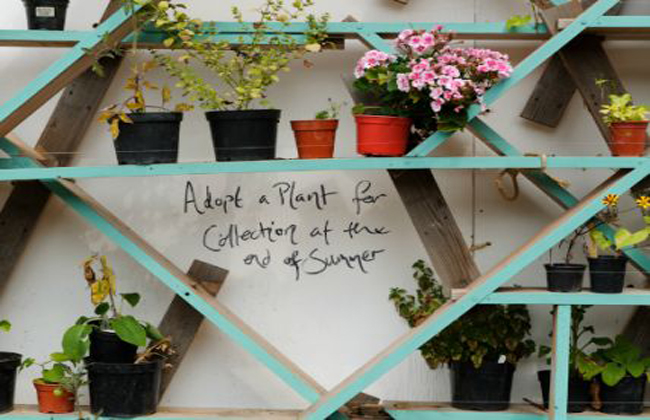 The Urban Physic Garden is a truly innovative project, bringing the concept of a physic garden into the 21st century, as a space to educate and inspire people about the healing power of plants and food as medicine.
The Urban Physic Garden emerged in a derelict unused space as a platform for sustainability. This was truly a space to experiment, from the use of salvaged and reclaimed materials, to waste management (we partnered with LooWatt, utilizing anaerobic biodigesters to transform the waste from our compost toilets into energy, which ran the ambulance-turned-café). The UPG showcased and tested new ideas in sustainability including rainwater catchment and irrigation systems, vertical gardening, aquaponics and algae farms and wormeries.
UPG provided an exciting prototype for a new form of community urban green space – ambitious and design-driven, privately run but highly inclusive, free and open to all, with tremendously innovative new content, commissions and programming.
Using the language and structure of a hospital and pharmacy, the Urban Physic Garden (UPG) celebrated the medicinal potential found in our back gardens to promote health and wellbeing in urban environments. The garden evoked a living hospital with structural frames inspired by a pharmacy cross. These structures formed various garden rooms- or hospital wards- hosting relevant plants found in both herbal remedies and modern medicine. For example, the Cardiology Ward contained foxglove, rosemary and hawthorn whilst the Gastroenterology ward contained peppermint, caraway and ginger. A disused ambulance was turned into café, run by the pop-up supperclub, Rambling Restaurant.
A series of artist collaborations, including Tom Foulsham's irrigation pipe system, which hovered over the garden and rained down on the plants in water events, a moss covered pharmacy cross by Anna Garforth, a ping-pong skip by Oliver Bishop-Young, and the UK premiere of their imaginative see-saws and mobile-plants, first shown at the Venice Architecture Biennale 2010. The project also brought together a host of exciting partners, including Kings College, Tate Modern, Bankside Open Spaces Trust, Living Medicine, and many more.
Approximate Map Location
Details
| | |
| --- | --- |
| Landscape Architect | Wayward London Ltd. |
| Location | South London |
| Client | N/A |
| Category | Parks and gardens |
| Awards | Shortlisted for an LI Award 2015 |
| Project Size | 700m2 |
| Brief | In the Summer of 2011, a derelict space in central London into an imaginative urban garden that focused on medicinal plants and herbs that heal. Reinventing historic gardens of medicinal plants, The Urban Physic Garden (UPG) was constructed through a large-scale community build that brought together over two hundred volunteers to share and develop their skills, from carpentry to gardening, to create a beautiful public space that sought to educate and inspire. Throughout the summer there were over 100 events in the garden that hosted high-profile speakers, workshop facilitators, food events, filmmakers, musicians and theatre companies - demonstrating the potential of the garden as a site of exchange to share skills, knowledge and creativity. |
| Project Team | Designers and Producers: Wayward | Partners and Funders: Bankside Urban Forest, Bankside Open Spaces Trust, The Tate Modern, Kings College, Living Medicine, Publica, Lake Estates, Openvizor, Carillion, The Peter de Haan Trust, and hundreds of volunteers and contributors. |
| Additional Information | The Urban Physic Garden focused on food as medicine and herbal remedies to tackle notions of urban nutrition, obesity, healthy cooking and food growing. However, the garden extended beyond herbal remedies to create a relationship between people and place; healing derelict sites to forge a common vision to improve the quality of our urban public spaces. By placing the community at its heart the garden aims to test out ideas of what public spaces can be and should be: social, playful, imaginative, sustainable, creative, contemplative and healing. |