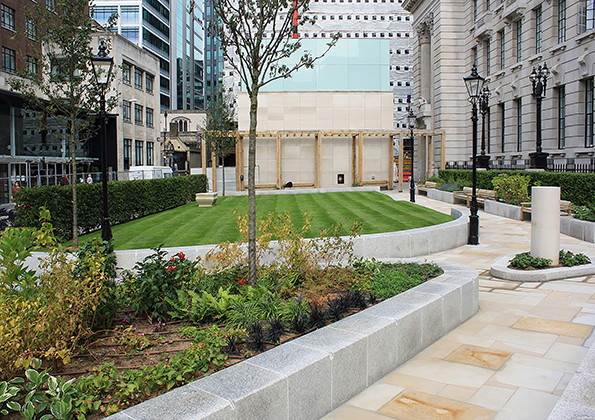 Seething Lane Gardens is a public space leased and managed by the City of London. The project facilitated the sustainable reuse of the listed Ten Trinity Square, which was at risk due to unoccupancy. The project sought innovative solutions in order to deliver a pocket park that would balance the needs of people, environment, heritage and townscape in the heart of the capital. 
Nick Miller CMLI has been responsible for delivering the scheme since 2013, alongside Martin Kelly FLI, who has been project director since inception. Their resulting garden design was framed by two sensitively designed pavilion buildings that host vehicular lifts to the basements below. Sustainability is at the heart of the design philosophy and the plant selection was guided by climate change adaptation and local microclimate conditions. 
Comparison to the state of the square before the new scheme shows just how transformational the new landscape has been: the planting, soft landscape and biodiversity aspects of the project were well considered; and the gradient across the site – from more formal areas to the 'wilderness garden' – was an exciting concept. 
Approximate Map Location
Details
Landscape Architect

Capita Lovejoy and City Of London

Location

London

Client

Reignwood Group

Project Team

Landscape Contractor: Frosts
Construction Main Contractor: Ardmore