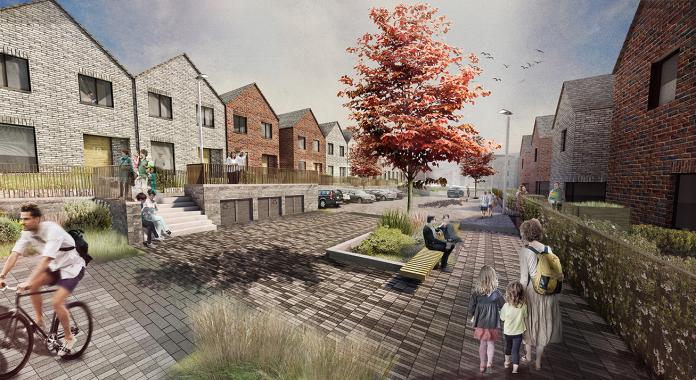 Barne Barton once formed the largest Royal Navy housing estate in the UK, but in recent years it has been in need of regeneration to bring it up to modern standards. Plans are underway to transform the estate, introducing a mixture of flats, houses and community spaces that create sustainable and vibrant places to live. 
The aspiration is to orientate the site towards the River Tamar, making a strong landscape connection for people, place and memory. Along the connection, a green street is proposed, forming a residential park and the heart of the neighbourhood. The green street leads to the central space where community uses are proposed. The site itself is clearly challenging and the final response is simple, well-considered and clearly credible.
Clifton Emery Design led the masterplanning process from initial vision to detailed planning and co-ordinated the project team. The project is an essential stepping stone in improving the lives of all the residents and wider community. The masterplan is based on a thorough and rigorous understanding of the site constraints and opportunities and what the residents want. It demonstrates best practice in terms of public consultation, urban design, construction and building with nature, making it an exemplar for inspirational regeneration.
Approximate Map Location
Details
| | |
| --- | --- |
| Landscape Architect | Clifton Emery Design |
| Location | Plymouth |
| Client | Clarion Housing |