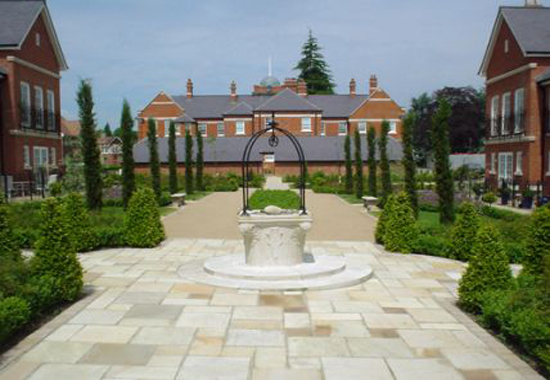 The residential development has transformed this former Victorian psychiatric hospital into a new village, located in an Area of Best Landscape within in the heart of Surrey's Green Belt, 1 mile inside the M25. The site gained ODPM case study recognition as being one of the most highly sustainable developments in the South East.
The 172 ha site includes 480 new or refurbished properties to include several groups of sheltered housing units built by the Guinness Trust. The development is located within a beautiful parkland setting with over 700 existing mature trees and over a hectare of public open space.
ELD worked on this project for 8 years, acting as Landscape Consultant to coordinate the masterplan and detailed design for all the developers, completing all tasks relating to trees and landscape.
Key elements included liaison with the design team and Local Authority from project inception to completion to provide detailed information on trees and Landscape to guide the masterplan and establish the 'best environmental fit' for proposals. Through ELD's attention to detail and strict site monitoring, we gained the confidence and approval of the Reigate and Banstead District Council, preventing blanket TPO applications to trees on site due to ELD's careful monitoring, whilst completing the project within the andpound1 million landscape budget.
ELD completed the following works:  Tree survey and tree protection to BS 5837, with tree surgery schedules; 'recycling' of trees through root preparation, pruning and relocation using a tree spade; extensive Japanese Knotweed survey, control, eradication and disposal on site; colour concept designs; detailed  hard (paving) and soft (planting) proposals; show house designs; tagging architectural stone for reuse; major cut and fill subsoil disposal exercises; tender and contract administration; play area design; public open space design; management plans for public realm; acting as Quantity Surveyor for all aspects of Landscape contract administration, saving the client andpound400,000 in unaccepted applications for payment.
Challenges that were overcome:  Multiple clients to liaise and co-ordinate scheme across different land parcels; pressure of blanket TPOs across site from LPA; ELD education of main contractor, due to lack of understanding associated with risk of spreading Japanese Knotweed, associated costs of remediation, eradication and disposal and lack of understanding relating to potential construction impacts on mature trees retained; heavy clay with flint soils that made working conditions difficult; landscape contractor who took shortcuts in specification and then had to redo works under ELD's watchful eye.
Approximate Map Location
Details
| | |
| --- | --- |
| Landscape Architect | Elwood Landscape Design Ltd |
| Website | http://www.e-l-d.co.uk/ |
| Location | Reigate, Surrey |
| Client | Gleeson Homes, David Wilson Homes & Belwinch Homes |
| Category | Housing |
| Awards | ODPM Case Study recognition for Sustainable Development |
| Project Value | £1 million |
| Project Date | 2005 |
| Brief | Advice and design details relating to all green elements, including survey of existing trees, landscape design and eradication of Japanese Knotweed, to allow this new village development at a former Victorian psychiatric hospital in Surrey to flourish within a sensitive, 'best landscape fit'. |
| Project Team | Landscape architect and contract administrator: ELD |Architect: Yeoman McAlister, London |Highway and structural engineer: GL Hearn |
| Authority | Reigate and Banstead District Council |
Technicals
Materials

Many of the following are now, current practices, but in 2005 to 2008, they were new initiatives; as a forerunner to modern recycling and sustainability on development sites. Recycling of materials was the principle drive behind this ODPM sustainable development report. All existing surfaces and bricks from demolition works were crushed on site and used as haul routes and sub base below new roads. Individual skips were allocated to specific materials such as timber and plastics. ELD tagged stone plinths, sills, pillars and corner stones from hospital buildings for reuse as seats and feature stones in the Italian Garden.
40 mature, 100 year old pollarded lime trees were positioned across a proposed road alignment when ELD saw the value of these as a resource. Through advanced root pruning, repollarding and transplanting into a holding nursery, they were relocated back into the scheme 2 years later, at a total cost of £300 per tree, providing instant landscape maturity and scale along the street scene.

Contractors

Landscape Contractor: McIntyres