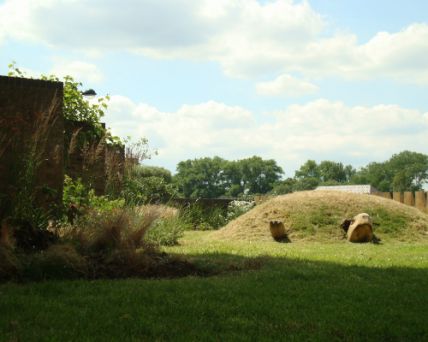 One of the biggest challenges for this project was how to prevent dog use and anti-social behaviour occurring without fencing the space from the riverside and public users. The residents wanted a space that was playful, interesting and usable but without fi xed play units or furniture. The space needed context but above all it needed character.
The design was based around water with flowing and curving lines referencing the Thames. A bit of fun was incorporated with "turtle mounds" for informal play. A new 3.5 x 3.5m rain garden at 1.5m deep can cater for 18m3 of water with paving blockwork relaid to subtle gradients toward the rain garden. A small boardwalk over the rain garden allows people to interact further. De-paving under trees allowed further water permeation and opportunity for tree growth. There is further scope for a 'Phase 2' project where down pipes from adjacent buildings may be diverted into the high capacity rain garden.
A semi-permeable barrier using vertical chamfered top FSC sleepers set one third in haunching were designed as a feature instead of a physical barrier. The 100mm spacings between the sleepers were narrow enough to prevent even the smallest dogs from fitting their head through but wide enough to still make the space feel connected with the Thames path. The chamfered facia to the sleeper tops accentuated the qualities of the curving perimeter nodding to the flow of water in the adjacent Thames.
Approximate Map Location
Details
Landscape Architect

Groundwork

Location

Hammersmith & Fulham

Client

London Borough of Hammersmith & Fulham

Category

Urban/suburban green space

Awards

Shortlisted for an LI Award 2015

Project Size

270m2

Project Date

March 2014

Brief

The riverside location was a tired, run down and poorly designed space that suffered from a series of challenges. It was an odd patch of grass with no particular character or activity. Open anduncomfortable for usage by residents and public alike. It was thus utilised by inconsiderate dog owners who encouraged their pets to defecate there which in turn further discouraged public usage.
The site attracted anti-social behaviour and street drinking.Groundwork London were commissioned to carry out a detailed consultation with residents and other stakeholders to explore the desires and needs for the space and to design and implement proposalsto address the site's problems and create a space that can be used and enjoyed by the whole community. The design sought to create a space for residents from Millshott Close with a focuson young families. Problems highlighted in the landscape analysis included a lack of character and poor relationship with the riverside and Thames path.
From initial consultation with local residents and LBHF, clear themes & ideas began to emerge:
- To create a pleasant green space for residents of Millshott Close to socialise- Prevent anti-social behaviour, street drinking and usage of the space by dogs- Create a boundary barrier to prevent dog usage- Create interest and enhance the overall aesthetics of the riverside corridor between Hammersmith and Putney- Encourage informal play for young children- Replace the large concrete drainage basin and hotchpotch of surfacing beneath the trees- Improve connectivity to the river

Project Team

LBHF: Binita Shah & Sharon Schaaf
Millshott Close TRA: Keith Harris (representative)
Greatford Garden Services, GGS (main contractor):
Johnathan Lyon & Trevor LyonThomas Carvings Chainsaw Sculptors (sub-contractor)
Groundwork London Community team: Caroline Bragg & Alice Hemming
Groundwork London Landscape Design: Jane Everitt & Matthew Conlon Perry
Technicals
| | |
| --- | --- |
| Planting | Planting was based on mass single specie ornamental grasses that reveal the wind moving through their foliage like waves. Popular perennials such as Agapanthus, Allium and Achillea species break up the grasses. Some edible plants were incorporated also by way of Ribus nigrum 'Ben Lomond'. |
| Other Technicals | The client, residents and public alike have been delivered a site which invites interaction andinterest without the domination of a formal particular function. It allows people to use the space as their own intuition dictates. The site has been a real success amongst the client LBHF, residents and multiple Thames path-users who take photos regularly. The scheme reminds us of the ability of the profession to make even small spaces change the surrounding area and the users experience for the better even in challenging transitional spaces or forgotten corners. Millshott Close is a great example of how through inventive design and an understanding of requirements and context, special places with individual character can be created on the smallest of budgets. |