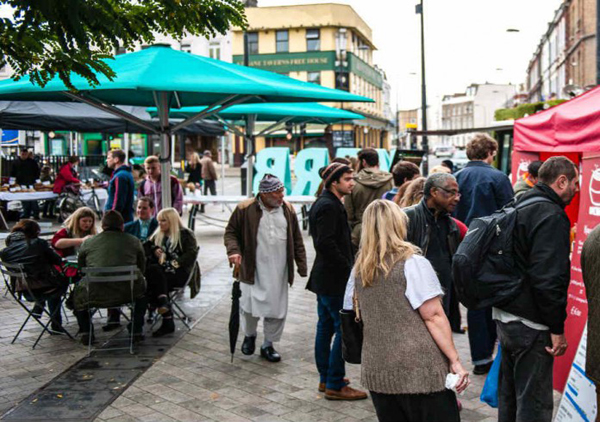 Maida Hill Place came into being following the City of Westminster's "Westminster Civic Streets Initiative".
The site presented a convergence of 5 roads known as 'Prince of Wales Junction'. It offered little to the pedestrian or visitor beyond the tired subterranean public conveniences amidst queuing traffic. It was an unloved gateway to the area, and a no-go area in the top 3% of Inner London areas for crime.
The junction was identified by City of Westminster as part of its community action planning and a focus for regeneration. The aims were to help to rejuvenate the area, support the local community and mitigate against social problems.
This site was transformed in 2009 from its previous life as a "junction", into a recognisable "place". Maida Hill Place adds heart to the Harrow Road community, providing a valuable open space resource for markets, events and gatherings.
Community benefits and crime reduction:
At a base level, Maida Hill Place simply offers the chance to sit and interact, to contribute and participate. It provides a meeting point for this diverse community, welcoming to all including the vulnerable and previously excluded. Residents have claimed their space and in so doing, the space now benefits from a reduction in crime of 85% and markets on 6 days a week.
Approximate Map Location
Details
| | |
| --- | --- |
| Landscape Architect | GILLESPIES LLP |
| Location | London, W9 |
| Type of scheme | Public realm |
| Category | Townscape |
| Project Size | 1300 square metres |
| Project Date | June 2009, end of defects |
| Brief | Design and delivery of a new public space / street market. |
| Capital Funding | £800,000 |