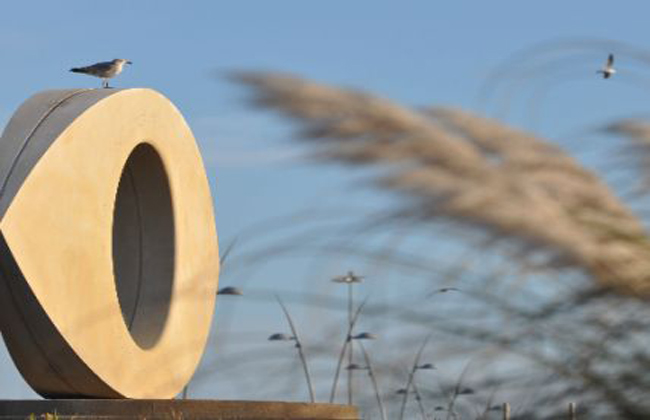 The Littlehaven promenade and sea wall scheme has transformed a stretch of South Shields' seafront in north east England from a neglected length of coastline into a desirable visitor destination. The scheme demonstrates how a conventional sea defence scheme can, with appropriate innovation in design and attention to detail during construction, be delivered to provide both a robust sea defence function and significant enhancement to a local community.
The project involved the demolition of a failing seawall, on-site reuse of excavated material in raising levels and landscaping of backing land areas and construction of a 500m promenade and sea wall along a new, landward and more sustainable, curved alignment. High quality concrete finishes, bespoke public art and breath-taking streetscape were used to ensure this striking scheme captured the public imagination and revitalised the seafront.
Approximate Map Location
Details
Landscape Architect

OOBE Ltd

Location

South Tyneside, Newcastle Upon Tyne

Client

South Tyneside Council

Category

Coast

Awards

Shortlisted for an LI Award 2015

Project Size

2.4 ha

Brief

Delivery of public realm and artistic interventions associated with the creation of a new coastal defence,promenade and improved access to the beach.

Project Team

OOBE Ltd (Landscape Architects), Royal Haskoning DHV (Engineers), Broadbent Studio (Artists), E3 Ecology (Ecologists), Galliford Try Plc (Main Contractor)

Authority

South Tyneside Council

Additional Information

Littlehaven Beach is the northern most section of the South Shields coastal frontage and was a neglected length of coastline, with the adjacent areas forming the main tourist attractions. In recent years significant investment has taken place in the surrounding area with the aim of improving the amenity of the area and the wider 'offer' of the South Shields tourist resort. Littlehaven beach was backed by a sea wall that was coming to the end of its serviceable life leading to the frequent flooding and closure of the car park and amenities located directly behind.

The primary function of this project was to provide coastal defence therefore a significant amount of the scheme was led by structural performance. Proposals included the demolition of a failing seawall, a 500m promenade and seawall along a new, landward and more sustainable, curved alignment, a stepped apron and backwall. However, South Tyneside Council recognised that there was an opportunity also to provide a high quality amenity area that fits within the local environment and adds to the offer of South Shields as a tourist resort. OOBE's team, including Broadbent Studio and E3 Ecology, were initially commissioned to develop proposals to tender stage that would soften the hard engineering aspects of the scheme, enhance the design of the public realm and embed the scheme into the wider environment.
Technicals
| | |
| --- | --- |
| Supplier | Evans Concrete Products Ltd |
| Contractors | Galliford Try Plc |