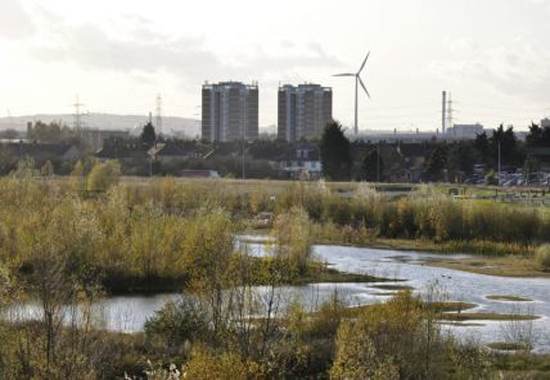 The Ingrebourne Valley is located within the London Borough of Havering in East London. The Valley provides over 100 hectares of accessible open space and access to rich ecosystems on the eastern fringes of London. The local and strategic value of this landscape makes it an exemplar of the principals of the East London Green Grid and has elevated its status to one of the Mayor's Great Spaces. The landscape character of the Ingrebourne Valley is defined by a series of rich ecological habitats and historic artefacts and is influenced by the changing nature of heritage and established and emerging land use.
The principle objective of the study was to acknowledge and celebrate these assets through the development of a coherent strategy to clarify circulation routes, improve legibility and create tangible connections to the social, cultural and environmental qualities of the landscape.
J and L Gibbons acted as lead design consultant for the project working with muf architecture/art on the interpretative components of the strategy and with graphic designers Objectif on the visual material. The dual client role was taken by the London Borough of Havering with Design for London and other stakeholders with the intention of promoting greater pedestrian, cycle and equestrian movement in and through the valley.
There were several key requirements of the strategy that were explored by the design team:
To identify adjacent projects and maximise connectivity and compatibility
Complete a thorough review and audit of existing baseline data, wayfinding and an ecologic, heritage and character analysis of the landscape
Develop a materials palette appropriate to the local condition
Review best practice signage examples
Review existing strategies employed throughout the valley.
The outputs presented within the report are:
An approach to metropolitan scale landscape wayfinding
A methodology for the creation of a navigational system for the valley
A strategy that rationalises existing wayfinding, makes proposals for phased removal of existing or addition of newelements and sets the principles for implementation of the strategy.
A catalogue of furniture and wayfinding elements.
The intention of the strategy was to demonstrate possible enhancement to the quality of the landscape experience within the valley through an holistic approach to all elements of furniture materials palette, encouraging a consistent approach to all items, rationalising where possible, decluttering and adopting the guiding principal of 'Less is more'.
The approach is innovative, advocating the highest standards of sustainability and design quality to ensure delight in the short term, durability and simplicity of management in the long term. It also promotes the incorporation of cultural, social and environmental references to some of the elements within the strategy, to create a multifunctional strategy, whereby benches can be more meaningful than just somewhere comfortable to sit, or a wayfinding marker can be part of a wider system of interpretation of the landscape.
Approximate Map Location
Details
| | |
| --- | --- |
| Landscape Architect | J&L Gibbons LLP |
| Location | London Borough of Havering |
| Client | London Borough of Havering, Design for London |
| Type of scheme | Signage and interpretation |
| Category | Urban/suburban green space |
| Awards | Highly commended, LI Awards 2011, Communications and Presentation category |
| Project Value | £20.5K |
| Project Size | 100 ha |
| Project Date | 2010 |
| Brief | To identify a wayfinding strategy for the Ingrebourne Valley including HornchurchCountry Park; produce sketch proposals for the signage/furniture and interpretation, and outline the next steps to implement the strategy. To make the most of the inherent qualities of the Ingrebourne Valley to define a strategy which is perceived as locally distinct and at the same time strategically important. |
| Project Team | Architects / Artists: muf architecture/art Graphic design: Objectif |
| Authority | London Borough of Havering |