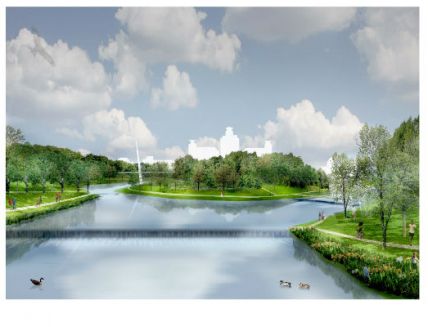 The site is a Georgian town square, surrounded by Listed Buildings and wholly within a Conservation Area. The scope of the scheme was to reconstruct the entire Market Place including new roads, footways, kerbs, drainage, lighting, signage, and parking facilities, as well as to advise on retention or otherwise of existing trees (planted by Queen Victoria), road markings and traffic calming.
The scheme aimed to link the site to the adjacent Main Street and to try to pull together some of the disparate elements which could attract tourists. This was achieved by making physically improved connections, and by celebration of what the town has to offer, to inspire the first-time visitor to further exploration.
The design philosophy underpinning the scheme is the desire to make a powerful narrative expression of the area's fascinating past in such a way as to positively influence its future. The temptation to simply recreate what had gone before was resisted by the design team, client and planning / conservation officers. The design narrative and materiality pay homage to the Georgian Townscape context in the use of high quality materials, craft techniques and strong colours.
Approximate Map Location
Details
| | |
| --- | --- |
| Landscape Architect | BCA Landscape |
| Location | Cumbria |
| Client | Allerdale Borough Council, Cockermouth Partnership, Cumbria County Council, Cockermouth Town Council |
| Type of scheme | Town square |
| Category | Townscape |
| Awards | Highly Commended, Design under 1ha, LI Awards 2009 |
| Project Value | £1.1m |
| Project Size | 7000m2 |
| Project Date | May 2008 |
| Brief | The scheme aimed to create a new and vibrant public space that could act as a civic space for the town as a whole; to increase foot-fall and draw new visitors and shoppers into the area through the creation of a strong, dynamic new identity; to create a space which enables the existing businesses to make better use of the public realm and enables a wide range of events to be held; to reverse the feel of a vehicle-dominated space and allow access for all; to make the area safer to navigate for children on the main route to the high school. |
| Project Team | Lead Consultant Landscape Architect: BCA Landscape; Project Manager: BCA Landscape; QS and CDM Co-ordinator: BCA Project Services; Multi-media design and graphics: Smiling WolfHighways; Traffic and Civil Engineers: Mott Macdonald; Traffic Regulation Orders and design check for Cumbria County Council as highway authority: Capita |
| Authority | Allerdale Borough Council |
Technicals
Materials

The materials chosen are of the highest possible quality. All natural and man-made materials are through-coloured with no surface-applied additional finishes, which means that they will be easy to maintain and should develop a patina which enhances their appearance with age.

The local authority's rigorous criteria for slip-resistance were met and a UK natural stone was used for the main paving material. Existing setts were used in the repaving of alleyway links. The possibility in a busy shopping street of vehicle over-run and parking misuse was a major factor in the choice of a strong palette of hard landscape materials.

Utilitarian, functional elements such as manhole covers, bollards, seats and even paving laying patterns have been reinterpreted as opportunities for artworks which express the areas dynamic and interesting past, present and future. The whole area has been designated as a Restricted Zone, which has removed with the need to put double yellow lines on the highway to restrict parking.

The scheme uses subtle artworks, strong colours and modern materials to create a vibrant, forward-looking place that enhances the listed buildings that are a symbol of its past. The landscape architect acted as lead artist in the development of the site-specific artworks and was able to manage procurement, cost and incorporation in the final scheme.

Supplier

All stone material including artworks: HardscapeCast resin seats and tractor seats: RourkesSpecialist bronze panels: Photocast

Contractors

Main contractor: Mayfield Construction Ltd Lighting subcontractor: W.T. Jenkins Ltd