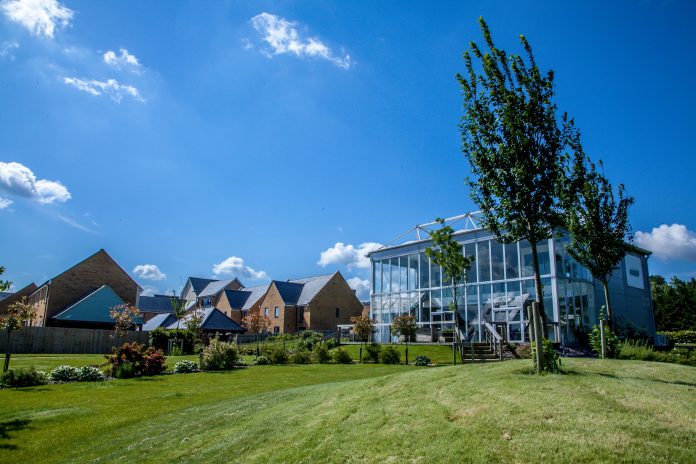 epd has been involved with this site for over 10 years, developing a masterplan with David Lock Associates and Peter Brett Associates. epd's Landscape Architects have helped to design and develop multiple large and small scale open spaces, a site-wide tree planting scheme and other site-specific landscape features. Design and delivery are still ongoing.
The tree planting scheme has ensured an elegant and shady network of wide boulevards that gives structure and identity to different areas of the development through the use of key species. The Ridge, a substantial sheltering bund along the boundary with the M1, provides both shelter from easterly winds and a substantial reduction to noise perception within the development. Over 50,000 native trees and shrubs have been planted to date in this new linear woodland.
epd has worked closely with the Council and the Client to deliver public open spaces that provide a wide range of benefits to residents. Both have been very supportive of this collaborative and open approach. Housing sales have been brisk and many new residents have commented positively on the mature parkland setting and the richness of the landscape experience.
Details
| | |
| --- | --- |
| Landscape Architect | epd, part of Parkwood Consultancy Services |
| Website | http://www.epd-parkwood.co.uk |
| Location | Brooklands, Milton Keynes |
| Client | Places for People Developments Limited |
| Type of scheme | Residential housing and public realm |
| Awards | Planning and Placemaking Awards 2016 (Award for Infrastructure-led placemaking); Evening Standard New Homes Awards 2012 (highly commended in the Best Family Home category) |
| Project Value | £4.2m |
| Project Date | Ongoing |
| Brief | Development of a landscape infrastructure for the 400 ha Eastern Expansion Area for Milton Keynes, which will eventually accommodate 2,500 homes, a large secondary school and two primary schools; and the creation of a village centre with retail and office space, pre-school nursery and medical facility. |
| Project Team | epd, David Lock Associates, Peter Brett Associates |
| Authority | Milton Keynes Council |
| Additional Information | The residential housing area included public open spaces with play facilities for all age ranges. Integration of SUDs and the use of edible planting schemes have been a key component of the character of these new public spaces. |
Technicals
| | |
| --- | --- |
| Materials | Various complementary palettes across the whole development within the main Public Open Spaces |
| Supplier | Play equipment: Jupiter Play, Playdale, Sutcliffe, Wickstead Play; street furniture and seating: Broxap, Cornish Landscaping Granite Ltd., Fitzpatrick Woolmer Design & Publishing Ltd., Logic Street Furniture, Orchard Street Furniture |
| Planting | Mainly native species with accent species at important nodes around the sites. Use of edible species to provide richness to the public's experience of these new places |
| Other Technicals | Various bespoke details produced for areas such as the play spaces, seating and bridges and deck walkways |