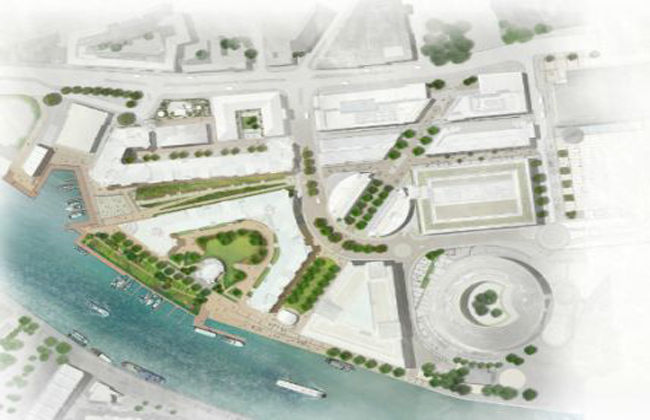 The area was predominantly a bleak post-industrial wasteland for decades. A 15 year programme has established Harbourside, with restaurants and cafes, new business premises, housing, leisure facilities and public spaces – and has helped transform not only the former docks but also Bristol itself.
The scheme has:
created a variety of new streets and public spaces, reconnecting the city with the harbour including opening up views of the cathedral and Brunel's SS Great Britain;
unlocked access to an important stretch of waterfront facilitating a circuit around the harbour
completed the Brunel Mile, the aim of which is to provide a pedestrian link across the city, spanning the area between Brunel's Temple Meads Station and The SS Great Britain.
innovative and sustainable design, including green wall technology, creative approach to urban drainage, soil remediation and the creation of floating habitats.
Approximate Map Location
Details
Landscape Architect

Grant Associates

Location

Bristol

Client

Crest Nicholson Regeneration Ltd

Category

Public realm

Awards

Shortlisted for an LI Award 2015

Project Size

6.6 ha

Brief

The brief was to create a masterplan that regenerated a brownfield site in the heart of Bristol's former docks into a new vibrant, green quarter, reconnecting the city centre with the historic waterfront. The brief included a focus on creating a quality public realm and open up access along the waterfront and allow the public to connect with the water's edge.
The scope was to test and inform the design of the masterplan with Cullinan Studio. It included developing and delivering public realm proposals for each phase of works. The design philosophy was to transform a derelict area into a vibrant place to live, work and relax, with an emphasis on improving connectivity. The intent was to open up and enhance key views in the context of the Cathedral and the waterfront and provide a variety of streets and public open spaces, integrating art and ecology.
We were responsible for collaborating with the architects, engineers and client to develop and test the masterplan; optimise public open space and open key views. The role included extensive stakeholder consultation, local design forums and public exhibitions. It included production of drawings/reports as part of the outline planning application and detailed design and delivery of each phase with individual design teams, including artists.

Project Team

Masterplan design team: Architect (Cullinan Studio) | Landscape Architect (Grant Associates)| Engineers (Arup/Hoare Lea) | Planning Consultant (Nathaniel Lichfield and Partners) | Cost Consultants (Gardiner and Theobald/Gleeds/Cyril Sweet) | Strategic Research (Opinion Leader Research); Traffic Consultant (Peter Evans Partnership).

The Public Art programme included the following artists: Tim Knowles, Sans Facon, Langlands and Bell, Richard Box, Julie Verhoeven, Janice Kerbal, Daphne Wright, Matt Calderwood, John Pym, Dail Behennah, Simon Faithfull and Mariele Neudecker. Individual Phases included the following architects; Cullinan Studio, Faulkner Brown, Stride Treglown, Childs and Sulzman, Fitzroy Robinson and AWW. Some phases also included ecologists, Biodiversity by Design.

Additional Information

The site was a former gas works site known as Canon's Marsh, which was dominated by two gas towers, numerous storage sheds, and a large expanse used as a car park.