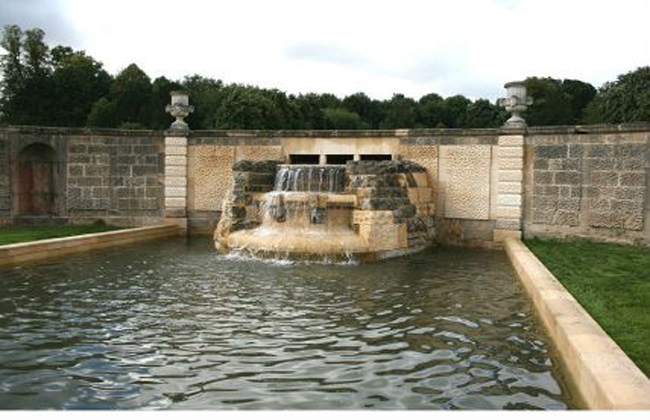 Bea Landscape Design Ltd was commissioned as part of a design team alongside Haycock Environmental Consultancy to implement the first two phases of the restoration of the early eighteenth century historic water gardens within the Grade I listed Bramham Park, a private estate owned by the Lane Fox family.
The initial phase completed in 2012, focused on the restoration of the 'T Pond' the first historic water feature in a chain that supplies the water to the remaining garden features. The original pond leaked water and disconnected the supply of water from the gardens. The restoration included the re-lining of the leaking section with puddled clay, the reintroduction of a vertical stone wall edging and reconnection of the water supply.
The second phase centred on the restoration of the 'Rocky Cascade', an historic water feature forming an integral part of the Parterre Garden and Grade I listed Parterre Wall. Led by archaeological investigation the restoration of the defunct feature included the re-connection to T Pond water supply; the dismantling, repair and rebuilding of the listed cascade stone work and the reintroduction of the Parterre Pool as a central focus to the garden to create a fully restored cascade water feature.
The project was successfully delivered within budget and on programme.
Approximate Map Location
Details
| | |
| --- | --- |
| Landscape Architect | Bea Landscape Design Limited |
| Location | Wetherby, West Yorkshire |
| Client | The Bramham Estate |
| Category | Heritage |
| Project Value | £750,000 |
| Project Date | July 2013 |
| Brief | Delivering restoration of the T Pond and Rocky Cascade from feasibility to completion, including detailed design for the T Pond and Rocky Cascade setting. |
| Project Team | Hydrology: Haycock Environmental Consultants | Conservation Architect: Rodney Melville Partnership |Civil Engineers: Baynham Meikle Partnership | Quantity Surveyor: Ian Brew |CDM Co-ordinator: BCA Project Services |Bramham Estate |
| Authority | Leeds City Council |
| Capital Funding | Funded through a Natural England Higher Level Stewardship Scheme |
Technicals
| | |
| --- | --- |
| Materials | The restoration of both features utilised magnesium limestone, sourced to match the historic stone originally quarried from the estate. Rusticated and vermiculated stones where repaired or replaced with new stone dressed by stonemasons to match the historic carvings. The stone was bedded and jointed with lime mortar mixed to match the existing colour and make up. |
| Planting | Located with a designated site of ecological or geological interest the surrounding grassland was made good with green hay seeding utlilising the local seed bank. |
| Contractors | J N Bentley Ltd and Bullen Conservation Ltd |