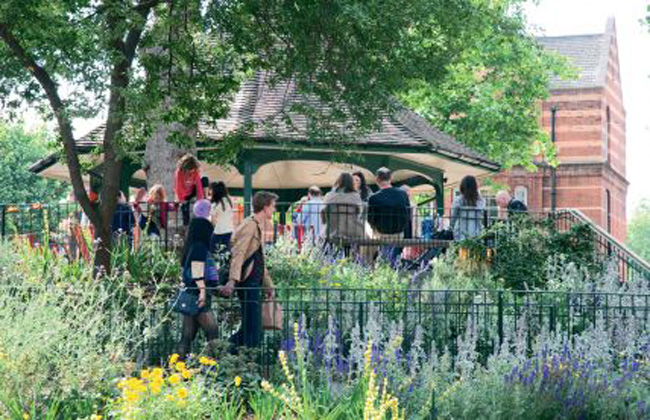 The Boundary Gardens at the heart of the Boundary Estate in the London Borough of Tower Hamlets is a remarkable and historically significant place. The Boundary Estate was the first publicly funded social housing scheme built in the UK, formally opened in 1900, and now designated as a Conservation Area. The vision for the housing estate was originally designed around the circular gardens, raised on a tiered and planted mound with a bandstand as the central element. This was the first time that a social space, primarily for public arts and cultural events was seen as a fundamental part of, and central to the design of a social housing scheme. The Gardens are listed on English Heritage's Register of Parks and Gardens of Special Historic Interest in England at Grade II. The Grade II listed bandstand, railings and overthrows were in such poor condition due to vandalism and decay, that they were listed on English Heritage's Building at Risk Register (2007).
The transformation of the space has been profound. Arnold Circus now makes a real difference to the local community, improving the perception of an area that had a reputation of anti-social behaviour, and now attracting an increased number of visitors to its restored events space. The project highlights successful principles of landscape and urban design that have stood the test of time. Meticulous care was taken to retain original design intent; with the exception of the new planting, no elements were added that would conflict with original design.
Key achievements:
• A key cultural and architectural landmark which has particular significance to the local community.
• Demonstrates how community groups can successfully lobby for improvements in their local environment, influence the space's design and management process.
• Successful balance achieved between careful restorations of the historic features and overall
structure of the Gardens to EH approval yet adding a contemporary layer through the planting design to meet community's key requirement to improve biodiversity.
• Planting comprises perennial flowers, grasses and ferns, providing cross seasonal colour.
• Restoration carefully researched followed by meticulous workmanship to realise the restoration.
• Community was fully engaged during all phases. This included public consultation, archaeological dig, use of time lapse photography during construction.
• Restored gardens and bandstand have reconnected the community space now used for wide range of events: music, dancing, Carrom championship, cycling race, Arnold Day and the Sharing Picnic.
• Beauty restored to a space once perceived as antisocial and unsafe, with the uniqueness of Owen Fleming's original tiered 'wedding cake' design revealed.
Approximate Map Location
Details
Landscape Architect

LDA Design Consulting Limited

Location

London Borough of Tower Hamlets

Client

London Borough of Tower Hamlets

Type of scheme

Historic gardens restoration

Category

Heritage

Awards

Highly commended, 2011 LI Awards Heritage and Conservation category

Project Value

£500k

Brief

To restore the English Heritage registered grade II Gardens, with its Grade II listed bandstand and railings to become the focal point of the Boundary Estate community life, as it had been originally intended at the beginning of the 20th century. The listed bandstand was a high priority on the English Heritage Building at Risk Register (2007) and The Boundary Estate is widely acknowledged as a unique experiment in late 19th century social housing design and is designated as a Conservation Area by London Borough of Tower Hamlets.

Project Team

Lead Consultant, including Design, Public Consultation, Project Management and Contract Administration: LDA Design
QS: Davis Langdon
Archaeology: Museum of London
Historic building advice: English Heritage

Authority

London Borough of Tower Hamlets
Technicals
Materials

Works included restoration of the bandstand, fitted with power supply and lighting, restoration of railings and steps, resurfacing, new furniture and replanting. Works to the built elements aimed to restore the structures as close to their original form and finish as possible.
Subtle design interventions introduced:
• Modifications to historic railings, to incorporate seating and bins so as to reduce 'clutter'.
• New planting scheme to improve biodiversity.
• Specialist conservation work to satisfy EH grant criteria.
• Installation of water recycling system and underground storage reducing mains usage.
• Community archaeology dig organized by Museum of London.

Planting

A more contemporary approach was taken with the planting design developed in consultation with Friends of Arnold Circus.
Planting design:
- To select plants suitable for both the shade and sun, and tolerant of water stress created by the mature London Plane trees.
- To select nectar rich flowering plants with a long flowering season, to benefit biodiversity.
- To bring colour and change with the seasons into the space.
- To allow visibility into and out of the Gardens.
- To create a good covering of plant material to suppress weeds and stabilize the soil with the root mass.
- To plant species with seed heads which provide food for birds and visual interest during the winter months.

Contractors

Main Contractor: T. Loughman Building & Civil Engineering Deacon's Landscape Priest Stone Restoration Metal Craft