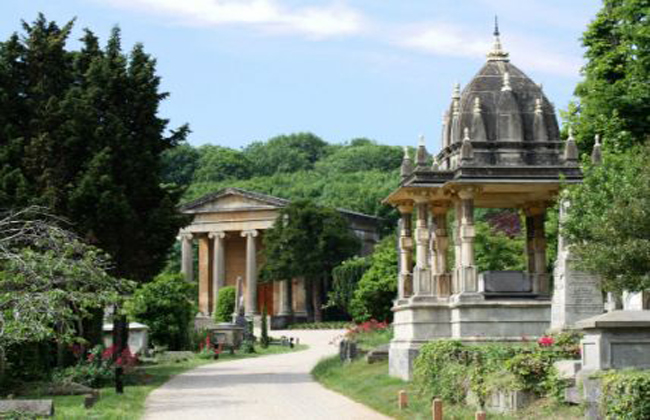 Arnos Vale Cemetery occupies over 45 acres of steep hillside within the city of Bristol near the River Avon. It was laid out between 1836 and 1840 and is one of this country's first metropolitan cemeteries, and one of its earliest planned cemeteries. It is a good example of an Arcadian landscape of Greek revival cemetery buildings and specimen planting. The cemetery is prominently visible from much of central Bristol and also has views out towards the city. Part of the cemetery is included on the English Heritage Register of Parks and Gardens of Special Historic Interest (Grade II*). The entire site is located within the Arnos Vale Conservation Area and is designated as a Site of Nature Conservation Interest (SNCI) in the Bristol Local Plan. The whole cemetery is of considerable ecological importance with a mosaic of wildlife habitats and an extensive variety of species.
Nicholas Pearson Associates' (NPA) involvement started in 1999, producing the landscape proof of evidence for the public enquiry into the Compulsory Purchase Order of the cemetery by Bristol City Council (BCC) and the Arnos Vale Cemetery Trust (AVCT). The cemetery was in private ownership and in a state of disrepair, and the owner planned to sell the site for commercial development. NPA then worked within a team of consultants led by Architects Purcell Miller Tritton. A successful Heritage Lottery Fund (HLF) bid secured funding to restore the cemetery, and NPA were retained to oversee the implementation of the proposals.
The cemetery's landscape, buildings, tombs and monuments were all in extremely poor condition. Substantial work was needed to conserve its heritage value and arrest further deterioration, but also to improve public circulation and enjoyment of the cemetery. Works needed included restoration of all of the buildings; repair and conservation of listed monuments and tombs; repair of the cemetery boundaries; management of existing vegetation; resurfacing of paths and roads, and improvements in maintenance operations.
The cemetery was officially opened in Spring 2010 and now offers venue hire, amenity value, education, open days and guided walks, conservation activities, in addition to its revival as a working cemetery.
Approximate Map Location
Details
| | |
| --- | --- |
| Landscape Architect | Nicholas Pearson Associates Ltd |
| Location | Bristol |
| Client | Bristol City Council (owners), Arnos Vale Cemetery Trust (tenants) |
| Type of scheme | Cemetery |
| Category | Heritage |
| Awards | Joint winners of the English Heritage Angel Award for the best rescue of any other entry from the 'Heritage at Risk Register', 2011; Winner, Heritage & Conservation category, LI Awards 2010 |
| Project Value | £9m |
| Project Size | 45 acres |
| Project Date | November 2009 |
| Brief | Restoration of a Victorian cemetery from a state of neglect to one that provides a contemporary facility for the community to enjoy while giving due consideration to the wide range of heritage and conservation elements contained within it. |
| Project Team | Project Management: City Design Group, Bristol City Council; Lead Consultant/ Architects: Purcell Miller Tritton; Quantity Surveyor: Gleeds; CDM Co-ordinator: Gleeds; Health and Safety Structural Engineer: Mann Williams; M & E engineer: Integrated Design Partnership; Lead Ecologist: Wessex Ecological Consultancy; Bat Specialist: Clarke Webb; EcologyArboroculturalists: The F.A. Bartlett; Tree Expert Co Ltd; Topographic Surveyors: Anthony Brookes Surveys Ltd |
| Authority | Bristol City Council |
| Capital Funding | Heritage Lottery Fund; Bristol City Council; English Heritage; Arnos Vale Cemetery Trust |
Technicals
Planting

Eradication of notable invasive weed species from the site, eg Japanese Knotweed
Selective clearance of existing vegetation from edges of roads and paths to a depth of 2 graves to expose monuments and 'lost' historic planting. Some ash and sycamore to be retained to aid stabilisation of the slopes.
Selective replanting based on the historic record.
Management of the secondary woodland to achieve a more open spacing, favouring a greater diversity of ground flora.

Other Technicals

The decision was made by the design team that a careful balance should be sought between complete neglect and obsessive tidiness, both of which are unattractive for a cemetery.

One of the aims of the restoration works was to improve Arnos Vale's value as a public amenity resource. The restoration of footpaths and roads has facilitated people's enjoyment of the site by improving access and safety throughout the site and connections to neighbouring residential areas. The methods of landscape management and maintenance have been carefully developed to respect the diverse ecology of the site and to sure its continued resource as varied wildlife habitat.

The following key features of the heritage landscape and associated management practices were incorporated within the final implemented scheme:
Restoration of all listed buildings, the most interesting of the non-listed monuments, and boundary walls and gates.
New lighting to improve security, provide night time amenity access and emphasising the design interest of the cemetery at night.
Restoration of the core designed landscape within the circuit formed by the lodges and chapels (Ceremonial Way). Due to the sensitivity of the location this would have to be phased over a number of years.
Management of all areas of the cemetery for wildlife interest including: retention of some ivy on monuments for structural and wildlife benefits; retention of lichen on monuments and gravestones
A new, professional grounds management structure to ensure the future management of the grounds.
Clearer pedestrian links between residential housing, the cemetery and the adjacent open space of Arnos Court Park.
Restoration of the historic road and path network, with a hierarchy of treatments.
To have regard throughout the construction process to the fact that the cemetery is a place of remembrance and spirituality.

Contractors

Main Contractors: Ken Biggs Ltd Landscape Contractors: Silvanus