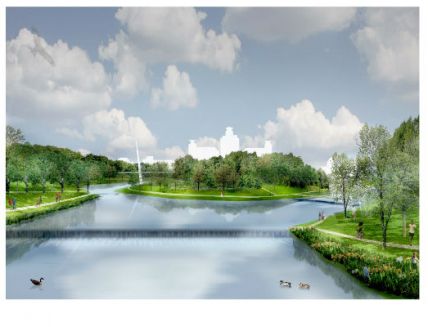 Ancoats has often been referred to as the world's first industrial suburb where large mills for the cotton industry were built, alongside other industrial buildings, housing, workhouses and community facilities. Built on a street grid planned in the late 18th century, Ancoats was a busy, cosmopolitan place until the early 20th century. Economic decline and depopulation after 1930 left Ancoats vacant, neglected and forgotten. The few industrial buildings which formed Ancoats' character remain and are now protected by Listed status.
The Ancoats Urban Village Company (now part of New East Manchester Ltd) was established to promote Ancoats and facilitate its development as a mixed use area, making full use of its potential, both in terms of its architectural and historical heritage and its location adjacent to Manchester city centre.
A Public Realm Strategy was commissioned in 2001, and a Public Realm Implementation Plan  began in 2004. Since then several phases including the streetscape of most streets within Ancoats, changes to the Traffic Regulation Orders, two public squares and the integration of artworks, have been implemented or are underway today.
Approximate Map Location
Details
| | |
| --- | --- |
| Landscape Architect | Camlins |
| Location | Ancoats, Manchester |
| Client | New East Manchester |
| Type of scheme | Public realm |
| Category | Townscape |
| Awards | Winner 2009 LI Awards Urban Design and Masterplanning |
| Project Value | £10 million |
| Project Size | 19 ha |
| Brief | To generate a public realm strategy, to create a new square at the entrance to Ancoats, to establish an implementation plan for the streetscape proposed in the strategy, to implement the streetscape in phases, to create a new square in the heart of Ancoats for the community and as a destination. |
| Project Team | Landscape architect and contract administrator: Camlins|Highway and structural engineer: Martin Stockley Associates | Artist: CivicWorks | Lighting designer: Graham Festenstein | Lighting engineer: Latham Miller Consulting | Architect: Heritage Architecture | QS: Simon Fenton Partnership|CDM Coordinator: JDS Design Ltd | Design approval/Clerk of works: Manchester City Council, Highways Services |
Technicals
Materials

A variety of road materials are proposed to differentiate the streets, ranging from asphalt, reclaimed setts, granite, yorkshire flags and tactile paving.

Materials withinthe Sunken Square are varied, for example, resinbound aggregate for tree pits, timber and stainless steel forstreet furniture, and granite and yorkshire stone paving.

Other Technicals

Initial analysis of the historical ground figure and street network revealed the evolution of the public realm within the Ancoats area. This presented opportunities for regeneration such as establishing the former grid street network, extension of the grid pattern, commercial and residential development, improved pedestrian connections to neighbouring areas, and introduction of a square to form a community focus.

In order to realise the concept of 'streets are sacred' and introduce a community square into the area, the absence of a building was emphasised. This was done by sinking the square and using five pillers resembling windows which frame photographs of the textile industry once so prominent in the area.

The currently derelict canals are required to be preserved in order for future reinstatement to be possible, therefore adjacent sites have been utilised for passive and active recreational activities.

Street design reflects the need to reduce vehicle dominance in the area therefore 20mph zones will be implemented, reintroduction of two-way traffic, reduced carriageway widths, staggered on-street parking, tight radii and unsigned flush junctions.

The first stage of comprehensive design has been separated into work packages in order to manage costing and phasing. In addition to this the approach to phasing is to take into account rapid but unpredictable changes to site circumstances. The approach is to have construction information and approvals in an advanced state of preparation so that public realm can be constructed in relatively small parcels to suit circumstances but always within a strict design and cost framework.

Contractors

P. Casey Ltd, English Landscapes Ltd, Groundwork Landscapes Ltd, Thorp Precast Ltd, Woodscape Ltd, Core Electrical.