Alice Claydon is one of three Student Travel Award 2014 recipients. She recently visited Cuba to investigate urban agriculture – this is the second of two blogs about what she learnt and experienced.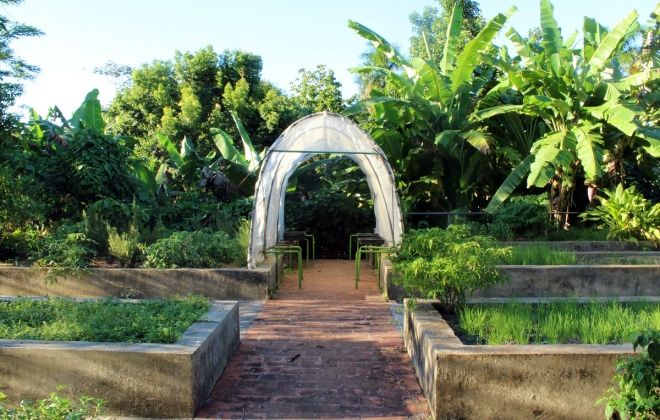 If there's one thing I took away from my time in Cuba it's this: 'Si, se puede!' – 'Yes, you can!'
If a country facing economic collapse, political isolation and widespread shortages could transform itself into a world leader in sustainable development within a decade, then surely it's possible here too.
During my trip I discovered some of the secrets to the success of Cuba's urban agricultural movement:
1. State support: Over forty government departments are dedicated to every aspect of low carbon organic food production providing support, training and research. Learning how to grow food is entrenched in education from nursery school upwards. Schools, hospitals and elderly care homes all have organic gardens which teach people how to grow and prepare healthy food. Widespread political propaganda also re-enforces the message that self sufficiency contributes to national security.
2. Citizen participation: Encouraging people to participate in urban agriculture is essential to its success, and there are incentives for producers and consumers alike. Rationing in Cuba still exists, which allows each citizen to purchase a small number of essential goods at reduced prices each month. Urban farmers can earn more than twice the state salary of doctors or teachers because their pay is directly linked to productivity. National criteria for excellence are set across all forms of urban agriculture and these are assessed regularly. Meeting these criteria greatly improves a farm's reputation and boosts morale.
3. Flexible typologies: A decade-long iterative design process has created a clear set of productive landscape typologies which can be adapted to fit nearly every situation. These typologies range from the smallest scale private gardens or urban lots, to large scale co-operatives and suburban farms. Different combinations of scales, functions, and users have been tested in a variety of contexts to create a robust set of models which can be easily deployed by people with little or no previous experience in growing food.
4. Fine grain networks: The production and distribution of fresh food in cities is almost universally integrated into every neighbourhood. The small scale nature of urban agricultural plots and markets allows them to be retrofitted into existing urban grids which creates a wider and more even spread of fresh food sources.  Organic production is also far more manageable in smaller spaces because of the level of manual input needed. Another result of these networks are the personal and responsive relationships between producers and consumers, which gives people a sense of ownership over their environment.
5. Agroecology and permaculture: A huge amount of research has been carried out by Cuban scientists into natural processes which can improve crop yields and disease resistance.  These include concepts like interplanting, microbial-based pesticides and symbiotic fungal associations. 'Organoponicos' were developed as long and narrow raised beds filled with organic matter which can be intensively planted and meticulously maintained to produce high yields. Closed loop systems are the key to reducing waste and maximising efficiency – current industrial methods are 10% energy efficient whereas Cuban methods are 200% efficient.
However, the Cuban model is by no means perfect and some of the key issues with it include:
– Cost of food: The Cuban state salary is less than $20 US a month and around 75% of that is spent on food. To compare, in the UK we currently spend around 11% of our monthly salary on food (although Cubans do not have other high monthly costs). With the tourist industry rapidly expanding in Cuba people are finding themselves priced out of the market by hotels and restaurants, which often leaves little food left for everyday consumption.
– Contamination: Water and soils are not tested and monitored for harmful contaminants and pollutants. Given that most urban sites were once industrial, and reclaimed materials are used to build raised beds, there is potential for heavy metals and toxins to be passed through the food chain. Roadside farms absorb vehicular emissions which helps to clean the air, but few studies have been carried out into the health implications of consuming this food.
– Integration: By their very nature urban farms are valuable and are secured with fencing, which excludes them as public amenity spaces. I could not find any examples of recreational public spaces used for community growing. There is certainly potential to integrate productive urban landscapes into the street scene and combine them with other forms of green infrastructure such as SUDs, pocket parks  and urban forests.
– Hard work: There's no getting around it – growing low carbon organic food can be hard work! Low carbon agriculture relies on man power instead of fuel-hungry machinery and chemicals.  This is challenging in aging populations and in Britain we are struggling to get younger generations involved in agriculture. The average age of a British farmer is 59 years old. Cities have the highest proportion of young people, so bringing food production to them is the best way of diversifying participation.
My trip to Cuba has shown me that although urban agriculture is not the only solution to the world's food problem, it can certainly help to develop more resilient communities and it has a whole range of benefits. Growing more food in cities improves biodiversity, air pollution, green space, public health, food literacy, community engagement,  employment prospects and urban regeneration. It also minimises waste, transportation, storage, packaging, vacant urban land, flooding, soil degradation and the urban heat island effect.
It was incredibly inspiring to see firsthand that all of these achievements are possible. It was also an opportune moment to experience the Cuban system in action, as the recent thawing of relations between the US and Cuba will have unknown consequences for the world's only sustainably developing nation.
As landscape professionals we have a wonderful opportunity to create innovative design solutions which engage and empower people to become active participants in their local environment, and  together we can work towards a more positive and sustainable future. Recent interest in urban agriculture is emerging as part of a wider global food security movement which aims to set us on the road to recovery.
In Britain though, making food more visible in our urban landscapes might well be the only way we can move past the first step on the road to recovery and admit that we have a problem.
–          About the author: Alice Claydon is currently completing a postgraduate diploma in Landscape Architecture at Birmingham City University. Alice studied urban agriculture in Cuba, where local organic urban farms and gardens are ecologically friendly, and produce 90% of Havana's fresh produce.
To read more about the Student Travel Awards 2014 and to read about other recipient blogs, see the Student page.