In an exciting and informative workshop, held in conjunction with Groundwork's Our Bright Future-sponsored schools programme that aims to inspire the next generation of environment leaders, students at Harris Girls' Academy in Peckham Rye learn from LI Ambassador for Landscape Hannah Murton about the contribution landscape professionals make to flood prevention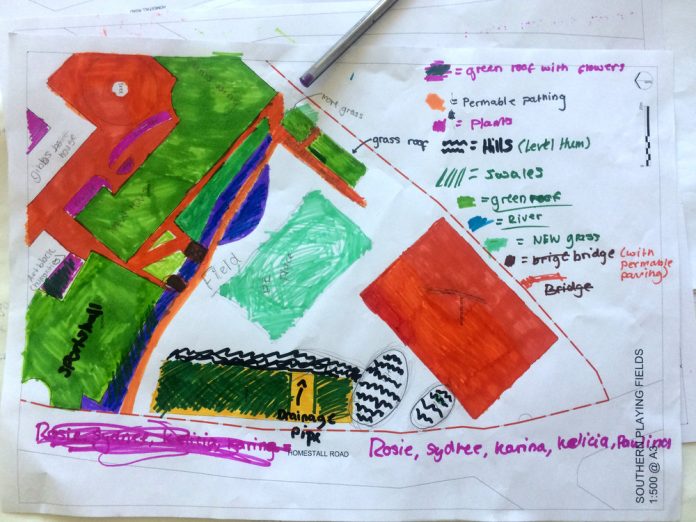 This blog originally appeared on www.exteriorarchitecture.com on Friday 14 July, 2017.
---
Last week, Hannah, from our London office, joined with the Landscape Institute and Groundwork to deliver a workshop on SuDs and landscape architecture at the Harris Girls' Academy in Peckham Rye. The workshop was part of the 'Our Bright Future' youth‐led environmental programme that aims to inspire the younger generation into becoming the world's next environmental leaders.
Hannah and Poppy Smith (Future Talent Manager, Landscape Institute) began the workshop by giving the students a brief introduction to landscape architecture that led into a more focused presentation on the problems the UK faces with flooding. The students were introduced to Sustainable Drainage Systems (SuDS) that landscape architects utilise and how they work to slow down surface run off and prevent flooding issues.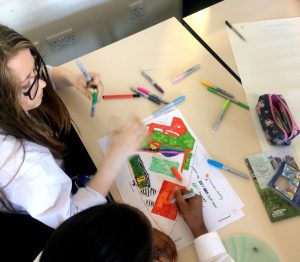 Hannah and Poppy, along with Rachel and Sam from Groundwork, then took the students outside to study their school grounds and help them assess where SuDS may be useful within their fields and courtyards. The students were encouraged to think about levels, permeability of surfaces, existing drainage and where their playgrounds get muddy and worn.
Once back in the classroom each group was given a plan of their grounds and tasked with designing SuDS into their school. Each group then gave a one-minute presentation of where they had situated each system and why.
The students were engaged and focused with their task, with each group coming up with original ideas about where SuDS should go in their school. One group had the fantastic idea of providing a digital plaque adjacent to each system that measures how much rainfall it has intercepted, which can then be tracked on a live app.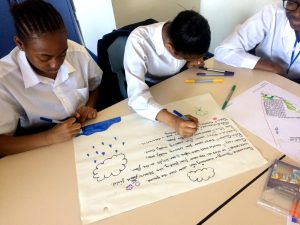 The designs were vibrant and astute, including retrofitting green roofs onto the school buildings, rain gardens located at entrances, wetland habitats linking into their existing stream and rills running along linear routes.
Hannah enjoyed the workshop immensely and was excited to teach the students about landscape architecture and the wide range of benefits our discipline has on the environment. The workshop reinforced the need for students to understand their environment and the challenging issues the world faces. Hannah was inspired by the workshop and also understands the need for ongoing education within the younger generations to ensure a brighter, greener future for the planet.
Hannah was invited to partake in this workshop through the LI's Ambassador for Landscape Scheme, of which she is a member.
For more information on the 'Our Bright Futures' programme, or to get involved, visit www.ourbrightfuture.co.uk. The LI is also looking for more members to lead on workshops such as this in London, where Groundwork have rolled out the programme; if you are interested, please get in touch with our Future Talent Manager Poppy Smith.