Thousands of mature healthy trees are being felled in Sheffield as part of a 25-year PFI programme to improve road surfacing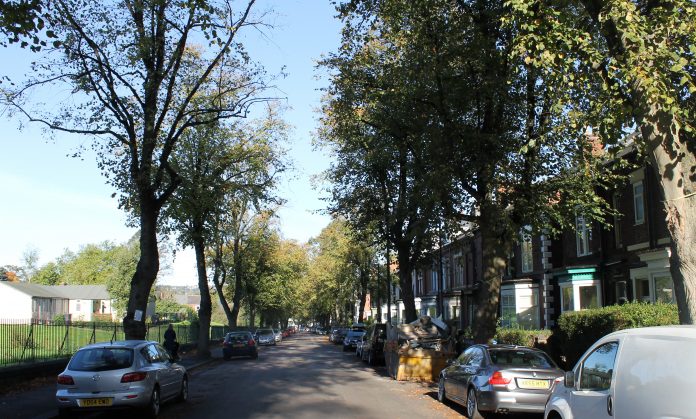 A war of attrition between Sheffield City Council and protesters created from the highly controversial Streets Ahead programme has, at the time of writing, included the felling of 4,800 street trees to achieve road improvements. Headlines like 'Sheffield's Street Tree Massacre' have brought the stories of dawn felling, pensioner and councillor arrests, and high-level celebrity, political and expert public support for the tree campaigners to national attention.
This telling will be from a landscape professional's perspective, sticking to the broad themes and possible lessons of most relevance to our profession.
What is Streets Ahead?
Streets Ahead is a public-private initiative, valued at £2 billion, between Sheffield City Council and Amey, tasked with improving and maintaining the quality of Sheffield's roads from 2012 for 25 years. It sets out to upgrade and maintain all adopted roads and has been actively promoted by the council for the functional and environmental benefits that it will bring. If you have visited Sheffield, I am sure that you would agree that these are laudable aims, given the city's reputation for pot holes.
Lacking ambition
However, Sheffield is also known for much more than potholes, including the quality of its environment, to which the street trees make an important contribution. The character of many a street is defined by a statuesque corridor of mature trees. The city is hailed as the greenest in Europe and as a consequence most citizens enjoy and celebrate a distinct and high-quality urban environment. Indeed, these attributes are recognised and promoted by the council through its marketing of Sheffield as 'The Outdoor City'.
After moving to Sheffield in 2012, I was keen to know how the objectives of Streets Ahead would be reconciled with the existing assets of the city. Also, I wanted to know if opportunities were to be taken within the upgrade works, to improve the multifunctionality and efficiency of Sheffield streets, in line with aspirations for green infrastructure. For example, through traffic management initiatives, improving and introducing cycle paths, the creation of home zones, stormwater management techniques, improved ecology, enhanced character, productive planting etc.
There are endless possibilities for what a street can accommodate and this appeared to be an excellent and once in a lifetime opportunity to address their viability in Sheffield, to ensure the city was working towards its best.
Unfortunately, it quickly became apparent that the vision for the streets was more prosaic, much more narrowly conceived, without due consideration to assets and opportunities and that this would bear regrettable and perhaps unanticipated consequences throughout the city.
Further cause for concern
Save Our Rustlings Trees (SORT) is a resident group with concerns about the future of trees upon their road and the perceived insensitivity of the highway proposals. Rustlings Road composed a long stretch of large healthy mature trees, many of which were considered by the council and Amey incompatible with the intended standards of highway improvement and maintenance.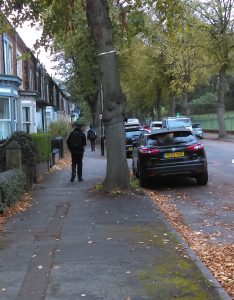 The reasons given related to perceived damage and discrimination, two terms the council often used to describe problem trees, in addition to the conventional arboricultural terms 'dead', 'dying', 'diseased' and 'dangerous'. 'Damaging' trees were trees claimed to harm footpaths (e.g. causing misalignment of kerb lines) and 'Discriminatory' trees were those perceived to create difficulty for elderly, disabled and partially sighted people (e.g. creating bumps in tarmac). The residents were concerned that the damaging and discriminatory claims were being made at best, spuriously, and even if credible would certainly not form an insurmountable challenge to the retention of the trees.
Upon inspection, I agreed with the residents that the council were not endorsing a balanced and common sense view and had seemingly not considered existing assets alongside potential. For example, a number of large healthy trees, important to street character, personal wellbeing and ecology, were being proposed for removal due to small or shallow bumps in the pavement that defined them as discriminatory. I worried that Rustlings Road was an example reflecting policy across the city; thousands of streets and trees. I therefore joined other petition signatories in requesting a meeting with the local authority to discuss alternatives.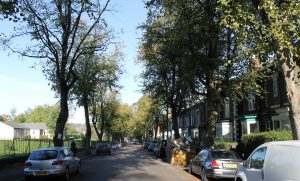 SORT and subsequently the Sheffield Tree Action Group (STAG), a city wide collaboration of concerned individuals, became very effective at promoting their apprehensions and criticisms, through social and conventional media, and successfully lobbied the council to stage a public meeting. The meeting would be a platform for each side of the issue, but the council were very clear it was not a consultation event and that they would not accommodate any change to the programme following the meeting.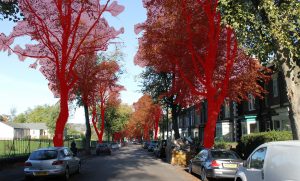 On the council website there was, until recently, a justification that the scale and likely contention surrounding the programme rendered a full consultation unfeasible. To me, this is a perverse conclusion from a statement that appears to encapsulate the precise reasons for a city-wide deliberation.
Nevertheless, the event held at the town hall was very well attended by the interested general public and industry and academic experts, in addition to several council witnesses. The positions of the main parties can be represented as follows:
Sheffield City Council
Sheffield City Council stridently defend the ambitions of the contract: to improve Sheffield's streets, and maintain that trees are only to be removed if they are categorised as either dead, diseased, dying, dangerous, damaging or discriminatory. Furthermore, the council are clear that the contract will not result in the deterioration of a city asset, since it intends to replace felled trees at a one-to-one ratio with appropriate species. They also maintain that the programme is supported by the majority of Sheffield residents.
Protestors
The protestors passionately portray the benefits of mature trees for the raw enjoyment and sense of wellbeing they contribute to their lives, as beautiful and street character defining specimens, softening urban form, reflecting seasonal change and host to wildlife. In addition, they reflect the very practical function of mature trees, for their ability to mitigate the effects of the urban heat island and climate change.
They castigate the council for not considering these wider concerns and consequently not identifying trees as an asset for consideration at the project outset. In addition, they claim that the trees have not been financially valued for the benefits offered through ecosystem services (e.g. prevention of flooding, alleviation of air pollution), so the loss of asset is unknown and did not form part of the calculation for removal. Nor, they say, has the project been developed within the context of a city wide tree strategy. Rather irrationally, a new tree and woodland strategy for Sheffield is planned to follow the felling programme. Rather like a surgeon testing for reactions after amputating a limb, some say.
Industry and technical experts
Many industry and technical experts, including representatives from the Woodlands Trust, Trees For Cities, Sheffield Wildlife Trust, academics – including professors from Sheffield Hallam and the University of Sheffield's own landscape architecture department – and many highly accomplished arboriculturalists continue to validate and bolster the protestors' position, sharing a common belief that Sheffield street trees represent a unique and essential asset to the city and should be accommodated where practicable for purposes of amenity and environmental resilience.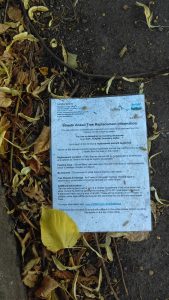 A common assertion is that now is not the time to compromise urban tree stock. If anything, it is the time to plant more. They condemn the lack of consideration for trees within the contract and criticise both the motives within the contract and triggers for removal, together with the absence of meaningful efforts to find solutions for retention.
Three key themes are emphasised. The first relates to the projected useful life of a street tree: whereas the council claims many of the trees planted in the late nineteenth/early twentieth century would benefit from replacement, based upon adapted methodology for determining the optimal rotation rates for tree crops, some estimates suggest that felling a typical street tree, such as lime, would occur closer to 270 years after planting, if the objectives were to manage benefits over time.
The second disputed point regards the proposed ratio of replacement. All professionals maintain that in order to sustain the positive contribution of street tree stock to the health and vitality of the city, the tree replacement ratio needs to be much in excess of one for one, with some critics claiming the rate should be closer to five.
Finally, and certainly the most worrying indictment of the Streets Ahead policy, relates to best practice regarding highway standards and trees. Section B.5.46 of the Department for Transport commissioned document 'Well-managed highway infrastructure: a code', states that 'extensive root growth from larger trees can cause significant damage to the surface of footways, particularly in urban areas. A risk assessment should therefore be undertaken with specialist arboricultural advice on the most appropriate course of action, if possible to avoid harm to the tree. In these circumstances, it may be difficult for authorities to reconcile their responsibility for surface regularity, with wider environmental considerations and a reduced level of regularity may be acceptable'. 
Such guidance has been repeated on multiple occasions and makes clear that concessions within streets between highway aspirations and trees are possible and conventionally regarded as desirable. Amey and Sheffield Council, however, have to date pursued a more zealous/aspirational application of highway standards, with little tolerance allowed for acceptable deviations, or trees.
In summary, the professional consensus appears to be that the trees cannot be justified for removal based upon arboricultural or highway grounds. That I am aware of, there are no public examples of a technical expert independent of the contract in support of the current council policy for felling.
I do not feel it is an oversimplification to summarise the issue in the following terms. From the council's perspective, they have correctly identified a problem with bumpy roads and footpaths and they intend to solve it by making them smooth and flat, whatever the consequence. This solution appears logical, if streets were only appreciated as conduits for conveying cars and people and could accommodate no additional asset or function.
A landscape professional's perspective
As landscape professionals we know that to be untrue. Streets form a significant setting to our lives. We may sometimes drily commute upon them, but we also cheerfully stroll, jog, chat and play within them and happily settle upon them. Journeys and activities for which the setting is incredibly important, contributing to our sense of health and well being. More tangibly, streets are able to house numerous very practical functions and services, from the common and essential, including the ability to communicate people and information through roads, paths and wires, to cables and pipes for power and waste. Green elements, including trees, offer further opportunities for amenity and function, providing attractive living sculptures that also have the incredible ability to provide for nature and ameliorate our environment.
The task of good design here, as with any other space, and as advocated within the term Green Infrastructure, is to take opportunities and to use resources economically, providing multifunctional streets that are integrated with and beneficial to the context. Given the complexities and inherent potential of a city street, I believe such projects and their objectives should have been forged from a collaborative multidisciplinary team, including arboriculturalists, landscape professionals, ecologists, highway, civil and drainage engineers and probably a good few more, in conjunction with the Sheffield community for which the works are intended to benefit.
This pooled technical and community expertise would likely have contributed a bolder vision, a better understanding of opportunities and constraints within the project, and innovative solutions that exploit the potential of the situation.
The Streets Ahead project is truthfully a highway project focused upon delivering smooth tarmac, despite the environmental claims otherwise. It was likely formed with the best of intentions to solve a single perceived problem, that of potholes, but the objectives and mechanisms for delivery derive from a narrow perspective, that of highway engineers and councillors. I am certainly not criticising highway engineers, but I am emphatically criticising silo working, as it can offer only a narrow view for what is important, does not embrace collaboration and therefore does not exploit design opportunity.
For Sheffield to have achieved a better outcome, I believe they needed a bolder vision, which appreciated the potential of a street in its broadest sense, recognised and pursued by a multidisciplinary team that understood the existing assets. And of course, these proposals should have been developed alongside the citizens of Sheffield to ensure that the project reflected community interests, promoting real engagement and ownership. These feel like relatively modest aspirations given the scale of the project.
However, the reality is that Sheffield feels like a big opportunity missed, with the Streets Ahead programme an ironic title falling woefully short of its potential. As a consequence, the public will has been frustrated, the council have suffered tremendous damage to their reputation and the city will bear a poorer environment. Perhaps a tough lesson on narrow ambitions meted out to Sheffield, but hopefully learnt by others.
---
Steve Frazer CMLI is Principal Landscape Architect at Enzygo Ltd, Sheffield.