Outdoor spaces can often be uninviting places, especially in the evening. Streetlights can cast a harsh luminescence onto public spaces. They provide safety and visibility at night but can also cause problems. We have a new understanding of the harmful effects of light pollution on our insects and the knock-on effects this has to the pollination of plants and crops.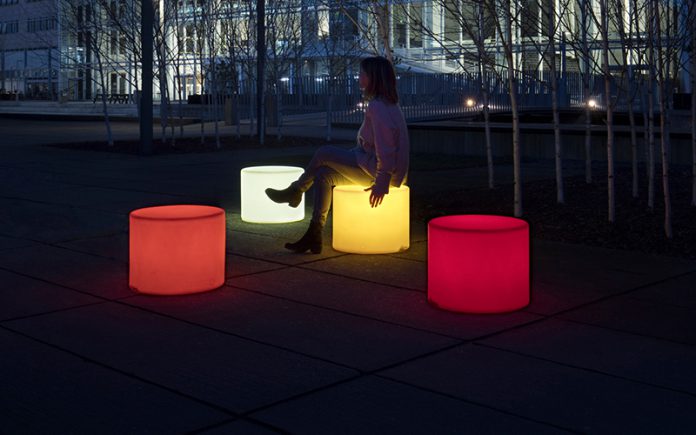 This article is a sponsored post.
---
Lighting should be more than just a bulb on top of a pole. There are new innovations in technology every day, solar panels are now smaller and more powerful than they have ever been before. Bulbs are no longer the big glass orbs of old; they are tiny LED's that last longer and cost less to run.   
Bailey Street Furniture Group has a selection of external lighting elements that can be wired to mains or have a separate battery unit with independent solar power technology. From tall streetlights, to waist height illuminated bollards (these also provide protection to pedestrians), to inground self-contained lighting units and even seating, picnic tables or shelters that contain lighting for visibility and extended use of space.  
The HopOp Light (pictured) is a fun alternative. It was designed with the intention of capturing sunlight in a cylindrical shape that can be viewed as a dot of light from above. The HopOp is a great piece of street furniture that can be used for playing and jumping as well as sitting.  
Adding light to external seating increases the functionality available to users. Inviting them to rest and play during the darker hours. The integrated LED-light unit is mounted within the cavity of the seat and glows through the translucent polyethylene surface, offering a uniform luminance. The LED unit lasts for approx. 20,000 hours, equivalent to 6 years in the dark hours. Available in four different colours (Red, Orange, Yellow and White) that can bring vibrancy both indoors and out. The bright colours can uplift any atmosphere, improving the mood with a cheerful glow.  
The seats can be spaced out for social distancing, yet also feel connected however they are arranged, even combining different colours. They weigh only 7 kilograms each but can be fixed to the ground with brackets. They appear as ordinary seats during the day. The addition of the lighting element means play can happen even when it is dark outside. 
To view the company's wide range of high-quality street furniture visit their website www.bsfg.co.uk