Mary Jackson, co-founder and joint co-ordinator of the International School Grounds Alliance and Projects Manager at Learning Through Landscapes, shares her thoughts on what makes site designs really work for schools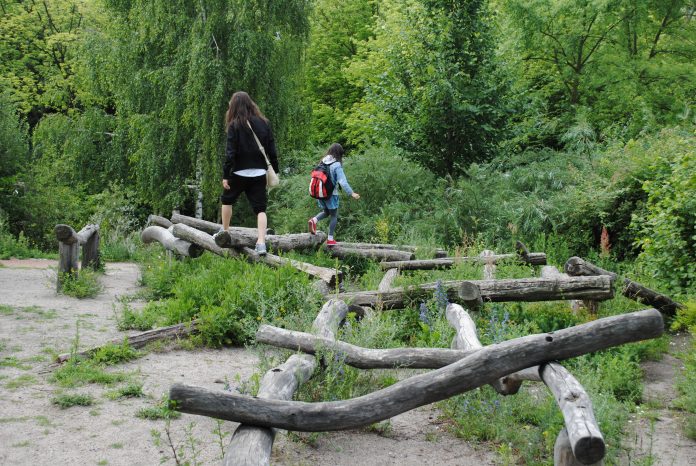 As part of my work with the Learning through Landscapes Trust (LTL) and the International School Grounds Alliance (ISGA) I visit many schools.  Sometimes I see some great school grounds and sometimes, I'm afraid to say, I see some pretty awful ones. Despite what you might think the difference is not always down to the money that is spent on them.
Sometimes the schools that have spent the most have the least successful grounds of all, so what is it that makes a site really work for a school and how can we learn from the best examples both in the UK and overseas?
Great school grounds are ones that provide the best experiences for pupils. And that should always be the starting point when designing school grounds. At LTL we have always said that designers must find out what the school want to be able to do outside rather than what they want to have. It seems a very simple difference but it's actually a vital starting point.
By asking both staff and pupils what they would like to have you will find you get drawings and descriptions of play equipment from the local park or even of Wembley Stadium!  So, instead ask them what they want to do and you will find that the children want to run, jump, hide, swing and yes, play football, but they will also want to sit and talk with friends, read, camp out, get close to nature and have lessons outside. Parents will want their children to enjoy school and be safe whilst teachers and governors will want them to enjoy stimulating, creative and effective learning, and all will want them to be healthy and happy.
The role of the Landscape Architect should be to broaden the expectations of the school and show them what is possible; creating unique designs that fit the specific needs of each school not just transferring materials and features from other public spaces. Asking the 'do' question, or even better asking the school what experiences they want their pupils to have, enables the designer to understand the client and to come up with solutions that the school could not have done on their own. Schools are experts in learning and child development so use their expertise to help you with yours. Thinking how the site is used now and how it will be used in the future by pupils and staff is vital to a successful design. Learn from what is working – and the pupils are the best people to tell you what that is. Consultation with pupils as well as staff will help a designer create a solution that is used and cared for by the school, rather than one that looks good but doesn't really meet their needs.
While there is no set solution for all schools there are some common elements that should be considered in the design process:
creating a diverse environment in which children can have regular contact with nature will benefit pupils' mental and physical health as well as provide a stimulating environment for children to both learn and play in
developing a space and features that deliver flexibility of use, which can be anything from leaving open space for learning (including PE) and play, to providing resources that can be moved and adapted over time
seating needs to be the right dimensions for those who are using them, it needs to be suitable for both talking with friends and for teachers to address a group or class – long, straight benches rarely do this
pupils will be out during some of the hottest times of the day so heat gain from surfacing and shade from buildings and planting all need to be considered
consider too the acoustics around buildings and whether it is  practical to have teaching spaces directly outside the classrooms – in primary schools where an outdoor space can be adjacent to a class's base this may well work, in a secondary school where pupils inside may be distracted, it may not
overall, a designer should put themselves in the place of the pupil and of the teacher – thinking about how the spaces are to be used, and by whom, will help get the design right
So where can you see examples of great school grounds? While in the UK there are some fabulous examples (and we are always looking to hear about more, so do let us know if you have designed some great school grounds) there is no better city to visit than Berlin to see how asphalt deserts have been transformed into vibrant, nature-based play spaces that are also ideal for learning in. In September the ISGA will be joining with Grün macht Schule, Landscapes Architects and Educationalists who develop school grounds in Berlin, to host its latest conference which will include speakers from around the globe as well as providing a chance to visit a number of school grounds in the city. The Schoolyard Diversity conference is the conference all designers working in school grounds should consider attending.
If you are already working with schools and wish to be part of LTL's network of accredited designers, please do get in touch. Also, if this is an area of work you would like to move into, please do let us know: we are always keen to make sure schools can access designers who really understand their needs.
The goal of a Landscape Architect should be to design the best possible spaces and places for the people that use them. Working with whole school communities they have the chance to not only create spaces that will make children's time at school better but may also help to inspire the next generation of the profession. So please, no more large areas of safety surface, expensive play equipment stuck in the middle of the playground, or rows of benches – let's instead see nature encroaching even the most urban of sites, art and crafts making the sites unique, and children and staff getting excited about being outdoors.