2020 was undoubtedly a challenging year which affected families and businesses across the globe. Covid-19 continues to impact the construction industry with supply chain issues, planning delays, and new measures to ensure workforce health and safety.
This article is a sponsored post.
---
Leading paving and walling manufacturer, Tobermore has been fortunate enough to be part of a thriving hard landscaping market. Demand for paving and walling products has increased significantly from both commercial and consumer customers, resulting in a record year for Tobermore with an increase in sales of 28%.  
The pandemic has been a catalyst for digital transformation acceleration within the industry. More than ever, specifiers rely on manufacturers to provide accurate digital product information.  
Anna McAleer, Head of Specification commented: 
"Tobermore is proud to have adapted to the changing landscape. Over the last year, we have all had to step up and digitize the way we work. We have further developed our BIM objects, provided enhanced data on NBS Source and made significant website improvements. In addition to this, face to face meetings have been replaced by Microsoft Teams calls and CPDS are now delivered online via webinars." 
 "Our continual investment in innovative technologies and people, has resulted in high performance products and market-leading solutions. We plan to introduce new products which provide aesthetic and functional solutions for our customers. We pledge to prioritise digital solutions for our customers and have invested in visualisation tools which will aid specification decisions. Watch this space!" 
Recognising the global climate emergency, Tobermore are working to mitigate the impact their operations have on the environment. 
"Care for the environment is at the heart of all of Tobermore's manufacturing production processes. We are continually striving to incorporate carbon reducing processes and introduce energy saving initiatives at every opportunity," Anna McAleer, Head of Specification commented.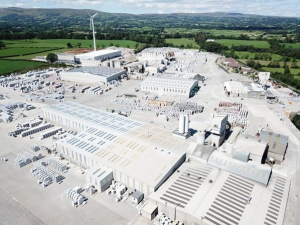 Tobermore has significantly increased capacity to make another one million square metres of block paving per year. 
"We strive to reduce our Carbon Footprint in the following ways: 
100% of electricity produced from our 250kW wind turbine is used during our production process.

 

We have over 1,250 solar panels installed producing 38,950.90 

kWhr

 per annum.

 

We have reduced our waste to landfill to zero through a process of continual improvement in production efficiency and the 100% recycling of manufacturing residue.

 

We recycle 100% of the water used in our manufacturing process and manage our use of this precious resource by investing in systems to harvest rainwater.

 

 

100% of the water used in the production of our products comes from our rainwater harvesting system and our own bore hole.

 

We have invested in more sustainable product packaging. 

The 100% recyclable polyethylene film contains 30% recycled material.

 

By using recycled material, Tobermore has decreased waste and reduced their packaging-related carbon footprint by 20%.

"

 
By Anna McAleer – Head of Specification at Tobermore
Tobermore were supporting the LI Awards 2020. Entries for 2021 Awards are now open – find out more here.