As we face the triple challenge of the public health, climate and ecological emergencies, there has never been a more pressing need for better integration of high-quality green infrastructure into the built environment.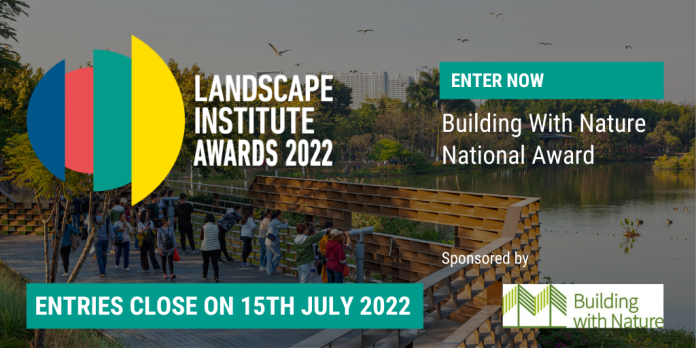 Green infrastructure offers practical, well evidenced solutions to address the triple emergency providing; healthy green spaces to meet diverse needs within all communities, climate adaptation and mitigation solutions, soft features that support good water and flood management, natural carbon capture and the creation and restoration of habitats to support nature's recovery networks.
The Building with Nature Standards Framework is the UK's first green infrastructure benchmark, defining 'what good looks like' throughout the whole lifecycle of green infrastructure – from the policy framework and early-stage design, through to implementation, and long-term management and maintenance. The Building with Nature Standards are free to use and can be downloaded from the Building with Nature website. Building with Nature also provide a voluntary accreditation process, supported by a national network of trained Assessors who help developers and other stakeholders move through the planning process more effectively, and the accreditation provides an independent verification of quality when it comes to green infrastructure assets.
Since 2020, the Landscape Institute have been working with Building with Nature to present the Building with Nature National Award, recognising the design, delivery, and management of great places for people and wildlife. By demonstrating exemplar approaches to green infrastructure in development, the Building with Nature National Award is helping to show how industry can positively respond to the triple emergency, by putting landscape at the heart of decision making. This award showcases inspirational design vision, and champions a commitment to delivering that vision on the ground, ensuring that high-quality green infrastructure contributes to a more sustainable future for both people and wildlife. The Award is open to recipients of a Building with Nature Accreditation for their residential, commercial, or community infrastructure scheme. Find out more.
The Landmark Practice, Bristol, have two Building with Nature Approved Assessors and have been using the Building with Nature Standards to support their design team's work for over the last two years. This is the first year they are entering the Landscape Institute's Building with Nature National Award, with a residential scheme, Oakfield, Swindon, that received a Building with Nature Design Award last year.
Oakfield, Swindon is Nationwide's first housing scheme and is being delivered with the support of sustainable Development Managers, igloo Regeneration. The scheme provides 239 intergenerational homes with a mixture of tenures, for people at every stage of their life. Arranging homes in terraces around communal gardens is designed to foster community spirit and enable a higher proportion of the site to be devoted to landscape. Habitable rooms are designed to overlook streets to create a well overlooked public realm and optimise visual access to green infrastructure assets. 'Pocket parks' are included where streets and paths meet. At the heart of the neighbourhood, a new larger park is proposed to draw people in to enjoy the space which includes a natural themed play area set within swaths of native planting, meadow grassland and variety of native trees. New cycle links will encourage active travel, and the masterplan has been developed with the '15-minute neighbourhood' concept in mind, to try and provide the basic amenities that residents would need close by, without dependency on car usage. Building for a Healthy Life principles were integrated as part of igloo's Footprint approach, and the project team instructed a Building with Nature Assessor to guide the design proposals from an early stage, resulting in the project being accredited with a BwN Design Award.
BwN Assessor Q&A with James Sleigh, Principal Landscape Architect, The Landmark Practice
At what stage did The Landmark Practice become involved with the project?
The Landmark Practice were brought on board on the project post planning. Having just completed the BwN training course it was clear that the design approach that had been developed by the client and their design team was exemplar and had been forged by design principles that aligned with those of BwN. There was a clear focus on Green Infrastructure, community and consideration of the site in its wider context, particularly with regard to open spaces, tree planting and recreational routes and spaces.
How has high-quality green infrastructure been integrated into the Oakfield scheme?
The development provides a range of open space together with a considered planting strategy that responds directly to its wider context.
A series of public spaces flow through the site with large play space, area for community events linked via generous pathways to more intermate public squares and incidental spaces. There are a number of 'Homestead' gardens set within the development which provide semiprivate spaces for residents to enjoy, congregate and use.
A considered and varied plant and tree strategy was adopted for the project from the outset, which focuses on providing year-round interest and significant wildlife value. The retention of large mature trees on the periphery of the site has informed the arrangement of routes through the space, providing focal points, aiding wayfinding and contributing to the character of the development.
How has Building with Nature changed the dynamic and process of the design approach at The Landmark Practice?
The BwN process and ethos has now become embed into the approach the practice takes with all its projects. As landscape architects and ecologists we always strive to ensure the spaces we create are as multifunctional as possible, BwN has given us the opportunity to expand on this and provide another layer of thinking in to the benefits the places we create offer to those that live within them, around them and close to. As with most environmental consultants, we want to create climate resilient legacy landscapes for future generations to use, have access to, protect, conserve and enhance.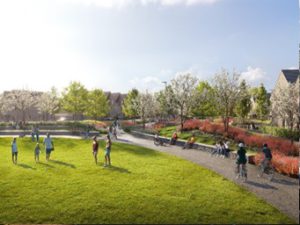 Image credit to: Nationwide Building Society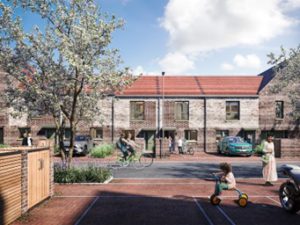 Image credit to: Nationwide Building Society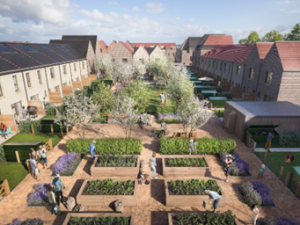 Image credit to: Nationwide Building Society
The Oakfield case study can be downloaded here.
Further examples showing how multi-functional green infrastructure can be delivered across a range of development scales and contexts can be downloaded from the Building with Nature website
https://www.buildingwithnature.org.uk/
The Landmark Practice
https://thelandmarkpractice.com/