The cross-industry LGBT+ allies networking group, Rainbow Places, has held its first digital event, is holding another to mark LGBT History Month 2021, and will soon be announcing a competition to design its new logo!
Rainbow Places – the cross-industry LGBT+ allies networking group for landscape, place, and environment professionals – has had a busy few months! Here's what we've been up to and how you can get involved.
September 2020: Rainbow Places goes virtual
Rainbow Places held its first virtual event in September. Founding member Laura Jazwinski reports:
We established Rainbow Places to provide a platform for LGBT+ professionals and allies working in the landscape, place, and environment professions. The network gives people space to talk about their experiences, to develop and implement ideas of how to make the industry more inclusive, to raise awareness and visibility, to champion role models and 'proud' practices already providing inclusive workplaces, and to lead by example in building a network with LGBT+ professionals and allies across sectors.

Following the launch of the network in 2019, there has been a fantastic level of interest: from Landscape Institute (LI) members, members of the Chartered Institute of Ecology and Environmental Management (CIEEM), the Institute of Place Management (IPM), and the Design Council. It was encouraging to see many of those members, including allies, in attendance at the first virtual event.

While the pandemic currently prevents us from organising Rainbow Places events in person, the virtual nature of the event provided a great opportunity to involve a wide range of people who live and work across the UK, including in remote areas, as well as members from across the globe. This helped creating a positive, inclusive foundation on which to build.

A big thank you to everyone who attended the event and for helping make the time together safe and inclusive.
What members would like from the network…
To provide support for younger LGBT+ members of the profession and students through mentoring groups, connections with universities, and visibility of LGBT+ role models
To improve visibility of LGBT+ people within the LI magazine and journal, and to work with the LI to create a best practice advice note around inclusivity and diversity in visuals – ensuring that work produced by our members reflects all of society
To build the Rainbow Places brand through the creation of a new Rainbow Places logo (more on this shortly…)
To build knowledge and understanding of creating more LGBT+ inclusive spaces, both in the UK and globally
To understand the LGBT+ community's place in landscape design and placemaking history
To increase bi-visibility and bi pride
To feel connected and supported
Concerns: pandemic isolation and workplace homophobia
A number of attendees shared their experience of how the shift to remote working has affected them. Members reported feelings of isolation, as well as difficult instances where life at home can feel less supportive than life at work. We hope that the Rainbow Places network can support those feeling such isolation at this time.
We heard many positive stories of inclusion and acceptance. But a number of people shared ongoing experiences of homophobia, and feeling unable to bring their 'whole selves' to work. This was particularly noted around construction sites and in architecture practices. Members also discussed hostile online cultures, including on LinkedIn, where people had experienced homophobic comments.
If you're experiencing feelings of distress or isolation, or experiencing discrimination at work or anywhere else, support is available:
LGBT Foundation
0345 330 3030
lgbt.foundation
Switchboard LGBT+ Helpline
0300 330 0630 (open 10.00am to 10.00pm daily)
switchboard.lgbt
Samaritans
116 123
www.samaritans.org
Growing the network
The LI has committed to supporting Rainbow Places, hosting events and online networking platforms (such as the upcoming LI Connect), and helping to grow the forum.
The intention of the network is for its members to lead and steer it. We're now looking to build a steering group to help strengthen the network as it grows and builds support for LGBT+ practitioners and allies.
If you're interested in joining the steering group, please get in touch with the LI's Equity, Diversity and Inclusion team via diversity@landscapeinstitute.org.
---
Coming up: Rainbow Places presents… Works Out
Wednesday 24 February 2021, 5.00–6.00pm GMT
FREE
Join us to mark the close of this year's LGBT+ History Month with an engaging panel discussion about being out at work.
Inspired by the success of recent TV show It's a Sin (Channel 4 /ALL4), which has shone a spotlight on being gay in the 1980s, our event brings together a four practitioners at various stages of their career.
Chairing the discussion will be actor and gay activist Adam Zane, best known for his portrayal of Dane McAteer in Queer As Folk.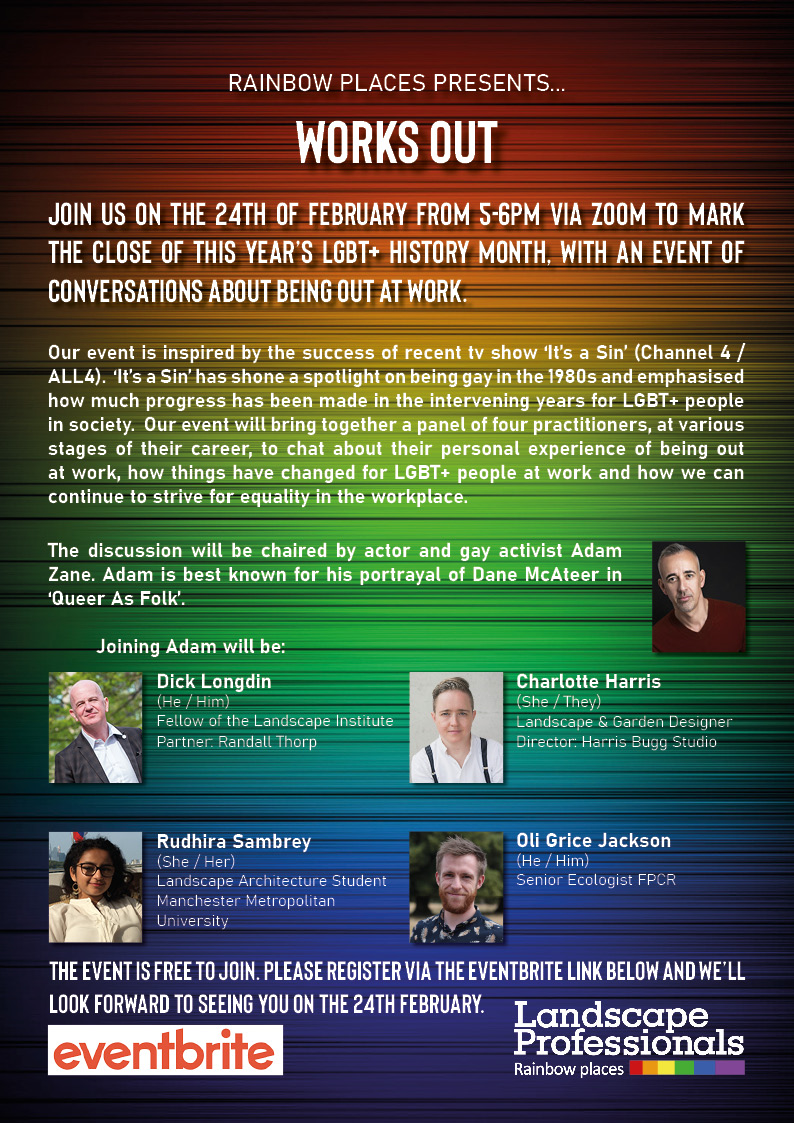 ---
Watch this space for a Rainbow Places logo competition!
In the coming weeks, we'll be announcing a competition to design a new logo for Rainbow Places. Keep your eyes out for further announcements!