Fernbrae Meadows is one of several projects that used NatureScot's ERDF Green Infrastructure Fund to transform sites whilst making a valuable contribution to the triple crises of health, climate change, and biodiversity.
The Fund enables projects that are built on community co-design to create multi-functional greenspaces on a major scale, to tackle issues associated with multiple deprivation, such as health inequalities. Fernbrae Meadows and Claypits are excellent examples of how good practice can produce valued, rejuvenated places.
The site of Fernbrae Meadows was previously a private golf course, on the border between Glasgow City and South Lanarkshire. This has been transformed by South Lanarkshire Council (SLC) into a large, bio-diverse ecology park. Previously physically inaccessible to nearby residents, the park had over 850 visits per day by May 2021 and it now forms a link with the wider green network of Glasgow and South Lanarkshire.
Transforming the 20 hectare site began in 2015 and was completed in 2019. SLC spent much of that time working with the local community, arranging funding and undertaking planning requirements. The actual construction phase took just over six months. A dedicated communities' officer was engaged for the duration of the work, and landscape architects Ironside Farrar were appointed for the design.
The ethos was to work with the existing landscape pattern of the golf course and build upon the ecological succession processes that had commenced since it had closed. Landscape design was based around appropriate and targeted interventions to reinforce landscape character and provide a healthy environment. Much of the focus was on providing a sense of 'a walk in the country' on peoples' doorstep. There was a conscious decision to avoid the use of sealed path surfaces and instead a combination of whin-dust and grass paths were utilised to maximise the contrast with urban environments. Nonetheless an accessible loop was created, including the provision of a boardwalk on a former concreate dam structure that created an elevated view over recreated wetland habitats.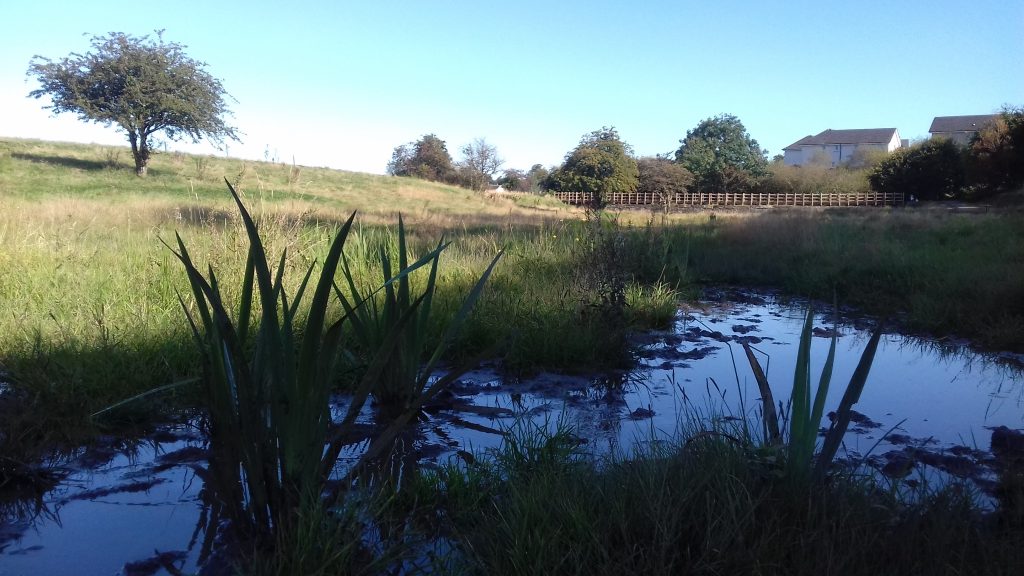 There was a careful use of detailing – vernacular elements such as whinstone walls, restoration of estate fencing – retention of existing features, such as a veteran hedging, re-use and reimagining of former golf course elements to reference its former use. Local, Lanarkshire historical apple varieties were used in the orchard. The pattern of movement was a response to emerging desire lines and the use of the golf course. Rather than obliterate tees and greens these were used to create nodes of interest or activity – sculptural features, informal play outdoor classrooms etc. In contrast to the mown grass of the golf greens and fairways, woodland, wildflower and wetland areas were created and enhanced.
Another contrast with the golf course is water management. Golf courses are designed to shed water quickly but the park now contributes to flood prevention measures in the area. There are two SuDS ponds and two wetland areas to slow water run-off. In addition, a previously canalised stream has been naturalised into a meandering burn. They are attractive features in the park that deliver hugely for biodiversity, as well as practical ways of retaining water on site and reducing off-site flooding.
The wishes of the local population have been central throughout the place-making process. Extensive co-design was undertaken from the start, and there is now a vibrant 'Friends of Fernbrae' group. The group plays an important role in park maintenance and management, and several members have attended training courses so they can contribute to monitoring its changes. The Friends group has been key in the site attaining Local Nature Reserve status, awarded in late 2021. Local schools visit regularly, using the park as an outdoor classroom. Organised social and health walks also make good use of the site.
The sizable, undulating park provides an allotment area, raised vegetable beds for community use and an orchard. It also includes a junior mountain bike circuit that builds on the Commonwealth Games legacy of adjacent Cathkin Braes. The access connects directly to around eight kilometres of paths that extend beyond the site. It is also simply a green and pleasant place for respite from urban life. The views are extensive, taking in distant hills to the north and west (celebrated in a floorscape viewpoint) as well as a host of Greater Glasgow landmarks.
A nature-based solutions approach, with extensive community engagement, lies at the heart of the project. The end result is a transformed and valued urban edge greenspace that optimises multiple benefits for people and nature. This is a fitting COP26-related legacy for the host city.