The benefit of using natural stone in hard landscaping is that it brings a sense of quality to a scheme that is hardwearing and beautiful. The variety of materials, colours, sizes and textures available give designers and specifiers the ability to create truly unique landscapes, which can be enjoyed for years to come.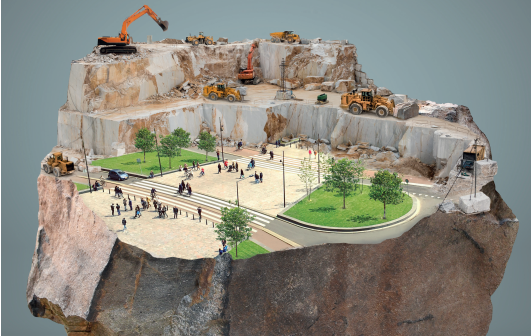 Marshalls have been supplying natural stone products since the business began back in 1890, and have supplied natural stone for some of the UK's most iconic projects, including Trafalgar Square.
Gordon Hines is the Technical Manager for Marshalls natural stone, responsible for their portfolio of commercial landscaping products. He is directly responsible for the selection, design and detailing of external landscaping elements. Everything from decorative stone paving, setts and kerbs to more detailed pieces such as planters, seats, cladding, sculptures, engravings and bespoke masonry. Gordon has vast experience of world stones and can advise on their suitability and usages in landscape projects, having designed and advised on a wide variety of natural stone schemes across the UK. He also sits on the technical committee of the Stone Federation of Great Britain and is Chairman of the Stone Federations Landscape Forum.
In the session Natural Stone Detailing, Gordon will highlight some of the main detailing issues to overcome when working with natural stone, highlighting the options available to ensure the best application for stone on a scheme, which will perform on durability and longevity.
The audience will gain a better awareness of detailing and durability issues, making sure a stone can perform for the design you have chosen, as well as looking at items to be considered in the specification of a project to avoid errors and delays. 
The design team at Marshalls are trained to transform even the most ambitious ideas into something deliverable with consideration given to the stone's strengths and technical properties. From simple functional kerbs to complex ground breaking innovative designs, they would like to take this time to share with you their knowledge in this area. 
Click here to book the Natural Stone Detailing, Inspiring Better Designs webinar..