How do cultural differences influence an approach to landscape?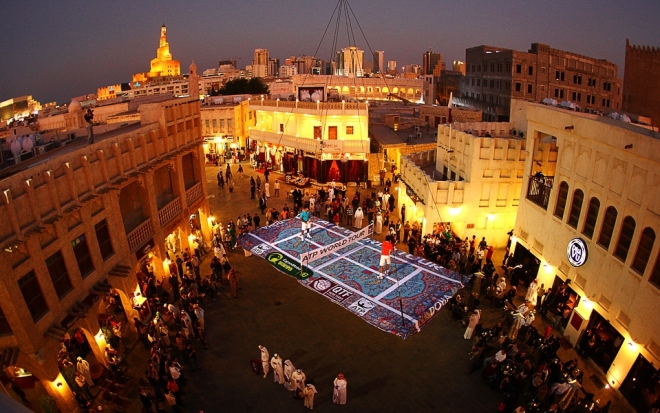 Wing Lai is a chartered landscape architect, formerly the Chair of LI London Branch and now based in Doha. He worked extensively on Middle Eastern projects from London in his early career and his work has now taken him to the Gulf region itself. He endeavors to deepen his understanding of the cultural differences within landscape architecture in the two countries he has called his home. Here, he shares some thoughts with us and explains why Europeans need to avoid lumping all the Gulf Cooperation Council states together and recognise that each is unique – with its own approach to landscape, too.
Less than 40 years ago, Doha was a fishing village with a pearling industry.  Today, it is an economic engine driven by its limitless supply of LNG discovered by the oil and gas industry accounting for a third of the world's supply. Skyscrapers are sprouting up in the West Bay area, which is the version of Doha the rest of the world sees. Development is everywhere, so that it feels as if the whole city is one giant construction site.
The FIFA 2022 World Cup, the first ever to be hosted in a Middle Eastern Country, has brought Qatar into the spotlight. Qatar has been focused on improving its sports investment since 2006, starting with the Asia Games and equally important is its development in landscape – in particular Education City, the biggest education facility in Qatar and a vision created by Qatar Foundation which includes not only the FIFA stadium, but also an integrated tram network to reduce car usage in the campus.
Doha does not intend to follow the growth of Dubai, which follows a globalisation model geared to westerners and tourists.  Instead, the focus has been on preserving the cultural identity of the city with an Arabesque, Islamic approach to development. Compared to the UAE region, Qatar is more conservative and looks to maintain its cultural roots. The development at Msheirib in Doha is one example of the modernisation of an urban core, combined with references to Doha's cultural heritage.
Msheirib, also known as Doha downtown, is currently under development and will be Doha's new city centre by 2022. The modern, minimalistic architecture and urban grain is modeled around a souk type environment with the path network using the idea of sikkas (narrow alleys which historically helped encourage shade and provide retreat from the sun). A tram network and a new metro station will serve this new quarter. Shade canopies are used extensively in the form of mashabiya with depictions of Islamic geometry in the plaza spaces, providing filtered natural light whilst providing a cooling effect. The buildings will be mixed used, with offices and residences on the upper floors and shops on the ground level. Msheirib is an example of where the principles of European urban design have been combined with the typology of a souk environment.
Similarly, in the Katara Cultural Village, Doha's major arts and cultural quarter, water features and channeled water – which provide a cooling effect throughout the network of alleys and sikkas – reference Islamic Gardens and architecture, with their use of water and ornamental planting. And in Souq Waqif, the city's most popular destination, the government's recent renovations saw buildings replaced with replica examples of vernacular buildings within a souk.
These are just a handful of developments that are present in Doha. As development grows, Doha will acquire many new parks and its public realm will grow. The city has come a long way in forty years, but perhaps the recent approach to landscape goes some way in honouring the character of that original fishing village.