Mentoring on the Pathway to Chartership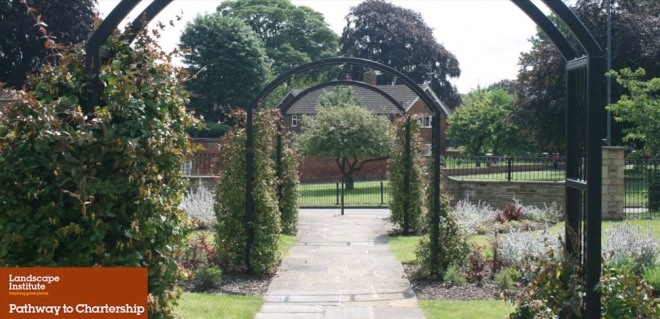 In January, I attended the inaugural graduation ceremony for Chartered Members of the Landscape Institute (CMLI).The event was a celebration for the achievement of landscape architects who passed their professional examination in 2014, thereby becoming a fully-fledged professional at the end of several years of study.
I was at the event in the guise of mentor to two successful candidates, Dean Young and Jayne Pullen, who I'd mentored for two years and who passed the exam in November. Both were invited to the event to collect their certificate in person from the President of the Institute, Noel Farrer, rather than receiving it through the post. The event included opportunities to meet other members of the Institute, from the Honorary Secretary to Past Presidents and members who have retired after successful careers – including Irene Shaw FLI, who recently retired from Groundwork West Midlands.
The role of the mentor is to guide a candidate through developing their knowledge and understanding of professional practice. The large syllabus ranges from important (but perhaps dull, unless you're a lawyer) subject areas such as tort and negligence, through business management and the all-important Code of Conduct.
I've mentored candidates on their Pathway to Chartership for nearly twenty years. The examination format has changed from the one I was subjected to – a written paper followed by an oral examination – to just an oral one. However, there is now much more emphasis on progressive development and regular submissions by the candidate demonstrating their progress. The syllabus also changed including during the time that Dean and Jayne were on the Pathway, which was a distraction from study until they settled into the new format, albeit covering the same content.
Even though I mentored my first successful candidate when I was at Groundwork Wirral back in 2000, I still go through the anxious "are they going to pass?" moments on the day, followed by the nervous wait for the results. I have a 100% pass rate of candidates, so although Jayne may have had doubts in the build up to the exam as to whether she was really ready, I wouldn't have put her forward if I didn't think she was at the right level.
Some may think that now I am not mentoring anyone, I'm having a rest from the Pathway. This certainly isn't the case! The Institute is always on the lookout for volunteers, so I am a Supervisor to about 20 candidates on the Pathway and for 3 years have also volunteered to be an examiner. So even though Dean and Jayne no longer need to make quarterly submissions, accompanied by my mentor review, I still sit down and review submissions from those I supervise, and advise and guide them towards success in the exam.
Now, just remind me what Standard 7 of the Code of Conduct says…
– This blog was re-blogged from Groundwork website. Visit the original: Groundwork Hertfordshire, Bedfordshire & Cambridgeshire blog