Take a detailed dive into street furniture specification to fully understand the impact that your specifications have upon both resource use and carbon emissions. Learn more about the most commonly used materials and how to evaluate their sustainability so that your future choices are the most appropriate for people, planet and nature.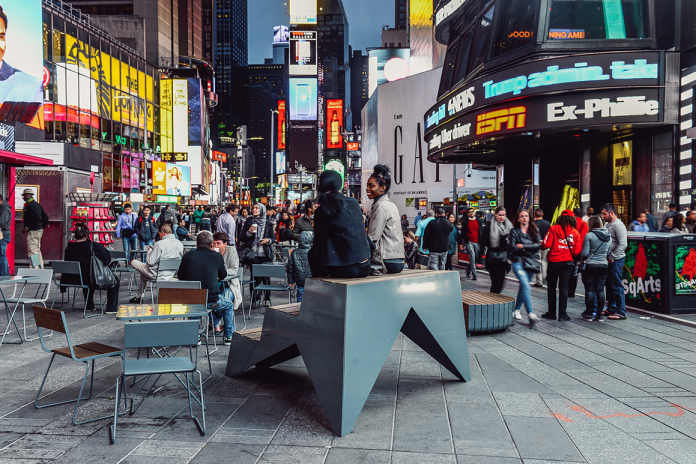 This article is a sponsored post.
---
With over 40% of global carbon emissions being emitted by the construction industry, we all have a part to play in minimising the impact of the materials we specify for our projects. For instance, cement is the source of around 8% of the world's CO2 emissions; steel is responsible for approximately 7%. If these industries were countries, they would closely follow the USA and China in terms of their damaging global impact.
Those who specify hard landscape materials need to have a technical understanding of the impact of their specifications upon embodied carbon, whole-life CO2 emissions, resource use, ethical procurement, and other related aspects – all of which are important factors to consider when considering any potential product or material for a project. Life cycle analysis – cradle to cradle – is vital to ensure a truly sustainable approach where all manufacturing impacts are assessed and fully considered. It's important to ensure a holistic focus on all every aspect of specification, since an imbalanced approach – for instance, a fixation only on embodied CO2 or recycled materials – can lead to damaging impacts in other, related, areas. This balanced approach is supported by a product Life Cycle Assessment (LCA) or Environmental Product Declaration (EPD), as certified by bodies such as the Nordic Swan Ecolabel.
Vestre's product demonstration session comprises a consideration of the key materials used in the production of our outdoor furniture, along with a review of physical samples – including steel, aluminium, weathered steel, timber, powder coating, and others. Detailed technical specification information on each is discussed, with an emphasis on the importance of understanding both CO2 and the broader EPD. Information about common manufacturing methods (including welding and hot-dip galvanising) is also discussed, as these processes have environmental impacts that should be considered. Simple and efficient recyclability at end of life is also an important consideration.
Finally, to support truly sustainable specification, a focus is needed on management or maintenance that will ensure a minimal impact through a whole-life approach. Since some 70-80% of carbon emissions result from the operational phase of a project, an understanding of the importance of both embodied and in-use carbon is required; a focus only on embodied carbon alone can give a misleading result. Longevity, durability and minimal maintenance are key to minimising both the initial impact of any product and ongoing resource use.
​Since the Landscape Institute declared a Climate and Biodiversity Emergency, it's clear that many specifiers feel they're lacking the detailed information they need to make informed choices around product specification. This demonstration will enable a more complete understanding of the questions to ask of suppliers of street furniture in particular, but the principles apply to any product. It's time to demand more from the landscape supply chain if we're to really make an impact on the current climate crisis. Get some tips of where to start from a company that has operated carbon neutral production for ten years.