Marc van Grieken FLI hopes to fund research into the disease he has had for over 10 years
On Sunday 21 May, seven cyclists will be among several thousand setting off from Pitlochry, Scotland between 6.30 and 7.30am to cycle the Etape Caledonia, an 81-mile route through the hills, glens and beautiful lochside roads of the Scottish highlands. Marc will be one of them. He said of the endeavour:
'It will be some three weeks after my 60th birthday and what I hope to be my sixth time completing this cycling challenge. Six friends will be joining me, though the going may be slow due to the gradual progression of my Parkinson's disease.
'My diagnosis was over 10 years ago. I initially thought that nothing would change, that it would not affect my daily or my family life, and that I could ignore it. I also worried that if people knew I had the disease, they might ignore me. I was wrong on both counts.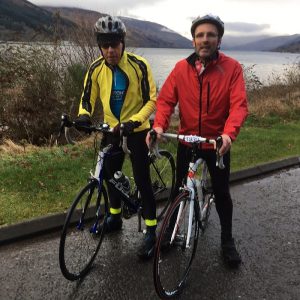 'Parkinson's disease does affect your family. But my partner and daughters have been very supportive, as have others. Once I accepted the reality of the disease and started telling people about my diagnosis, I realised just how many people it affected. I have met numerous fellow 'Parkinsonians' and learned that the disease affects each person differently, but in all cases the progression of the disease results in worsening symptoms, reduced mobility and a gradual erosion of quality of life.
'Without doubt, there are some things that I can no longer do. But on the advice of a close colleague, I am focusing on what I can do. One thing I can do is try to raise funds for Parkinson's research, because I believe that with adequate funding, this disease can be better treated or even cured. My target of £60,000 – £1,000 for every year of my age – is ambitious but achievable, and if met, could fund a year of ground-breaking research into Parkinson's disease.
'I live in and do most of my cycling around Comrie in the southern highlands. Due to the earth tremors it experiences, Comrie has the nickname 'Am Baile Critheanach', or 'Shaky Toun'. Because of this, and the fact that most people associate Parkinson's with shaking, we have affectionately dubbed our team 'Shaky Team from Shaky Toun'.
'Shaky Team is hoping for a sunny May Sunday, with a gentle south-westerly wind, but what will really spur us on is the knowledge that the venture may contribute towards one day finding a cure for Parkinson's.'
---
Marc van Grieken is a Fellow of the Landscape Institute (FLI). He is currently chair of the LI's Technical Committee. He is also on the GLVIA Advisory Panel, which helped develop the third edition of the LI's Guidelines for Landscape and Visual Impact Assessment (GLVIA). You can contribute to Marc's fundraising for Parkinson's UK at www.justgiving.com/fundraising/Marc-van-Grieken1.