LISW events bulletin – May 2021

Temple Tales: Midsummer Nature Nights
Bringing new life to ruins with Dan Pearson, Arit Anderson and Eric-Jan Pleijster of LOLA Landscape
Midsummer talks online and in person at Temple Church, Bristol
Monday 7 – Wednesday 9 June 2021
This summer we head outdoors for three special blended broadcasts from Temple Church with Festival of Nature, Landscape Institute, Vestre and English Heritage.
Join us outdoors (limited tickets available) or online and bring nature into your home with this special Temple Tales: Midsummer Nature series. The Architecture Centre are working with English Heritage, Bristol City Council and a world-renowned design team to reimagine a new future for Temple Church and Garden. Conservation work to this important site begins this summer.
There are three evening events on 7, 8 and 9 June:
7 June 2021, 6.30pm: Bringing New Life to Ruins
8 June 2021, 6.30pm: A Local Future
9 June 2021, 6.30pm: The Restorative Power of Nature
Bringing New Life to Ruins will look at projects that combine conservation with the introduction of nature. Featuring renowned garden designers Arit Anderson and Dan Pearson, Dutch landscape architect Eric-Jan Pleijster, English Heritage's Head of Gardens and Landscapes John Watkins, and the Architecture Centre's Director Anna Rutherford. Explore the romantic and radical approaches to regenerating historic environments with nature.
In A Local Future we ask: What does localisation mean to you? And how do we inspire change for the wellbeing of people and planet? In celebration of World Localisation Day on 20 June, we welcome inspirational speakers from across the globe for a whistle-stop tour on localisation from Bristol, through the Netherlands, to Sri Lanka.
And finally, our third event asks: Can nature transform your body and mind? With an increasing body of research about the positive impact of nature on health, we explore the role that trees, woodlands and forests can play in supporting our mental health. Join artist Joe Hill, Nicola Ramsden of the Forest of Avon Trust and Dr Alan Kellas, Green Care Lead for the Royal College of Psychiatrists, as we as we shine a light on Bristol projects across the arts and social care and discuss the growing area of 'green care' and social prescribing.
This is a hybrid event with digital online and limited in-person tickets at Temple Church.
Limited outdoor tickets
Join us for an exclusive outdoor experience from Temple Church and Garden. Bring a picnic blanket and enjoy a refreshing Pimms from our pop-up bar, while you watch the blended broadcasts in this enchanted setting.
Limited tickets available. The majority of tickets will be to attend the event online.
BOOK HERE FOR THE FIRST EVENT ON 7 JUNE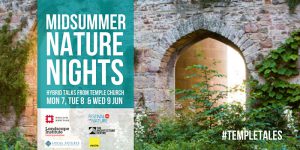 Climate Change, Trees and Vegetation: How can landscape architects make a difference?
LISW is pleased to host this webinar on climate change with Dr. Deborah Hemmings (Met Office) and Kenton Rogers (Treeconomics)
BOOK YOUR TICKETS HERE
The presentation will include an update on current research relating to climate change, trees and vegetation, and what we, as landscape architects can do to support adaption and resilience with our work. Understanding the technical background and opportunities will be key to gaining the support of clients, stakeholders and communities to creating climate- and environmentally resilient spaces and places.
Dr Deborah Hemming manages the Vegetation-Climate Interactions (VCI) group, which conducts research to improve understanding and modelling of the interactions between vegetation and climate. She is also senior visiting research fellow at the Birmingham Institute of Forest Research, Birmingham University, studying the seasonal dynamics of phenology and carbon allocation in the mature woodland Free-Air-CO2 Enrichment experiment.
Debbie's personal science is currently focussed on understanding phenological changes (events in nature, such as the timing of bud-burst in different plant species) and their implications for ecosystem resilience under climate and environmental change.
Kenton Rogers is a chartered urban forester and chartered environmentalist with a masters degree in forest ecosystems management. He has worked on a wide range of commercial, urban and community forestry projects in the UK, Europe and North Africa. Kenton has provided expert advice on tree valuation, sustainable urban forest planning and the tree benefits approach to groups such as EU cost Action FP1204, the Swedish University of Agricultural Sciences, Trees Design Action Group, House of Commons committees and UK Forest Research.
Kenton is also co-founder of Treeconomics, a social enterprise based at Exeter Science Park. It is the mission of Treeconomics to work with communities, businesses and research institutions to highlight the value of trees. Treeconomics has collaborated in over 30 projects in the UK and abroad (including the UK pilot of i-Tree in Torbay, Valuing London's Urban Forest, and ongoing work with Highways England), to develop tools for cost benefit analysis of its natural capital.
With best wishes,
The Landscape Institute South West branch
Charity registered in England and Wales No. 1073396 and in Scotland, no. SC047057
85 Tottenham Court Road, London, W1T 4TQ
Main +44 (0)330 808 2230 Email the LI
www.landscapeinstitute.org
You are receiving this email because you have opted in to receive updates from your selected branches. Manage your preferences
Follow LISW on social media