Annual Pub Quiz 2020, (18th December) hosted jointly by the Landscape Institute Midlands and East Midlands branches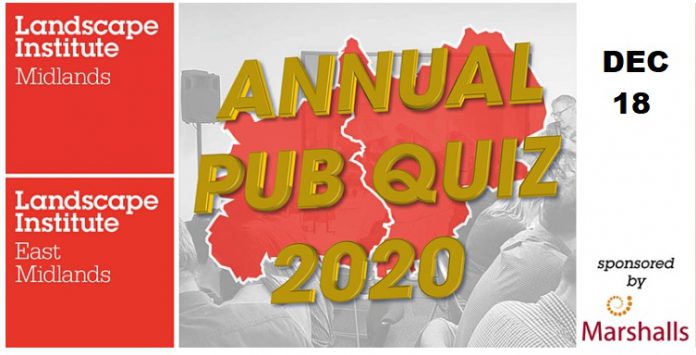 Annual Pub Quiz 2020, hosted jointly by the Landscape Institute Midlands and East Midlands branches
Date: 18th December
About this Event
Welcome to our Annual Pub Quiz, jointly hosted this year by the Landscape Institute Midlands and East Midlands branches and sponsored by Marshalls! Get ready for another online quiz, this time not with your family, but with your landscape colleagues across the Midlands!
Hosted by experienced quizmaster Russell Good of the Landscape Architecture department of Birmingham City University. Rounds will include both landscape and non-landscape questions, with some local Midlands questions too!
Max team sizes of 6 people.
Important: Please register yourselves individually but have an idea of the team you are in before signing up. We will use the 'breakout rooms' function on Zoom to allow teams to discuss their answers. More information to be provided prior to the event.
Thank you once again to Marshalls, who are kindly sponsoring the prizes for the top placing team! There will be extra points available for the teams with the most Christmassy looking outfits!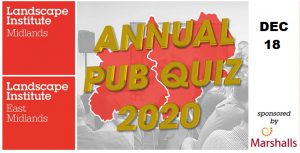 £3 per person.
https://www.eventbrite.co.uk/e/lim-liem-annual-pub-quiz-2020-tickets-128898698477?ref=eios
Admission fees will be donated to the local charity FareShare Midlands, part of the UK's national network of charitable food redistributors supporting food banks across the country.