Luminaires for streets and paths that supply themselves with energy from sunlight are oriented around the cycles of nature in terms of sustainability. In cooperation with the solar specialist Hei from Austria, Selux is now launching two solar luminaire families on the market: the Lukida light steles as well as the Antares solar light poles.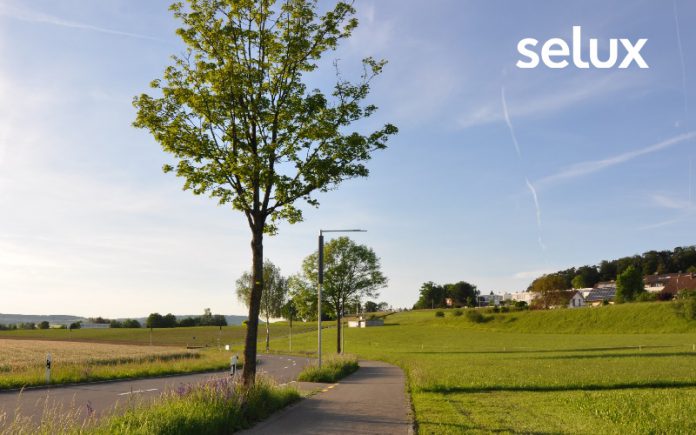 This article is a sponsored post.
Thanks to Selux's cooperation with the solar expert Hei from Austria, the solar luminaires combine practical design and high-quality lighting technology with the latest solar technology. The solar luminaires have an intelligent control system for light and battery. In the critical months, the microcontroller's algorithm ensures optimum energy management. The light level is dimmed but not switched off. Optional motion sensors detect when people or vehicles are approaching and the light level is increased. Integrated sensors and smart control electronics with microcontroller not only optimise luminous flux and energy consumption to make the best possible use of the battery charge, they also ensure, together with the optics, that light pollution is largely reduced. The self-sufficient luminaires can be connected to each other via wireless communication modules and integrated into smart overall solutions. With their cylindrical shape, the highly efficient photovoltaic modules enable installation regardless of orientation and blend organically into the appearance of the luminaires. The vertical installation position of the completely encapsulated modules prevents sand, snow or dust from accumulating on the surface and thus significantly reduces maintenance effort and operational reliability in winter. 
Lukida: an elegant, self-sufficient solar light column 
In Lukida, the luminaire head, solar module and pole are perfectly integrated into the cylindrical form with a diameter of 160 mm. The columns, which range from 4 to 6 metres in height, provide space for solar modules with approx. 115 or 238 watts of photovoltaic power. With luminous fluxes of up to 3600 lumens, 2700 Kelvin, 3000 K and 4000 K light colours are available. With the light distributions asymmetrical street, asymmetrical street with pavement, asymmetrical long and symmetrical, the Lukida can take on a variety of lighting tasks – sustainably, independently of the grid and in a climate-friendly way. 
Antares solar pole luminaires: modular and maintenance-free 
Antares solar light poles cover a wide range of applications in technical outdoor lighting, for example of paths or side roads. The modular product range includes single-arm and double-arm lighting columns. By combining different pole heights, arm lengths, light distributions and photovoltaic outputs, Antares can be perfectly adapted to the needs of the project. The Antares luminaires impress with efficiency and balanced light distributions for environmentally-friendly lighting – with up to 7400 lumens of luminous flux and a choice of three light colours: 2700 K, 3000 K and 4000 K. The Antares poles from 4 to 8 metres high offer space for solar modules from 100 to max 400 watts photovoltaic power.