Packed with inspirational speakers and thinkers, the #LI90 Festival of Ideas is a stimulus for conversations about the future, professional life, and the landscape itself
We live in complicated times. We face rapid change to the natural environment, renewed awareness about climate change and the effects of plastic waste, all linked to increased urbanisation. As the House of Commons declares a climate emergency and the Committee on Climate Change makes its most alarming report to date, what is the role of landscape practitioners?
It's more than a job; for most LI members, the decision to train as a landscape practitioner was closely linked to concern about the environment; to a desire to take principled actions about designing and managing the landscape, and from a simple commitment to doing the right thing.
At a time when so much of both working and political life seems to be up in the air, take time out this June at the Olympic Park to play with some ideas.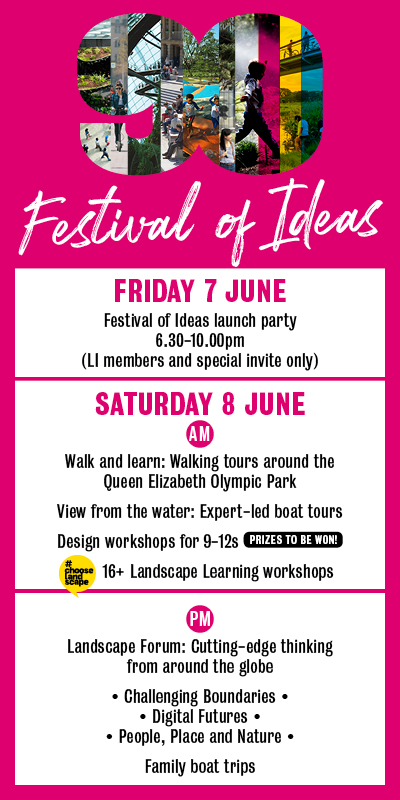 Themed around overcoming boundaries, the LI Festival of Ideas provides a stimulus for conversations about the future – of the profession, professional life, and of the landscape itself.
What is the landscape professional's obligation in addressing climate change? In a city of fractured communities, are we designing spaces that are more divisive than inclusive?
Discover Urban Mind, an app-based research project designed to chart the mood of users as they move through the landscape. Consider the treatment of refugees in open spaces. Discover the future of the Olympic Park as the site welcomes the V&A, BBC Studios, the Smithsonian and Sadler's Wells. And explore a history that was strongly influenced by the pipework of civil engineer Joseph Bazalgette.
What effect will private driverless cars have on the way we design our cities? How should the profession advocate on behalf of a landscape-led approach to creating and making cities? Following Inspiration from the Oslo Parks Scheme and work taking place in Venezuela, how can public space be truly informed?
In a world in which the love affair with all things digital diminishes, can nature provide an alternative and an escape? And as we become more digital, what can we learn from digital leaders in our field (including Vimla Appadoo, Jo Morrison and Professor Pia Fricker)? What new research opportunities are emerging? And what should we all be considering for the future?
At the heart of our debates is the question: How do we make nature work for people and places?
Join in the conversation: See the full programme here and book your place now.