In this Newsletter: Upcoming October Events: 06 Oct : LISW CPD Day : Eden Project – Even Ground – Exploring Inclusion in Landscape Design, Cornwall 09 Oct : Using Rainwater – Saving Money – Improving Cities, Bristol 11 Oct : BNG Training, Exeter 17 Oct : Virtual Members' Meet CPD Day – Even […]
In this Newsletter: Upcoming October Events:
06 Oct : LISW CPD Day : Eden Project – Even Ground – Exploring Inclusion in Landscape Design, Cornwall
09 Oct : Using Rainwater – Saving Money – Improving Cities, Bristol
11 Oct : BNG Training, Exeter
17 Oct : Virtual Members' Meet
CPD Day – Even Ground – Exploing Inclusion in Landscape Design 6 October 2023 @ 0930 – 1630 hrs (registration at 0900 hrs) Join us for an exciting day at the Eden Project, Cornwall, exploring inclusion in landscape design with a range of speakers including keynote speaker Ramon van de Velde, Managing Director at Heligan Gardens the Sensory Trust, disAbility Cornwall, Making Space for Girls, RIBA and Touchwood. The LISW CPD Day will explore inclusive landscape design in the inspirational and exemplar setting of the Eden Project, Cornwall. Being more inclusive and making landscape accessible for a diverse range of users, including various abilities, ages, genders and beliefs, should be a key consideration in every design. Book your space now via EventBrite here: LISW CPD Day: Even Ground – Exploring Inclusion in Landscape Design. The CPD Day will kick off with a keynote from Ramon van de Velde, Managing Director at Heligan Gardens, who will consider social inclusion through healing and learning at Heligan. The Sensory Trust will provide insights into principles and practice of inclusive landscapes. disAbility Cornwall will discuss the needs for specific impairments in more detail based on their hands on experience. Make Space for Girls will talk to us about their work, and RIBA South West will give an overview of the new Inclusion Overlay for the RIBA Workplan. We also will hear from Touchwood, who have created the Nature Playground recently opened at the Eden Project. There will be an opportunity to visit the playground after their talk. Thank you to our sponsors AG Paving & Building Products and MeiLoci. Tickets include free entry to the Eden Project Cornwall, parking, lunch, teas and coffees, with some time to explore on your own after the event until the site closes. Spaces are limited to 85 tickets due to venue capacity, so book now to avoid disappointment! Options of travel to the Eden Project can be found at https://www.edenproject.com/visit/planning-your-visit/directions-to-the-eden-project, please consider car sharing and sustainable travel options. There is an option to book onsite accommodation at the YHA – https://www.yha.org.uk/hostel/yha-eden-project, subject to their availability. We have also chosen to run this day on a Friday, so attendees may be able to extend their stay for a weekend in Cornwall if they wish to do so. We look forward to welcoming you at the LISW CPD Day. If you have any questions or special requirements for the day, please email us at mail.southwest@landscapeinstitute.org.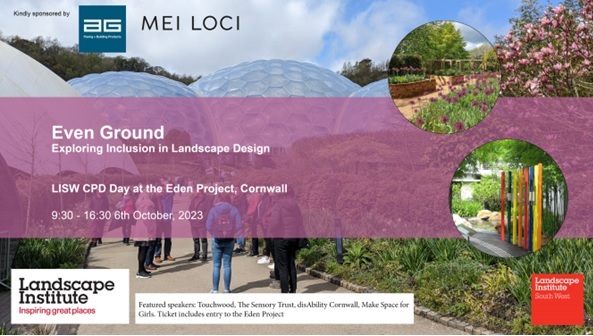 Biodiversity Net Gain in Practice Workshop – Exeter 11 October 2023 @ 0900 – 1300 hrs (half day session) Ecological Surveys Ltd are providing a workshop on Biodiversity Net Gain (BNG), hosted by Devon County Council and supported by LISW, ahead of BNG becoming mandatory in November. Booking is via email to Mel – office@ecological-surveys-ltd.co.uk, you will receive full details including venue in return. The session will examine the subject from practical experience of using the Metric for the past two years (Cornwall was a pilot area and introduced it in 2020). We will consider how BNG will impact future development. The metric is elucidated, warts and all. The session will look at the types of biodiversity avoidance / mitigation / enhancement that are required, how, what, where this can be achieved and the various alternatives that might present themselves. Ecological Surveys LTD expect you to bring an open mind. Examples will be provided of both small and large schemes and an opportunity for Q&A's. There is no charge for attending this event and it will provide CPD of around 3.5hrs. There will be no catering, although basic Tea and Coffee will be available. If you have specific requirements, please bring your own. If you feel a colleague would benefit from attending this event, please circulate this email. There is a limit on how many attendees can be accommodated and we suggest an early response if you wish to attend. Once capacity has been reached, we will advise those who have responded too late and place them on a list in case any cancellations are received. Conversely, if you book a place and then find that you are unable to attend, please advise us ASAP to enable someone else to take your place. Bookings to Mel – office@ecological-surveys-ltd.co.uk, who will confirm and provide further details as appropriate.
Virtual Members Meets in 2023 Next one is on 17 October @ 1200 – 1300 hrs Register now for the last Virtual Members Meet of 2023 with a short presentation from MeiLoci on their Penzance Promenade Public Realm Scheme Your LISW Committee would like to invite you to the last Virtual Members Meet of the year to take place on 17 Oct 2023 at 12:00 noon, using Zoom. We plan to continue these in 2024, and dates will be announced in the new year. The registration is set up as multiple event registration on EventBrite – you will need to register for each session you would like to attend. The EventBrite ticket will then include access to the zoom meeting link. Please register here: LISW Virtual Member Meets 2023 Tickets, Multiple Dates | Eventbrite There is no obligation to have to contribute or speak, you are welcome to simply join and listen, see who is there and take away ideas. These sessions are intended to be informal meets, with an opportunity for learning, knowledge sharing and making new contacts. It is a means of member engagement which we hope helps to overcome the challenge of distance in our large region. MeiLoci, based in Truro, have offered to provide a short presentation on their Penzance Promenade scheme in this session. This is a recent public realm project in a maritime setting, which has made a big difference to users of Penzance seafront. It includes art installations. Please get in touch if you would like to present a project or topic in the next season in 2024, or if you have any suggestions how we could improve member engagement and informal meets in 2024. Please email us on mail.southwest@landscapeinstitute.org.
Using Rainwater – Saving Money – Improving Cities – 09 Oct 2023 @ 5-7.30pm Hear from our panel of experts on this important topic as we consider how we can prevent pollution entering our rivers and seas and save Bristol's streets from flash flooding. The talk and panel discussion will be followed by networking drinks and the option for a short tour of one of Bristol's most sustainable office development, Halo. AGENDA: 5:00-5:30pm: Arrival and refreshments 5:30-6:35pm: Presentations and Q&A 6:35-6:50: Panel Discussion 6:50-7:30pm: Canapes, refreshments, networking and building tour 7:30pm – Event ends Tickets: https://www.eventbrite.co.uk/e/using-rainwater-saving-money-improving-cities-tickets-676555524787?aff=oddtdtcreator SPEAKERS: Matt Wheeldon, Director of Infrastructure at Wessex Water. Matt has worked in the water sector for nearly 30 years and represented the industry on the Government's Storm Overflow Taskforce. He will be share insights how following good rainwater management principles can benefit customers and the environment and what needs addressing to unlock greater opportunities. Mary Lavin, Sustainability & Reporting Manager at Osborne Clarke. Mary will give an overview of Osborne Clarke's move to one of Bristol's most sustainable office buildings, and the ways in which the building is contributing to the firm's Responsible Business goals. Lise Benningen, Associate Director at Landscape at Arup. Lise leads Arup's Landscape team in the South West and will talk about Arup's work on sustainable drainage including Sheffield's Grey to Green project which added green infrastructure to Sheffield city centre to combat flooding and improve the public realm. All proceeds will be donated to Water Aid, who work with partners and local communities to make clean water, decent toilets and good hygiene normal for everyone, everywhere. Supported by Landscape Institute South West.
With best wishes,
The Landscape Institute South West branch