News from the LI leadership, new COVID-19 guidance for members, and more – the latest LI member update from Landscape Institute President Adam White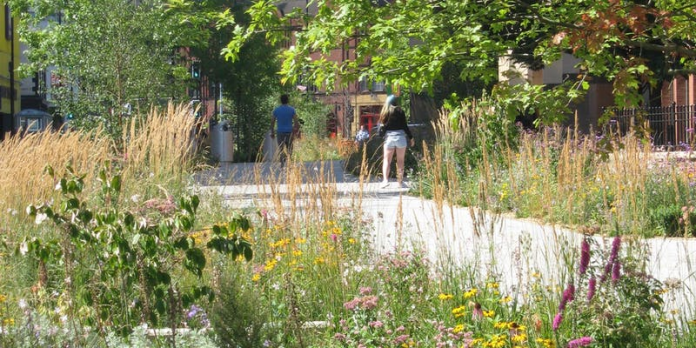 I hope this email finds you safe and well during this unprecedented time. As we entered 2020 reflecting on the achievements of the previous year, I never thought my next update would be prepared in self-isolation while working from home.
Only a month ago I spoke at the FutureBuild Conference at what is now NHS Nightingale, and welcomed the next generation of CMLIs at the LI Graduation Ceremony. How quickly circumstances have changed for all of us.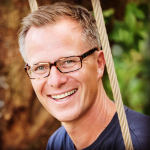 Like many of us, I was deeply concerned about the threats facing our sector – particularly the horticultural industry. On behalf of the LI I immediately reached out to the RHS and other industry leaders to show our support.
A little good news arrived at the weekend. Despite the show not physically taking place this year, the BBC will still feature RHS Chelsea throughout Chelsea week. Monty and the team will be delving into the archives and viewers will be able to vote for their favourite show garden of the last decade.
Another positive story comes from Sir David Attenborough, who is adding 'geography teacher' to his already impressive CV! Sir David will be joining the BBC's new virtual learning programme to help educate children stuck at home during the lockdown.
COVID-19: Update to LI position and member guidance
Last week, we updated members on our recommendation that they avoid site visits and fieldwork unless absolutely necessary. The health and wellbeing of our members, their families and the public is and must continue to be our foremost concern.
Following further analysis of UK Government guidance and legislation, we have revised our position. Where UK Government advice allows work to continue, our members should conduct a risk-based assessment. We still recommend avoiding site visits and fieldwork if alternative methods are available.
These points and more are outlined in a new LI Technical Guidance Note (TGN), 02/20: Site Visits and Fieldwork During the COVID-19 Pandemic. We hope this tool will help you continue to work safely and effectively.
Webinar: LI Leadership updates
The LI team is working hard to digitise our events programme and bring you more and regular online content.
Our first President and CEO's update took place at 11.00am on Tuesday 21 April. CEO Dan Cook, President Elect Jane Findlay and I updated members on:
Our ongoing response to the coronavirus crisis
Update on landscape apprenticeships
Parks and greenspace leadership and our work with key parks organisations
Call for High Streets Task Force experts
New digital services and the launch of our new LI Campus
Plans for further new online events and services
The Grow Happy Sunflower Challenge!
For those of you who missed it, the recording is now available in full below. This will soon be available on LI Campus (more on this fantastic new resource in a moment).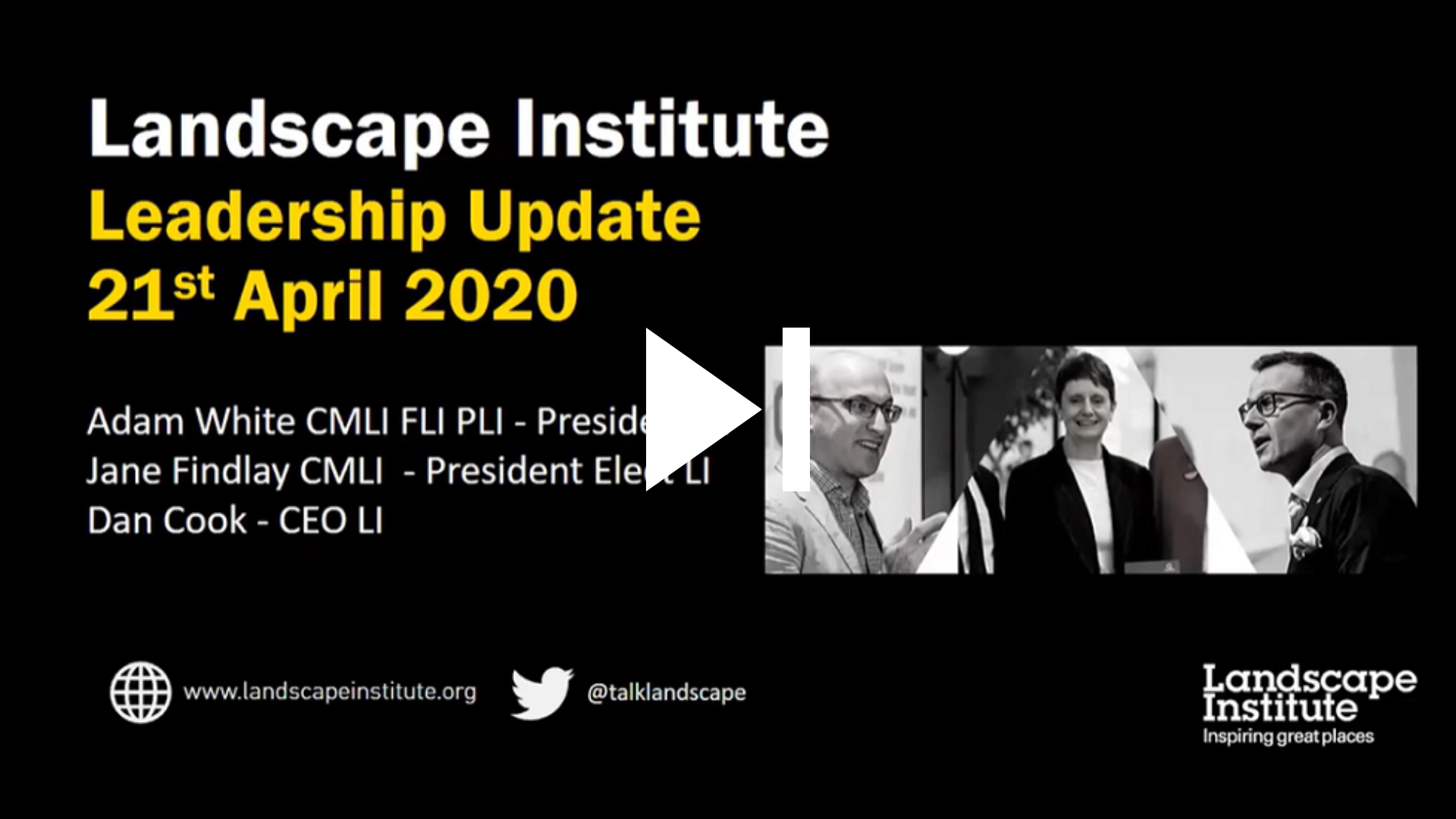 Partnerships with Architects Benevolent Society and Perennial
Further to our commitment to support you through this crisis, I'm delighted to announce that we'll be working much more closely with two exceptional charities.
Last week I reached out on the Institute's behalf to strengthen our existing relationship with the Architects Benevolent Society (ABS). Also last week, the LI formed a brand-new partnership with Perennial. Both organisations provide practical, financial and emotional support for those working within our sector.
I strongly encourage you to familiarise yourselves with the work of these two organisations, and to reach out to access any help you might need.
Find out more about the help on offer from ABS and Perennial, and the different ways you can support them.
Announced: New webinar programme, and on-demand learning through LI Campus
A major part of the LI's mission is to equip members with the skills you need. This is more relevant than ever as we adapt to the challenges of the COVID-19 pandemic.
I was thrilled on 7 April to announce the launch of LI Campus – the first dedicated online learning hub of its kind for the landscape sector.
In recognition of the huge pressures the COVID-19 crisis is placing on the landscape sector, I was really keen that this new service will be free to LI members who order a 12-month subscription before 30 June 2020. Read more here and visit campus.landscapeinstitute.org to order your subscription.
Welcome to our new Fellows
Since last year, I have been working with Adrian Wikeley, the LI College of Fellows and reaching out to identify and encourage experts and leaders across our sector to be join the Institute as Fellow members.
While other professions often exceed 10% of their membership in expert grades, the LI languishes somewhat behind at just 2.5%! This initiative aimed to value emerging leadership and to encourage more diversity among the LI Fellows, with members from different disciplines, locations, backgrounds and gender.
This week, Dan Cook and I are delighted to welcome a number of new Fellows to the LI. This new contingent takes our total number to 109, with a further wave set to join the College in the near future.
Please join me in welcoming and congratulating:
David Finch
Carolyn Willitts
Katharine Ellinsfield (nee Schofield)
Ruth Holmes
Sarah Gibson
David Watkiss
Helen Woolley
Richard Sneesby
John Wyer
Sarah Jones Morris
Tom Stuart Smith
Steve Morgan
Connecting people, place and nature during the lockdown
The LI is proud to support initiatives that help connect people, place and nature. It's especially during these worrying times, when so many of us are working from home and even home schooling our children.
Below are a number of projects that I'm delighted the LI is supporting. Whether it's growing the tallest sunflower on your street, creating a miniature landscape in a plate, or designing your perfect park, I'd encourage all our members to get involved!
RHS Back to Nature Activity Guides
You will recall that back in 2019 myself and fellow landscape architect Andrée Davies co-designed the four RHS Back to Nature gardens with HRH the Duchess of Cambridge. The aim was to encourage more families to spend time outdoors and reconnect with nature together. That message is still as important as ever, even if it's just getting out in your garden to grow a sunflower or taking a short walk to your local park.
Working with the Duchess and the RHS, Andrée and I helped create five Back to Nature activity guides. They are aimed to inspire young gardeners to engage with gardens and nature and add a touch of Chelsea magic to their own homes.
Alana Cama, Schools and Groups Programme Manager at the Royal Horticultural Society, said: 'We're delighted to have been able to create a series of resources with HRH The Duchess of Cambridge and Davies White Ltd. Children can now enjoy a slice of the magical RHS Back to Nature Garden and create special memories with their families in the process.'
The Great British Sunflower Challenge
We all need a ray of sunshine in our lives right now. What better way than with a Giant Sunflower?
The LI has partnered with The Landscape Show and The London College of Garden Design to create a fun an exciting challenge for all the family. The #GrowHappy #SunflowerChallenge is nationwide competition to grow the tallest sunflower by 31 August 2020.
If you haven't started already, I encourage everyone to have a go at in your garden or on your windowsills this summer. More info – and free seeds – here!
Plot to Plate Competition with The Chelsea Physic Garden
I'm delighted that the LI is supporting the Chelsea Physic Garden's miniature gardening competition. Together, we want you to use your imagination to design and create a garden or miniature landscape on a plate.
Open to professionals, amateurs and children, this competition is another great way of introducing new audiences to the world of landscape. Why not create a scale version of your favourite design?
Perfect Parks Challenge with Green Flag Awards
Parks and green are highly valuable areas for people to exercise responsibly during the current crisis. And they'll undoubtedly play a vital role as communities slowly emerge from the pandemic.
Our friends at The Green Flag Award have launched the Perfect Parks Challenge. It calls upon people of all ages – especially families with children – to create a design that captures their 'perfect park'.
#Perfectparks is a great way for people to show their love and recognition for these amazing places that many all too often take for granted. If you're interested, do take a look here.
A dose of 'Vitamin N' during lockdown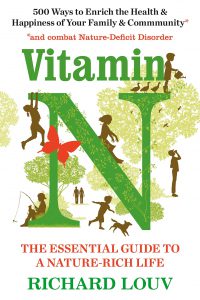 We're all unsure how long this lockdown will last. What we do know is that the current situation will have a massive impact on our health.
We know that spending time in nature is hugely beneficial to our mental and physical wellbeing. At the Landscape Institute and as a profession, encouraging people to engage with nature is core to what we do.
If there was one book I could encourage everyone to read during the pandemic, it would be Vitamin N (for 'nature') by Richard Louv. It's a complete prescription for connecting with the power and joy of the natural world right now, with 500 activities for children and adults.
It's a dose of pure inspiration, reminding us that looking up at the stars or taking a walk in the woods is as exhilarating as it is essential, at any age. And it's never been more applicable than right now.