Join us on 22 April at 6.00pm to hear from Ian Dudley and Joanne Alderton of Lockhart Garratt on Reversing the decline: a guide to Understanding Biodiversity Net Gain, followed by our AGM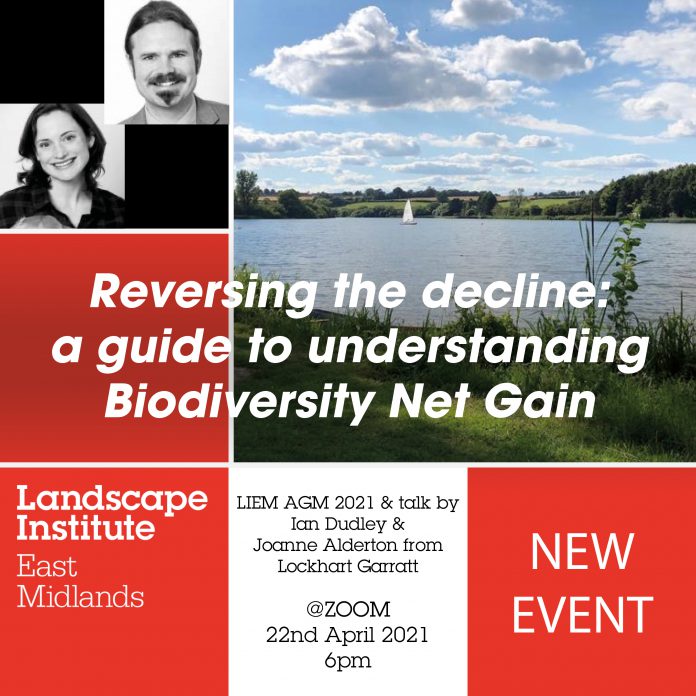 Please join us at the upcoming LI East Midlands annual general meeting (AGM). Tickets are free, and all are welcome!
When: 22 April 2021 at 6.00pm
Where: Zoom
'Doors open' at 5.30pm for an online opportunity to chat and have a catch up.
At 6.00pm, we'll host our annual general meeting, with key speakers from the LI and our own chair Katharine Schofield.
Afterwards, at 6.30pm, we'll have an insightful talk on a key topic of the moment: Reversing the decline: a guide to understanding biodiversity net gain.
At this online event, Lockhart Garratt's head of landscape Ian Dudley and head of ecology Joanne Alderton will give an introduction to the principles of biodiversity net gain and environmental net gain; how the Defra Metric works to measure biodiversity net gain, and how landscape architects can work in partnership with ecologists to achieve the best outcomes for stakeholders and the natural environment.