The Landscape Institute hosted this year's AGM and Jellicoe lecture at Leeds Beckett University, who are celebrating 50 years of landscape education.
Edwin Knighton is Head of Landscape Architecture at Leeds Beckett University. He currently teaches undergraduate and postgraduate courses in landscape architecture and a postgraduate course in urban design. Find out more about Edwin's work at the Leeds Beckett website.
---
This year, the Landscape Institute travelled to Leeds to celebrate 50 years of landscape education at Leeds Beckett University. As part of the celebrations, Leeds Beckett hosted the LI's annual AGM and prestigious Jellicoe lecture.
Over 250 people attended the event in Leeds Beckett's appropriately-named Rose Bowl Building. The event took place against the backdrop of an impressive 20-metre long exhibition, featuring 50 pieces of work by Leeds Beckett alumni.
One of the most poignant moments for me was when, during my introduction speech, I asked people who studied at Leeds to stand-up. I was amazed to see over half the delegates rise to their feet, upon which the audience burst into applause. Among those who witnessed this magical moment were LI President Merrick Denton-Thompson and our new CEO, Daniel Cook.
This year's Jellicoe lecture saw three inspiring talks that focussed on innovative ways of engaging communities with green infrastructure and landscape:
Chatsworth House's Sara Main and Rachel Parkin discussed working with deprived communities to encourage them to explore the landscape of Capability Brown.
Leeds Beckett's own Alan Simson, Professor of Landscape Architecture and Urban Forestry, talked about how green streets and urban forestry can engage people with green infrastructure.
Pam Warhurst, Founder of The Incredible Edible Network, presented her latest plans to promote urban agriculture, unlock the power of food and reduce health inequality.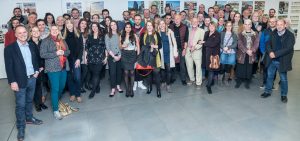 The exhibition, curated with the support of LI's Yorkshire Branch, showcased a selection of work from more over a thousand Leeds Beckett graduates who have made their mark on the landscape over the last half a century. The exhibition was a fitting finale to the talks, and provided a fantastic backdrop for dialogue and photo opportunities, where Leeds alumni successfully hijacked the official LI paparazzo.
We are looking forward to welcoming our graduates to future events, details of which can be found at the Leeds Beckett website. We encourage alumni to stay in touch so that we can include them in future events, and to give them the opportunity to contribute to our growing alumni exhibition.
Edwin Knighton
Head of Landscape Architecture
e.knighton@leedsbeckett.ac.uk
Follow us on Twitter: @LandscapeLBU